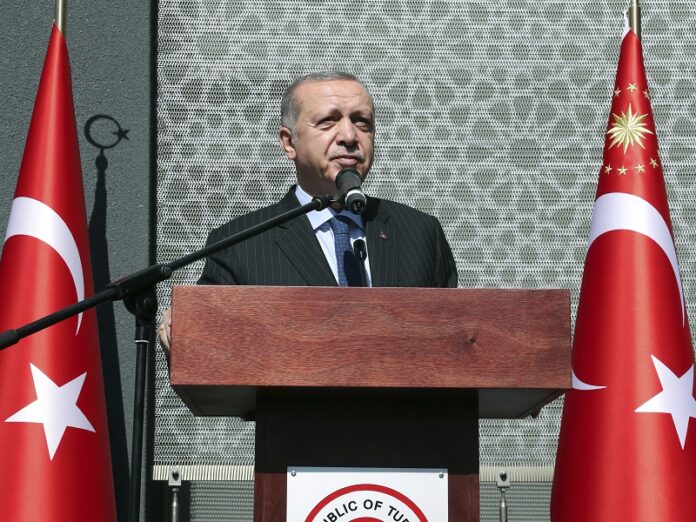 BANGKOK — A Thai newscaster was suspended Thursday for calling Turkish President Recep Tayyip Erdogan a dictator on live television.
Peerapol "Champ" Euariyakul was reporting about how Mesut Ozil – a German international footballer of Turkish descent – quit the team after being racially harassed by some fans for meeting Erdogan, when he made the comments about the president.
"You're the leader of Turkey but everyone worldwide is stepping on you because you're such a dictator. You made laws to keep yourself in power for 14 years," 35-year-old Peerapol said on Digital TV 28, part of Channel 3.
He blasted Erdogan for building a 1,000-room presidential palace, adding that unlike Thailand, Turkey has blocked online encyclopedia Wikipedia. He said Turkey has the highest number of imprisoned journalists.
"Luckily, us Thais can access Wikipedia," Peerapol said.
The online encyclopedia has been blocked in Turkey since April 2017 because the government says the site portrays it as a supporter of the Islamic State, an extremist militant group.
"The five things you will hear the most when talking about Recep Tayyip Ergodan are 'dictator,' 'election fraud,' 'not listening to citizens,' 'getting rid of the opposition in any way possible,' and 'the leader that jails the most journalists,'" Peerapol said.
According to the Committee to Protect Journalists, a press-freedom organization, Turkey had detained 73 reporters as of December, more than any other country in 2017.
The program drew protests from local religious group Muslim Foundation for Peace, led by its legal head Sayan Sakariya Sukchan. On Thursday, Digital TV 28 executives took Peerapol to apologize personally to Turkish Ambassador Evren Dagdelen Akgun.
Social media users were divided on whether the newscaster's punishment was appropriate.
Some said Peerapol deserved it for being disrespectful toward a foreign leader. Others said it's a violation of press freedom.
"The case is a violation of freedom of expression and press freedom," Facebook user Pipob Udomittipong wrote Friday, adding that the fact that a public figure such as Erdogan has no tolerance for criticism leads to the perception that he is a dictator.
Additional reporting: Asaree Thaitrakulpanich