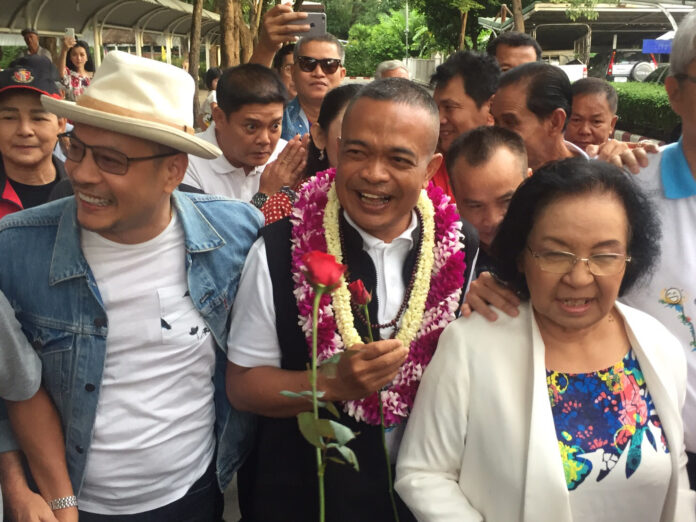 BANGKOK — Redshirt leader Jatuporn Prompan, who was sent to prison just over a year ago for defaming a rival politician, was released Saturday morning.
Jatuporn walked out of the from Bangkok Remand Prison at 6:40am, just over a year after he was sentenced for libelous remarks he made nearly a decade ago about Abhisit Vejjajiva, the head of the Democrat Party and a former prime minister.
"My sentence of one year and 15 days felt very long, but it passed. The fight isn't over, we have to keep going. We have to take action before death, not after," Jatuporn said, thanking his supporters for coming to receive him with smiles and red flowers.
Jatuporn is the chairman of the United Front of Democracy Against Dictatorship, or UDD, a movement loyal to fugitive former Prime Minister Thaksin Shinawatra and his political dynasty.
A crowd of Redshirt supporters and politicians came to welcome Jatuporn's first steps of freedom, including Nattawut Saikua, Thida Thavornseth and Kokaew Pikulthong.
Jatuporn said that while inside he met Sondhi Limthongkul, a jailed Yellowshirt leader, and they asked each other for forgiveness.
Jatuporn described being in jail as being in a "graveyard for the living."
"If you think of the past and future while inside, you can't live life because you'll be full of suffering, unable to eat or sleep because you imagine things that aren't real," the Redshirt leader said. "I always say to my fellow inmates and new inmates that we have to live in the present to be happy, instead of holding grudges and carrying vengeance within."
In 2009, Jatuporn accused Abhisit of slow-walking a petition by fugitive former prime minister Thaksin Shinawatra for a royal pardon. A trial on terrorism charges filed by Abhisit's government in response to 2010 street protests Jatuporn helped organize is ongoing.
Jatuporn said he would address the public at 2pm on Sunday at Imperial World Ladprao, where the Redshirt-aligned Peace TV broadcasts from.
‪Related stories:
Jailed Redshirt Leader's Defamation Prison Term Reduced
‪Redshirt Leader Imprisoned After Bail Revoked
‪Supreme Court Jails Redshirt Leader for Defaming Former PM