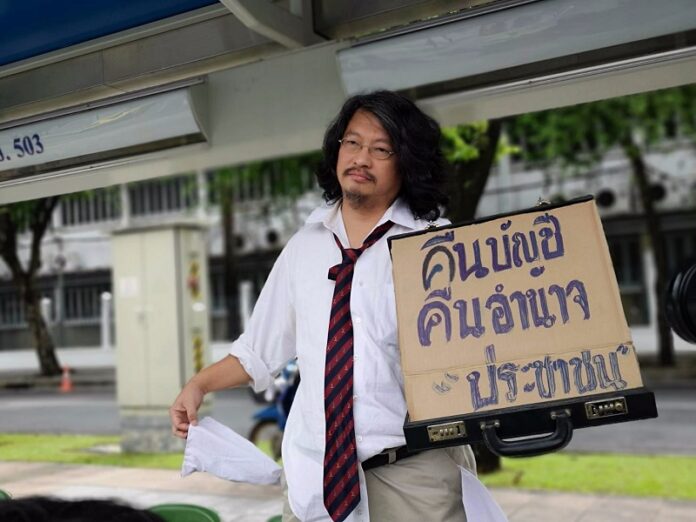 BANGKOK — Pro-democracy activist Sombat Boonngam-anong vowed Friday that he would erect a tent and sleep in front of Government House if there was no progress on the unfreezing of his bank accounts.
Sombat's bank accounts have been frozen for nearly four and a half years after he led calls for the overthrow of the junta which staged the May 2014 military coup.
Holding a placard reading "Return My Bank Accounts. Return Power to the People," Sombat said the freezing of his 1 million baht had caused him much difficulty over the years. On Friday, he was prevented from entering the Government House as officials shut the gate.
In a related development, former Pheu Thai MP Chaturon Chaisang – whose accounts have also been frozen four years – said Friday that the Administrative Court accepted a complaint urging Prime Minister Gen. Prayuth Chan-ocha and the cabinet to unfreeze the money.
Chaturon did not say how much is frozen. He did say that he's been unable to buy life insurance, invest in stocks or engage in any bank transactions including making e-payments.
"I lost tremendous opportunities," Chaturon said.
Chaturon said the court turned down without explanation a similar complaint to have the junta revoke its order. He said the court may consider the order finite and above its purview.