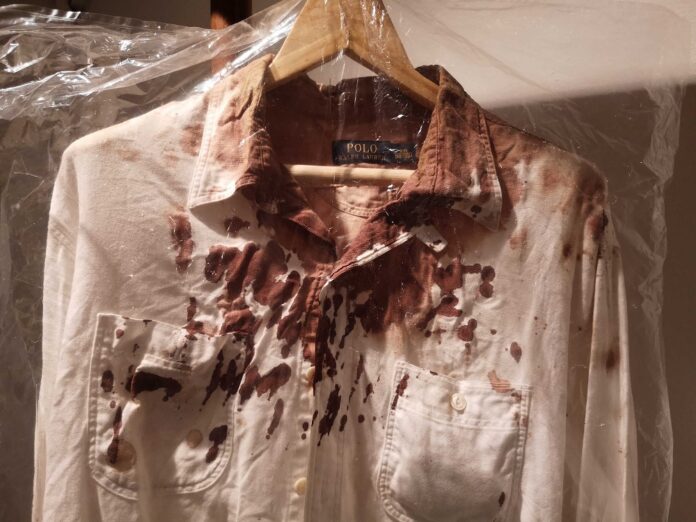 BANGKOK — A blood-stained shirt is hung alongside over a hundred political T-shirts in a new exhibit at WTF Gallery and Café for all to see.
The white long-sleeve shirt, a quarter of which is covered with dried blood, struck me as a depressing sight. It was worn by pro-democracy activist Sirawith Seritiwat, aka Ja New, when he was beaten to a pulp by masked assailants in June. The attackers are yet to be identified, let alone arrested.
The shirts and other rare items associated with the junta's five years of persecution of its dissidents are on display at the gallery in Thonglor neighborhood. The exhibition, called "Never Again," is a must for political junkies.
The 118 T-shirts at the exhibit were produced by activists and opponents of the junta throughout the past five years as a means of broadcasting their political slogans, or simply venting out their anger.
One of them contains a message in English bordering on hate speech: "Fuck Prayuth. If you like Prayuth, Fuck You Too!" Yet another one in pink urged the pro-democracy camp to be moderate in Thai: "No vulgar words. No distortion. No incitement."
Another one, a black T-shirt with a message "Speed Limit 112," is a reference to the limits of freedom of expression regarding the monarchy under Article 112 of the Criminal Code. Known as lese majeste, the law criminalizes perceived criticism of the King with a maximum punishment of 15 years in jail.
The shirt comes with a garuda, an insignia of the Thai Royal Family. To wear it nowadays would be rather controversial if not risky.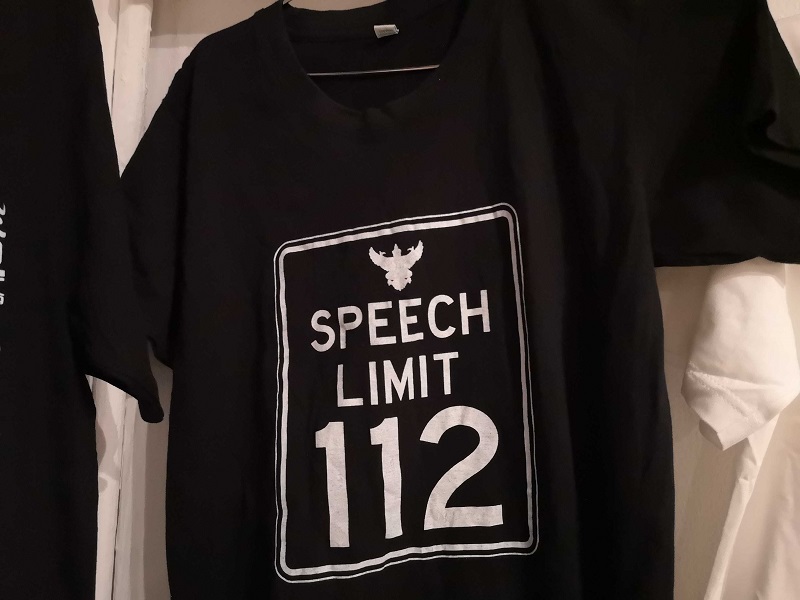 Thawaphat Praengone, the curator of the exhibition, has his favorite as well.
He pointed to three letters on display, written by a single mother serving a 28-year jail term on lese majeste convictions in Chiang Mai prison. The woman, known only as Sasiwimol, was sentenced in 2015 by a military court. The letters she wrote to her daughters were heartbreaking to read.
"In the letters, she asked how her daughters were doing. It shows a mother's love clashing with the lese majeste law, which is another kind of love that is above us, and pressing down," Thawaphat said.
One of the letters ends with the mother telling her daughter, "please don't cry after reading the letters".
Another prison letter by a lese majeste convict to his lawyer contained a song in English.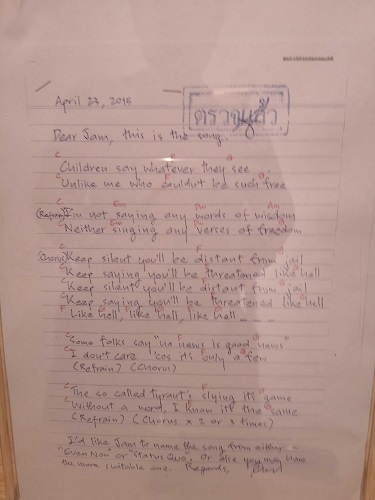 "Children say whatever they see. Unlike me who couldn't be free… Keep silent and you'll be distant from jail. Keep saying you'll be threatened like hell," 67-year-old Opas wrote.
Opas was found guilty of using a felt-tip marker to write angry messages about the monarchy and the junta. He served in prison from 2014 to 2016. The black marker in question was also on display.
Despite the title of the exhibition, "Never Again", the curator doesn't seem to be optimistic about the future of Thailand, its freedom and democracy.
"Today we argue whether elections is a good thing or not. Or whether a soldier should become prime minister or not. We are in the retreat, despite the fact that we used to debate about the lese majeste law," Thawaphat said. "Now we could hardly do anything."
Nevertheless, the curator insists it is important to keep speaking out in spite of so many restrictions. An identical exhibition planned in Khon Kaen was thwarted after Khon Kaen University declined to provide its venue, and no private galleries in the city would host it, Thawaphat said.
Even on the day after the opening of the exhibition here in Bangkok, the 38-year-old Thawaphat said he spotted two visitors whom he believes to be state intelligence officers taking photos of the artwork.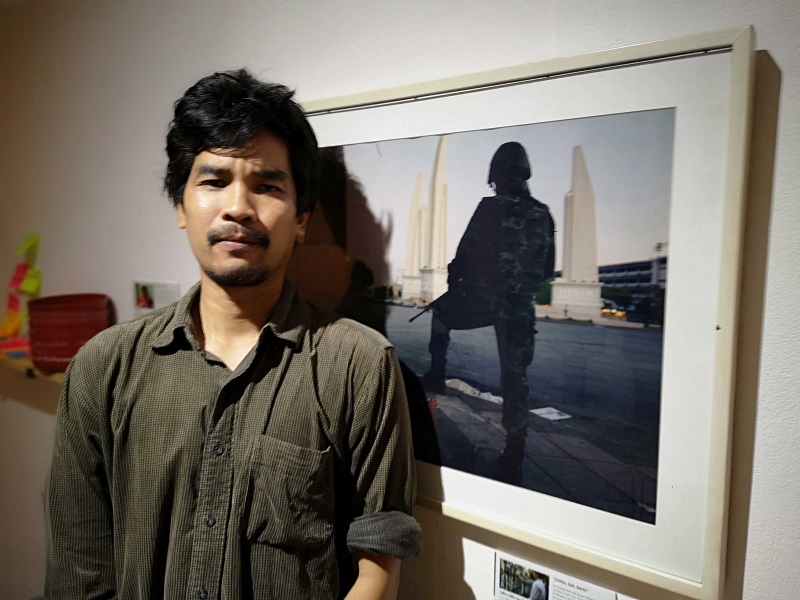 He lamented that the now-defunct junta continues to wield its power and repression in post-election Thailand through organizations like the Internal Security Operations Command. Sedition and cybercrime laws also replace lese majeste as an instrument of suppressing controversial views, the curator said.
"This forces ordinary folks to calculate hard before expressing themselves politically," Thawaphat said. "They [the government] talk about security but I don't know whose security we are talking about."
"Never Again" Exhibits on the first and second floor of WTF Gallery and Café near Thonglor, every day except Monday from 4pm to 9pm until Nov 23. Entrance is free. Call the gallery at 02 662 6246 for more details.