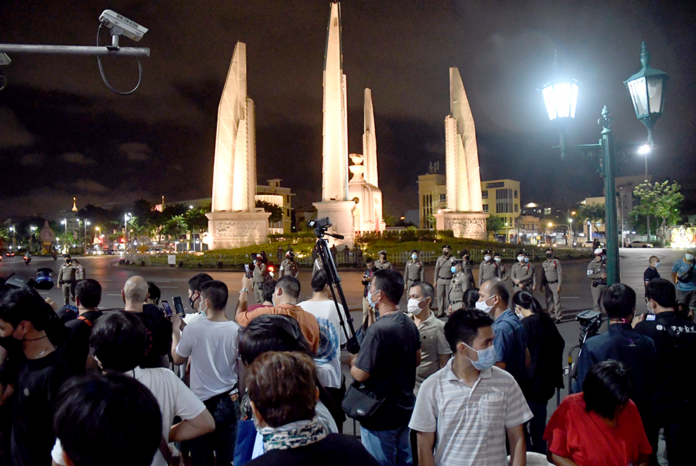 BANGKOK — Pro- and anti-government parties on Thursday urged the Parliament to hear complaints from student protesters behind the ongoing rallies that demand PM Prayut Chan-o-cha's resignation.
The proposal was submitted to the Lower House yesterday by Chakkrapan Pornimit, an MP from the ruling Phalang Pracharath Party, and supported by other parties including the Democrat, Pheu Thai, Bhumjaithai, and Move Forward – a rare show of bipartisanship, but lawmakers bicker on how to proceed.
"I want the parliament to act as a neutral mechanism to connect with these youths and listen to their views," Chakrapan said at a parliamentary session.
In the series of rallies this past week, the protesters demanded the Prime Minister to resign and dissolve the House, end harassment to activists, and draft a new Constitution.
Some lawmakers suggested setting up a special committee to study the protesters' demands, but Thitinan Saengnak, Bhumjaithai Party MP for Khon Kaen province, said the effort would take too much time.
Instead, Thitinan advised the government to get down to business and start with rewriting the charter.
"Among the three demands, we should amend the charter before dissolving the House," Thitinan said. "If a special committee is set, it will be another three months wasted. MPs should not fear elections. We are like boxers that should be prepared," Thitinan said.
Kittisak Kanasawat, Pheu Thai MP for Maha Sarakham province, warned of possible bloodshed if the demands of the students are not met.
"On October 14, 1973, in May 1992, blood spilled," Kittisak said. Students have no ulterior motive. They merely want to express their love for the country."
A Move Forward Party lawmaker said setting up a special committee would amount to a political maneuver to "buy time" for the government.
"It is simply to buy time. And if they didn't like the result, you will then say why don't they use the parliamentary venue," MP Rangsiman Rome said.
More protests are planned for this week; activists pledged to keep staging rallies through August.