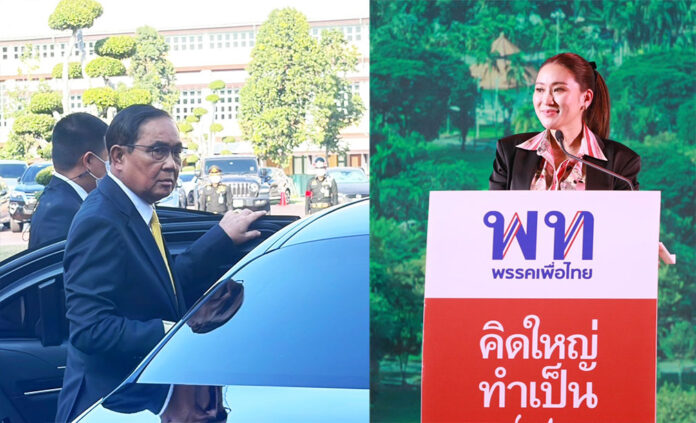 The following is the Thai political news summaries on March 24, 2023 by Khaosod English.
———
PM Prayut lost his cool once more
Caretaker Prime Minister Gen Prayut Chan-o-cha has lost his cool yet again on Friday afternoon, after he visited the Defense Ministry and was asked if the armed forces can be counted on to be impartial given his relationship with the top brass. Prayut was upset and said, "Oh, heck!" and walked away.
Before entering his limousine, Gen Prayut was asked again by a reporter whether he is keeping his distance from the top brass in the run-up to the general election. Prayut said he and these generals are grownups and do not need to be taught or told what to do.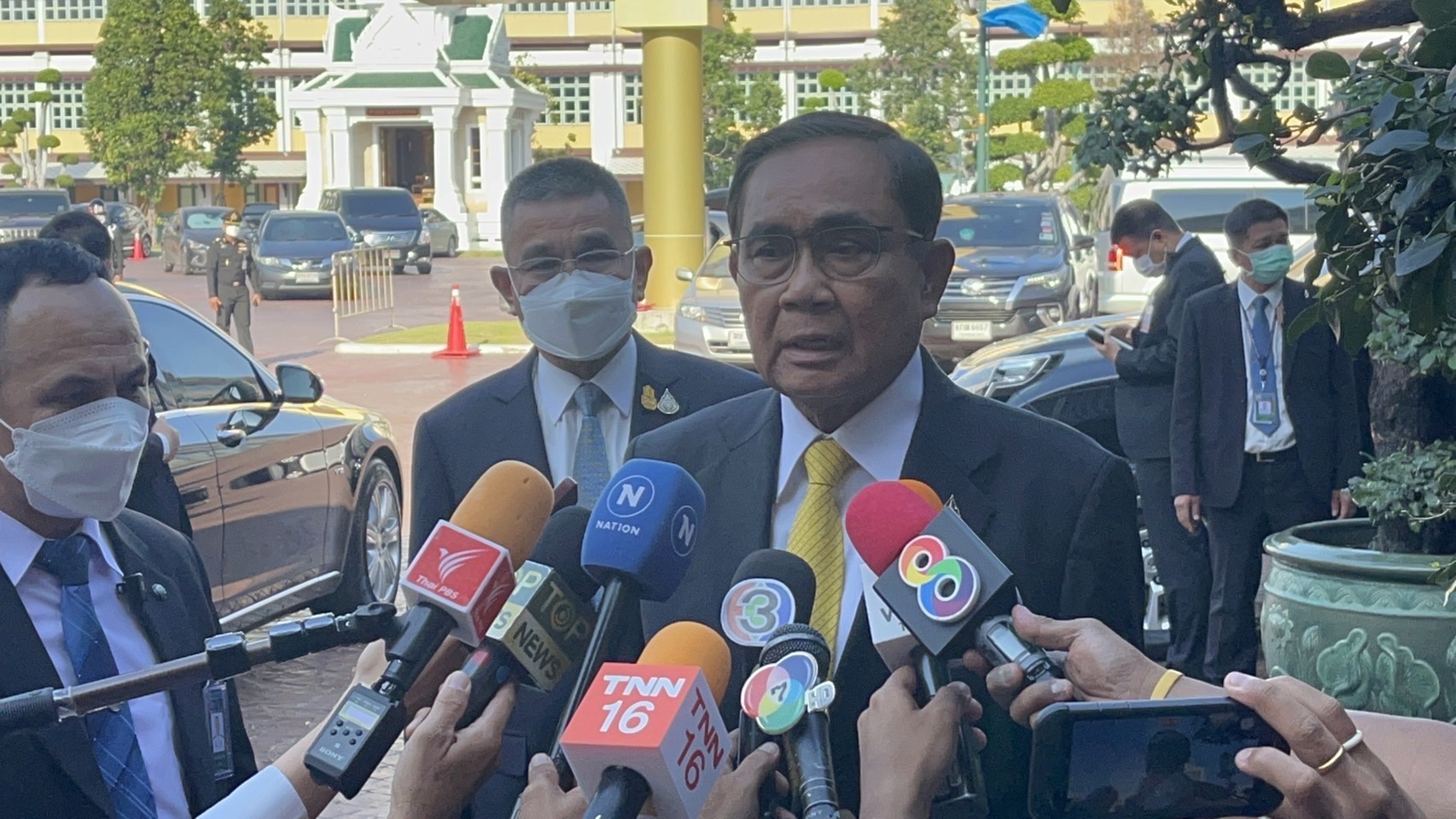 Asked if soldiers would be partial towards him or not, Gen Prayut, who's still caretaker Defence Minister and a former junta leader replied. "Only you think like that."
Previously, he said his party, the United Thai Nation Party (UTN), would not seek to win a landslide in the May general election. Prayut said satirically that the party vowing to win a landslide victory—a reference to Pheu Thai—should be careful as to what kind of landslide result they may eventually get.
Prayut, who's the PM candidate for UTN, also warns of parties overpromising on welfare, saying it could cause damage to society.
———
Tawan and Bam pop on stage
Tantawan "Tawan" Tuatulanon, 21, and Orawan "Bam" Phuphong, 23, two political activists, jump on stage before Pita Limjaroenrat, the leader of the Move Forward Party, gives a speech at Laem Chabang Municipal Park in Chonburi Province, to ask him and his party if they have a policy to repeal the lese majeste law.
Pita put a sticker on the sign saying it should be repealed.  He also said it is likely to be done through the parliamentary process, which has more chances to do so.
Tawan and Bam had interrupted a Pheu Thai election rally in Ayutthaya province the day before to ask the same question, but had received no response. The party is noncommittal about amending the law.
_______
Phaethongthan does not answer 
The Pheu Thai Party held an event at the Studium One, Chula Soi 6, to introduce candidates for MPs in 33 districts of Bangkok. Members of the party urged people to vote for candidates in order to achieve their goal of sweeping 310 seats.  The party reiterated their goal of sweeping 310 seats by asking people to vote for candidates for MP in Bangkok with no less than 20 seats and to vote for Pheu Thai in Bangkok to win landslides in all 33 districts.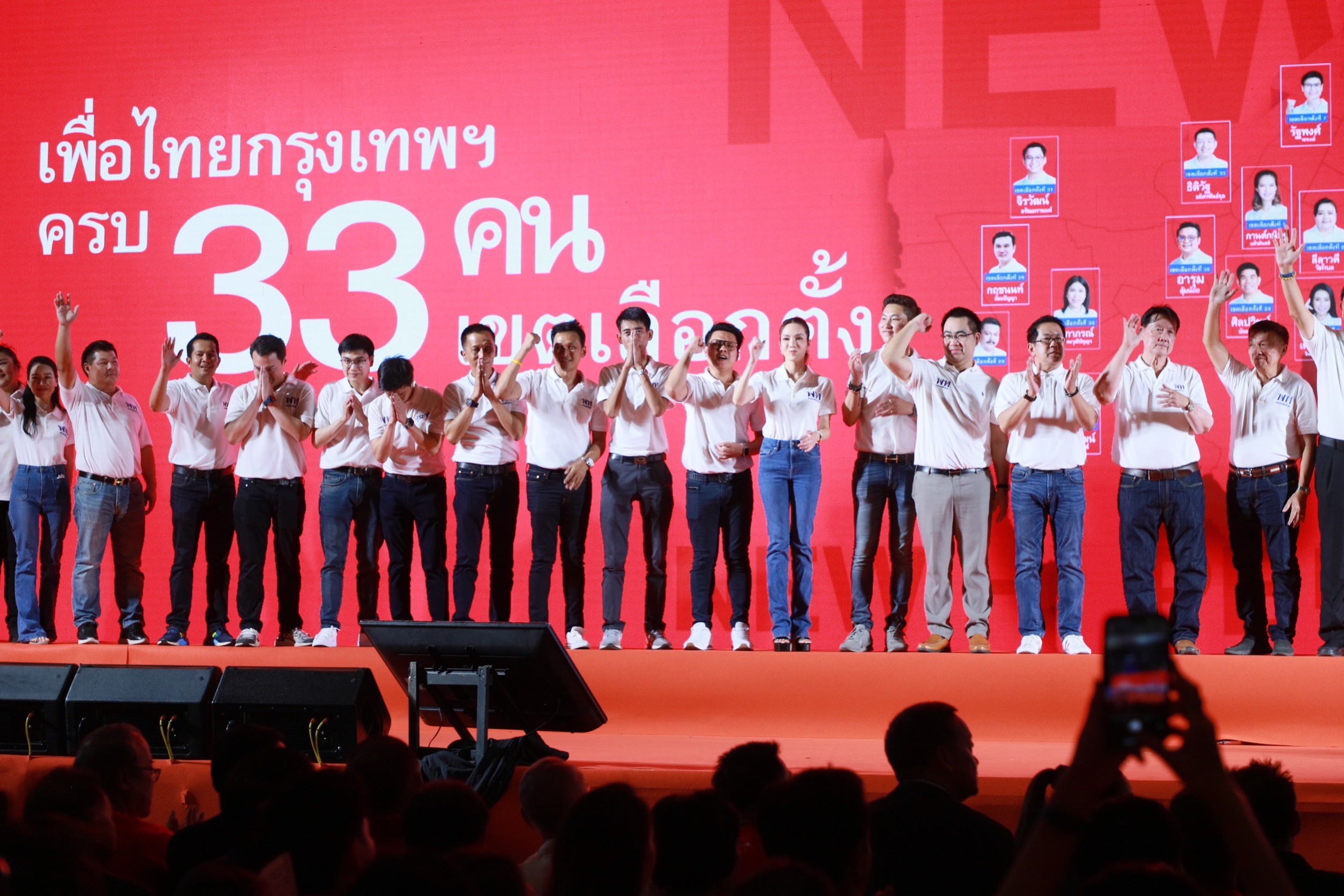 Later, the reporter asked Phaethongthan Shinawatra a candidate for Prime Minister "Pheu Thai", about the fact that her father, Thaksin, had told Kyodo News that he would return to Thailand after the election. Phaethongthan could only look at the reporter's face but did not answer anything.