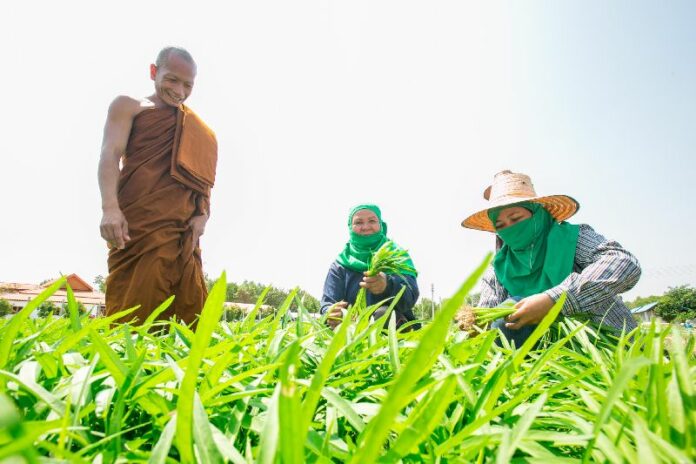 The following is paid advertorial. Khaosod English is not responsible for its content.
Roi Et – Thung Kula Rong Hai – literally "the field of crying Kula" – is said to have received its name from the tough conditions and dry terrain that reduced the wandering Kula tribesmen who passed through it to tears due to the sheer hopelessness of the landscape. Twice the size of Bangkok, Thung Kula Rong Hai spans five provinces in northeastern Thailand, with a land area of more than 2.1 million rai. Geologists believe that the area, which is one of the largest and most significant regions for jasmine rice production in Thailand, was once a vast ocean. This has resulted in a higher salt content in the soil, a condition that gives unique qualities to the jasmine rice grown here, but makes it difficult to grow anything else. However, this year, as Thailand grapples with the worst drought in decades, the government is encouraging rice farmers to switch from growing off-season rice to other crops that require less water to see them through the dry spell. Tesco Lotus is working with the Thung Kula Chalerm Raj temple and the Department of Agriculture, as well as the Roi Et provincial authorities, to help rice farmers grow other cash crops such as morning glory and kale, in line with the Pracha Rat framework proposed by the government.
Ms. Pornpen Nartpiriyarat, Head of Quality at Tesco Lotus, said that the retailer has experience working with more than 3,000 farmers across 72 provinces in Thailand who now supply most of its agricultural produce through the Tesco Lotus direct-sourcing programme launched in 2010. Through a market-led approach, Tesco Lotus works very closely with its partner farmers on crop planning to ensure that its customers' demands are met all year round in terms of product quality and variety. Farmers also grow exactly what customers want at any period, eliminating any supply surplus and ensuring good prices for them. Last year, the plight of the Thung Kula Rong Hai rice farmers was brought to the retailer's attention. Tesco Lotus began to work closely with the abbot of Thung Kula Chalerm Raj temple and the Department of Agriculture to turn 13 rai of land on the temple grounds into a field for growing vegetables.

"We faced several challenges in the beginning of the project. Villagers here have grown nothing but jasmine rice for several generations, so part of the challenge was to convince them that – with a little bit of help – the dry land can be suitable for other types of crops as well. I'm pleased to say that our stores have now begun to sell vegetables grown here. Since January, we have bought more than 10,000 kilograms of morning glory grown by farmers here, approximately 300 kilograms per day. There is still plenty of room for growth, as we need around 500 kilograms of morning glory per day to supply our stores in the northeast alone," Ms. Pornpen added.
Phra Khru Vinaithorn Theerapong Theerapanyo, the abbot of Thung Kula Chalerm Raj temple, said that the belief that the extremely dry conditions of the land in Roi Et is unsuitable for anything else but jasmine rice is deeply ingrained in the minds of the villagers. The rice growing season yields one or two crops per year, but with falling prices, rice farmers here only make 40,000-50,000 baht per family per year. Thanks to this project, farmers from 30 families now make an additional 4,000-5,000 baht per crop per family and will likely make more, as they strive to increase production to meet the demands of Tesco Lotus customers.

"For centuries, temples have always been part of the community. Monks eat what villagers eat. If the villagers starve, monks also starve. With falling prices of jasmine rice, farmers around here have been suffering. Some have had to leave their homes to drive taxis in Bangkok or take up other jobs, leaving their kids and parents behind. This is why I started this project. But I am only a monk, with no knowledge of how to grow vegetables and no market channel. Tesco Lotus and the Department of Agriculture have helped us in those areas, making it possible for the farmers to not only grow but also sell their vegetables," said Phra Khru Vinaithorn Theerapong Theerapanyo.


Ms. Pornpen added: "With the support of the Department of Agriculture, samples one of the soil were taken to see what would be required in order to grow other types of crops instead of rice. By 'seasoning' the soil, so to speak, organic fertilisers were added to increase certain nutrients to make vegetable growing possible. Aside from the technical knowledge, we also educated the farmers on crop management and bookkeeping. Initially we started with morning glory, as it's a fast-growing crop. We are now looking into growing other types of vegetables such as string beans, chilies, and pumpkin, as well as flowers to supply our stores in the northeast all year round."
Mr. Kornkaew Kanchanasorn, 59, one of the farmers who now grow and supply morning glory to Tesco Lotus, said that he and the other farmers have been able to have an additional source of income thanks to this programme. Without the support of the temple, the Department of Agriculture, and Tesco Lotus, he doubts if he would be able to stay in Roi Et with his family.


In 2015, Tesco Lotus purchased more than 100,000 tonnes of fresh produce from Thai farmers through its direct-sourcing initiative. This year, the retailer plans to increase the volume to 150,000 tonnes, in line with the government's strategy for the private sector to help stimulate local economies through grassroots development and income generation. Other direct-sourcing projects include purchasing fruits and vegetables from farmers in the Deep South. Aside from direct sourcing, Tesco Lotus also supports Thai SME operators and OTOP manufacturers. Tesco Lotus is offering free retail space to villagers from the Deep South to sell OTOP items. The event will be held 16-20 March 2016 at Tesco Lotus Plus Mall Sri Nakarin.
This is a paid news release. Khaosod English is not responsible for its content.