The following is a paid news release.
BUENG KAN — Rubber usually only gets public attention when prices fall and hundreds, or sometimes thousands, of farmers travel to protest in Bangkok. Despite getting a smaller spotlight compared to rice, this cash crop accounts for a great deal of revenue for Thailand, and its sinking value can affect a lot of people.
However, since the country secured the title of world's biggest natural rubber exporter in 1991, little has been done to develop and disseminate knowledge about how to maximize its value. Most farmers still go through the exact same motions as previous generations. Their income remains unreliable and heavily dependent on world market prices.
Seeing other nations with better technology bring in higher profits from raw rubber bought inexpensively from Thailand, Pinit Jarusombat thought there must be a way to change things. Six years ago, the former deputy prime minister initiated a Rubber Day festival in Bueng Kan province in hope of empowering farmers.
At a Monday press conference for "Bueng Kan Red Cross and Rubber Day," which will be held for a sixth time this year, Pinit said he wanted the fair to spread expertise to farmers. By turning rubber goods into commercial products, they can finally become sustainable and independent from global rubber prices.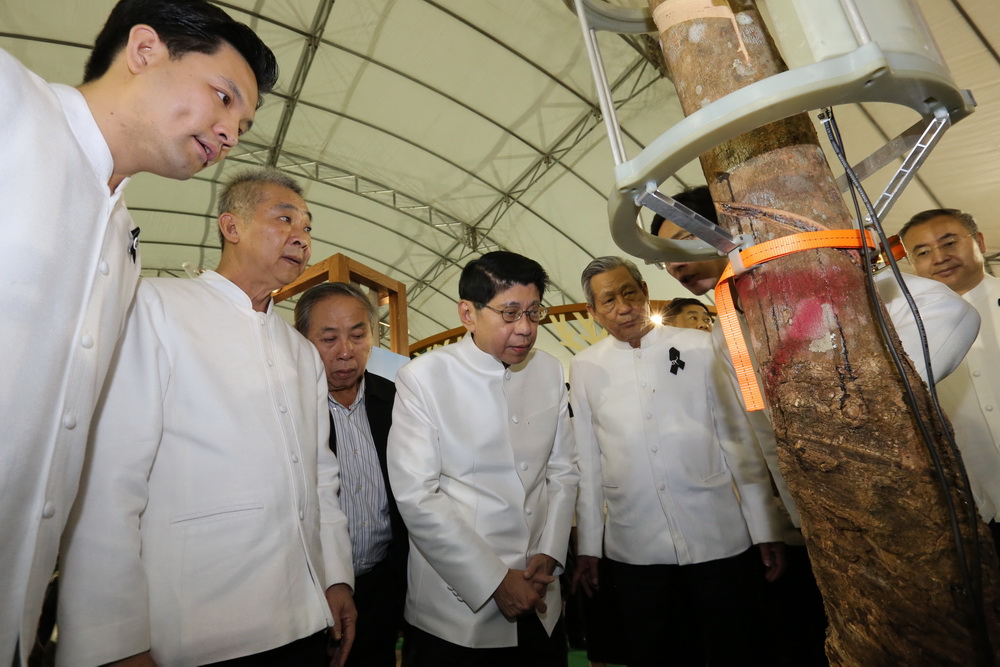 "The price of rubber depends on the world market, not on who is the current government," said Pinit, who now also owns a rubber farm himself.  "We don't have to reduce rubber production. The real long-term solution is, in fact, effective processing."
Rather than holding the fair in the southern region, where most rubber plantations are located, the fair has been staged in Bueng Kan. Seeing economic opportunity 20 years ago, this new town in the arid northeast region began to encourage residents to grow rubber instead of corn or sugarcane. Today the province has more than a million rai of rubber plantations and has become the biggest rubber producer in the region.
Chief Executive of Bueng Kan Provincial Administrative Organisation Niphon Khonkayan said the decision to change has succeeded in improving farmers' lives.
"A year-long rice cultivation sometimes generates only 20,000 baht. So Isaan folks have to go to work in Bangkok. We were forever poor," Niphon said. "But a rubber pillow now can be sold for a thousand baht at a shopping mall."
Niphon said that the rubber pillow plant now run by a local farmers cooperative is an illustrated result of the previous Rubber Day festival where innovations were introduced to farmers. With the help of experts from relevant institutes, they are now developing more technologies to add value to rubber such as making it a surface for sepak takraw courts. These successes require support from government and also farmers' ability to learn and adjust.
"Farmers today need to be capable of everything, from growing to marketing," said Bueng Kan Governor Pisut Bussayapanpong.
Running for a week, the festival this year will consist of a new technologies exhibition, workshops, talks and everything useful for rubber growers. There will also be entertainment shows and a beautiful agricultural display.
A representative of Rubber Valley Group from China, who had contributed to educating processing technologies at this Bueng Kan fair in the past years, said it is uniquely different from the others he had been.
"It was very interesting to see that attendees of this fair are all local residents and rubber farm owners, not investors," said Chen Husheng.
The festival will be held along with the Red Cross Fair from Jan. 17-23 in front of the Bueng Kan City Hall.
This is a paid advertorial. Khaosod English is not responsible for its content or claims.