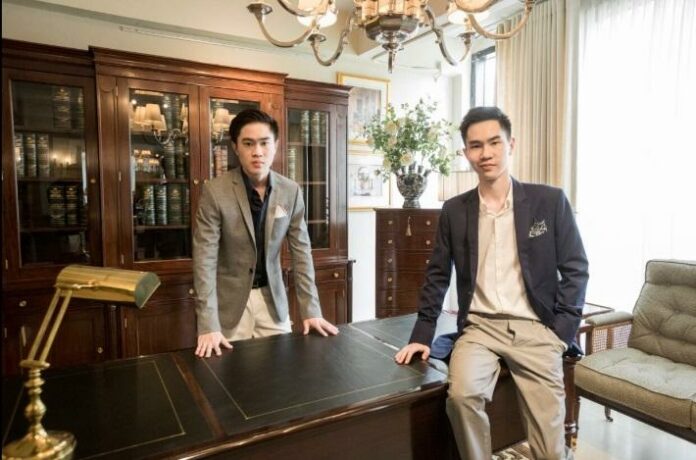 Born into a business-oriented family of Sirin "Tuk" Lertvorapreecha, the mastermind behind lighting creations and designs of Degree Lighting Store, the twins, Pasawut "Pok" Lertvorapreecha and Pasawit "Pong" Lertvorapreecha, have been groomed to have business mind since very young age. Now at only 17 years old, the boys have already come up with innovative lifestyle product for young generation: mosquito repellant blanket under the name Hom Siam, that is a huge hit both in Thailand and abroad.
Pasawit "Pong" Lertvorapreecha explains the story behind that creation that, "We always wanted to create something new but couldn't quite come up an idea. It was until our mother went horse riding upcountry and she was bitten by mosquito and insects so badly that her skin swollen. That got us thinking that there should be a product that protects you from mosquitos other than the existing products in the market. We studied the market for a while and came up with insect repellant blanket."
Insect repellant blanket Hom Siam is made from lightweight and warming polyester that repels mosquitoes and insects but does not have strong smell. Hom Siam blankets come in saffron color, reddish brown and white for practicing Buddhists and general users, crimson red for Myanmar Buddhist monks and red for Buddhist monks in Laos. The 135x180cm blanket is priced at 580 baht each. The teen executives launched their products via monk supply shops and sales representatives nationwide as well as online channels, targeting devoted Buddhists, practicing Buddhists and general users. So far Hom Siam has met with phenomenal feedback thanks to its unique selling points which is warming, mosquito repellence and functionality. Word of mouth and positive reviews from actual users help boost sale and attract more customers.
The budding business of only 4 months has both Pok and Pong as managing executives. Pok takes care of logistic, while Pong looks after merchandise stock. Sirin, the mother of the two, helps oversee planning and gives consultancy concerning legality, documentation and accounting. "We want to do it properly from the very beginning. Our mother is overseeing things from afar and leaves major decisions to us. We try to solve the problems by ourselves first, but if it's too much for us we would seek help from the experienced," the young executives say.
With passion in design, Pok and Pong chose to study Creative Media Design at Stamford International University Bangkok. They are now in their first year. "We are quite close and go places together. We study in the same class and have the same group of friends," the younger twin says, while his older brother adds, "The family value that our family taught us is that we have to love each other and help each other out. The seniority value teaches us to respect our older brother, and it really becomes our habit. I wai Chopin (Lertvoravich) every time I see him. The three of us are very close and we know what's going with each one of us all the time."
Setting their future in entrepreneurship and business, Pok and Pong plan to earn their bachelor's degree in Thailand and continue to work. After three years, they then plan to pursue master's degree in business management abroad. They see their early start in business with Hom Siam as an advantage that inspires self-improvement and responsibility. Apart from making the best use of free time, Hom Siam also earns extra income for the teen executives and becomes their personal pride. Their short-term plan is to finish the degrees and further improve their firm and the products, adding more variety and introducing new products to expand clientele. Being the new generation entrepreneurs, Pok and Pong truly embody the unique creativity and passion in their line of work.
"We're new generation kids and we're e-commerce savvy, and it really helps us penetrate target groups. We realize that e-commerce can be applied to traditional business and create competitive edge that any business needs in the digital world," Pok professes.
Hom Siam products are available from Facebook: Homsiamofficial and IG: homsiam_official  as well as Line ID: @homsiam. Call (086) 775 6666, (089) 775 6666