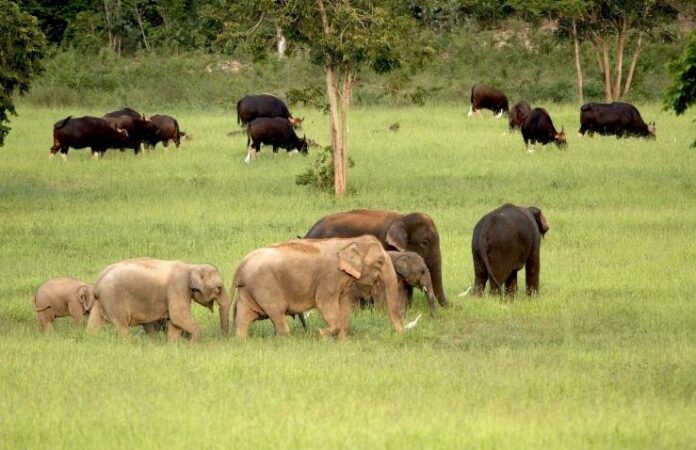 PRACHUAP KHIRI KHAN — Siam Winery aims to restore balance in nature with the initiative to create artificial nests for hornbills from repurposed wine barrels and follow the teaching of the late HM King Bhumibol Adulyadej with the forest preservation work to sustainably preserve natural resources, improve food sources for wild animals and create an environment where humans and animals co-habit in harmony and safety. 
Throughout 30 years of operation since the inception of Siam Winery, the producer and distributor of wines and beverages in Thailand, the company has always had a focus on social responsibility and environmental protection, especially the protection of forests that are Thailand's treasured natural resources. The recent effort is the preservation of Kuiburi national forest, restoring natural balance and its biodiversity.
More than 20 years ago, Kuiburi national forest was almost completely destroyed due to the invasion of pineapple plantation, resulting in the loss of essential food source for wild animals. Wild elephants therefore started stealing pineapples from the plantation to survive. The incident where men and beasts collided soon escalated. In mind-1997, two elephants were found dead from poisonous substance from the plantation and soon after one elephant was shot and killed. 
The news reached the late HM King Bhumibol Adulyadej, who immediately called for the restoration of Kuiburi national forest and "the Conservation and Restoration of Kuiburi National Forest Project under His Majesty the King's royal initiation to conserve wild elephants and wildlife" was established in 1998. The initiation engages in diverse forest preservation and restoration works. Seeing the devotion and hard work of the officials at Kuiburi National Park and those executing HM's initiation, Siam Winery becomes the first private entity that lends full support to the officials' forest preservation works. 
Mr. Chayapol Sornsilp, Manager of Social Responsibility Office of Siam Winery, said that, "Siam Winery has engaged in the preservation work on 300 rai of grass land that provides wildlife with food, Pong Tiem semi-permanent check dam and water source in the grass field so that the animals can roam and graze within the area. We also boosted morale of the rangers by giving them equipment they needed in their work and protected the wildlife by giving rewards to rangers that captured poachers. Our support helped increase the numbers of wild animals in the national park and restored the forest to its full futility, benefiting the neighboring communities that earn income from tourism and eradicating the conflict between humans and wild animals." 
Siam Winery started to get involved in the preservation of Kuiburi national forest since 2009 in a collaborative effort with government and public organizations as well as the communities, and established POWER of Kuiburi (POWER: Public Private Partnership Offering for Wildlife and Ecosystem Resilience) that issues guideline for efficient and sustainable preservation works on wildlife, forest and environment. The partnership, with the success of elephant and wildlife protection and restoration of Kuiburi national forest, was locally and internationally recognized as the model for resolving conflict between humans and wildlife and has since known under the name "Kuiburi Model".
The 1,100sqm Kuiburi national forest is completely restored and becomes abundant home to wildlife, many of which were once considered endangered species. More than 300 elephants and 250 bulls are found roaming Kuiburi national forest. The fertile land is also home to 4 preserved and extremely rare species of Thailand that include tapir, marbled cats, chamois and fea's barking deer, as well as endangered species of the world such as red cow, tiger, leopard and panther that roam the forest freely in safety and natural abundance. Tourists can observe the wildlife at the forest every day. Kuiburi is also home to red bulls, a hybrid between red cows and bulls, that sport the physique of a bull and white mark on their behind like a red cow, making it one of the rare and endangered species that calls Kuiburi home.
Siam Winery also strives to maintain balanced biodiversity through the "conservator birds" like the hornbills that was greatly dwindling in number to near extinction and was listed as protected wildlife, which greatly affected the forest's ecosystem. Siam Winery therefore initiated the Hornbill Nest Research to preserve and increase the number of hornbills in Thai forests.
"As for our preservation effort for hornbills, we have been involved in several projects including forest plantation to expand their home turf, creating food source for the hornbills and repurposing industrial waste like old wine barrels to become their nests. The Hornbill Nest Research is a collaboration with the ecology researcher of hornbills from Mahidol University under the supervision of Prof. Dr. Pilai Poolsawas and designed by Aj. Chakorn Pasuwan from school of interior design, Silpakorn University, since 2015 to give them new home and more chance of survival and reproduction," Mr. Chayapol said.
Since its inception, the Hornbill Nest Research have already installed 6 artificial nests made from old wine barrels. Nest number 1 and 2 are at Siam Winery's Monsoon Valley Vineyards in Hua Hin District of Parachuap Khiri Khan Province. Nest number 3 and 4 are at Wildlife Research Facility in Hala-Bala Wildlife Sanctuary in Wang District of Narathiwas Province. Nest number 5 and 6 are in Sirikit Forest in Bang Lang National Park in Tan To District of Yala Province. Nest number 7 and 8 are placed in Budo–Su-ngai Padi National Park in Ba Jo District of Narathiwas Province. The 9th nest was installed at the Had Sai Yai Farm in Hua Hin District of Prachuap Khiri Khan Province. The last two nests are within Kuiburi National Park in Kuiburi District of Prachuap Khiri Khan. After close monitor, the research team found that three of 11 artificial nests have been used. Two of which are in Monsoon Valley Vineyard and another in Budo–Su-ngai Padi National Park.
"Once the preservation and the breeding of hornbills become successful, it greatly benefit the forest and the ecosystem. The study shows that hornbills are the forest's real conservators. Their feed on more than 100 kinds of wild fruits and each hornbill consumes more than 100 seeds per day, increasing the chance for the plants to naturally propagate from the bird's leftovers. Even though only five percent of these seeds grow into trees, more hornbills means more eating and spitting, and hence more trees. Hornbills also fly long range and carry seeds from one forest to another on their trips. The survival and the population of hornbills are therefore the decent indication of a forest's fertility," Mr. Chayapol explained.
The success of these two projects is the pride of Siam Winery as an organization that is fully involved in preservation works and initiation. It is Siam Winery's determination to maintain this dynamic and drive the society and the environment with high hopes to restore abundance and fertility to the forests in Thailand.