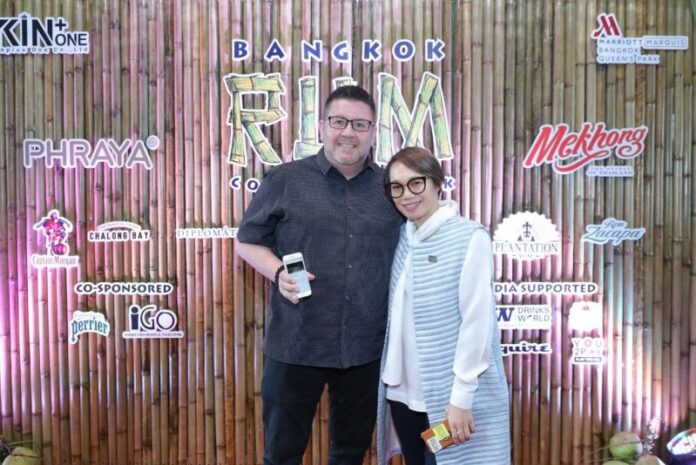 KIN+ONE treats rum lovers to world-class rum experiences at 'Bangkok Rum Cocktail Week 2018' with plenty of special-recipe cocktails by top-notch bartenders and a rum seminar by notable drinks experts.
Billed as an important phenomenon for rum lovers, "Bangkok Rum Cocktail Week 2018" is a week of knowledge and enjoyment that's designed to expand everyone's appreciation and enjoyment of rum, a popular drink with a long history. During the cocktail week, a seminar will be held and facilitated by world-class experts and guest mixologists representing Bangkok's top 25 bars. The mixologists will take turns introducing new rum experiences throughout the week. The organizers will lay on lavish entertainment for their guests at the Rum Wild Out party with internationally renowned DJs playing music. During the party, there will be the announcement of the Top 5 RUM Cocktails in BKK, Top 5 Bartenders in BKK and the Most Vote by bartenders. The "Bangkok Rum Cocktail Week 2018" runs from July 31 to August 6.
Ano Choominjak, Chief Executive Officer of Kin+One Co Ltd, founder and owner of the Bangkok Rum Cocktail Week, says that the Bangkok Rum Cocktail Week 2018 has a clear goal: that is to upgrade and develop the Bangkok bar scene to be more active and colourful. The event aims to be held regularly with an international appeal by gathering producers, sellers, mixologists, business owners and consumers to share knowledge and learn new drink experiences in an enjoyable atmosphere. In this year's edition, the organizers enlist the cooperation of 26 leading bars. These are Baan Suriyasai, Abar, Asia Today, Backstage, Bamboo Bar, Bunker, Cielo sky bar, EAT ME, Find the Locker room, J. Boroski, Fillets, Penthouse, Q&A, Rabbit Hole, Octave Rooftop Loung & Bar, Rarp, Revolucion, Sorrento, Sugar Ray, Thaipioka, Tropic City, The 88 bar, Vesper, Vogue Lounge, Zuma and 204 Bar (the Swissôtel Le Concorde, Bangkok).
"On the back of the success of the event's first edition last year, this year's event has more interesting activities. The highlight will be a seminar that brings together rum experts to share their knowledge about rum and that includes a rum tasting session featuring different kinds of rum. Celebrity mixologists will be on hand to introduce their techniques of mixing up drinks, share their experiences and mix special-recipe cocktails with a rum base for participants' tasting. The event aims to excite and stimulate the cocktail scene in Thailand and to demonstrate the potential of Thailand's beverage sector at the international level."
Experts on hand to share knowledge on rum at the seminar include Thanos Prunarus, owner and bartender of Baba Au Rum Bar in Athens, Greece. The bar was on the list of the world's best 50 bars in 2017. Thanos is also editor of Fine Drinking Magazine and founder of the Athens Rum Festival. Participants for the seminar also include guest mixologists from all over the world plus 9 Thai mixologists who love the taste of rum: Suwincha Singsuwan from Rabbit Hole; Suwan Seelee from Cielo Sky Bar; Supawit Muttharat from Vesper; Kittibodi Chorthumpthim from Backstage Bar; Boonthanes Direkritthikul from Eat Me;Jane Kaew-Yod from Sorrento; Atthapol Deesiva from Q&A; Sebastian De La Cruz from Tropic City; and Jamie Rhind from Bamboo Bar. They will take turns sharing their insights into the history of rum and other interest facts before leading a rum tasting session featuring six types of rum: White Rum, Gold Rum, Age Rum, Flavour Rum, Spiced Rum and Local Rum. The Thai mixologists will also be concocting cocktails using special recipes to show different flavors of ranging rum types. Most importantly, they will show off their techniques of mixing up drinks and generating ideas for new drinks while sharing their professional experiences. The seminar runs daily from July 31 to August 5, 13.00-16.00 at ABAR on the 37th floor of the Bangkok Marques Queen's Park Hotel. Admission is free. Due to space limitations, the seminar can accommodate 50 people per day.
During the Bangkok Rum Cocktail Week, there will be a nightly presentation of special-recipe cocktails by guest bartenders from 4 to 5 bars that continues until all bartenders from the 25 complete their turn during July31-August 5, 20.00-24.00. The Rum Wild Out party will take place on August 6 in the ballroom of the Marriott Marquis Queen's Park Hotel. At the party, everyone will get the chance to taste a selection of cocktails with a rum base to the accompaniment of great music by international DJs to liven up the atmosphere over the course of the party from 17.00-24.000.
Apart from the colourful local cocktail event, the organizers are planning a BKK Rum Roadshow joined by rum-loving Thai mixologists who will travel the world to do guest shifts, or exchange experiences with foreign mixologists in June this year. The participating local mixologists will present their new cocktail recipes with a rum base at bars in four foreign destinations: Singapore, Shanghai, Taiwan and Hong Kong. The roadshow aims to highlight the potential of Thailand's beverage scene that's worthy of international recognition.
All the activities that take place during the Bangkok Rum Cocktail Week from the beginning to end will be woven together into an invaluable story of Thailand's cocktail scene for everyone to appreciate.
All are welcome to explore new rum experiences at the Bangkok Rum Cocktail Week 2019 from July 31 to August 6. For further details about the event and how to take part in activities, visit https://web.facebook.com/BangkokRumCocktailWeek/.