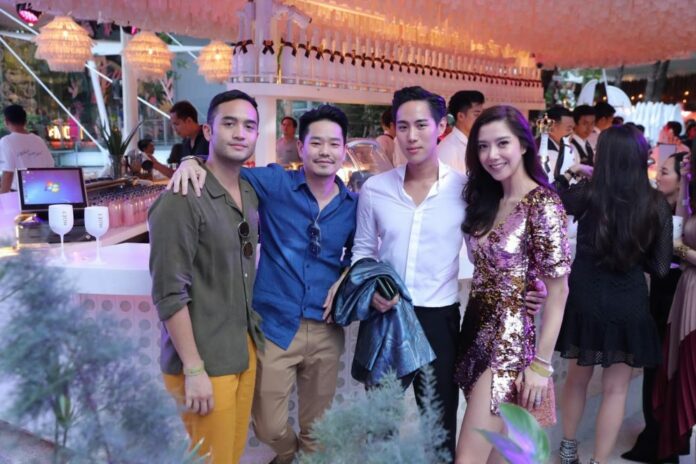 Moët & Chandon, that forms part of Diageo Moet Hennessy Co Ltd's portfolio of products, is a world-renowned premium champagne brand with a long eventful history. For two centuries, the champagne house has enjoyed sustained popularity among French and other European royal courts.
Led by Marketing Director Chayanont Juldusitpornchai and Brand Manager Tachiwa Tipmanoworn, Moët & Chandon is organizing its annual "Moet & Chandon Grand Day" on Saturday, June 9 to mark a day of sparkling celebration where distinguished guests and friends of the champagne house around the globe gather to raise their champagne glasses in a worldwide toast to the memorable moments that produce feelings of joy and euphoria in their lives.
Coming together on Grand Day in Thailand will be a string of A-list celebrities and other Thai influencers who, along with other guests worldwide, will take part in this tradition by indulging themselves their cheerful glasses of bubbly to mark the special day of joy globally.
Chayanont Juldusitpornchai, Marketing Director of Moet Chandon, says: "For 275 years, people around the world have been celebrating all sorts of special occasions with Moët & Chandon. This year, Moët & Chandon has renamed the annual Moët Party Day rendez-vous that debuted in 2016, continuing its festive tradition with an even more glittering lineup of extraordinary events planned for Moët & Chandon Grand Day. Once again, Moët & Chandon invites all devotees of champagne in Thailand to join this special event together with those in 80 countries worldwide in discovering the priceless, enduring charm of this champagne from sunrise to sunset. Being organised for the second time in Thailand, the Grand Day event looks set to become part of the history of joyful cerebration. The countdown to every memorable moment is a toast to life, love and friendship whether it's a big or small happy occasion. A toast to the greatest celebration by Moët & Chandon is an impressive memorable moment. That's why we would like to invite all of our distinguished guests to share this happy moment with people in all parts of the world."
Since 1743, Moët & Chandon has been a master at creating memorable celebrations, and some of its pioneering celebratory installations, like the champagne pyramid, have become a worldwide tradition.  Today the champagne pyramid is a signature symbol of the House and will be the spectacular centerpiece of the events planned on Moët & Chandon Grand Day, to set the "flow" for this day of overflowing and festive generosity.
On Moët & Chandon Grand Day in Thailand, every second of happiness and enjoyment will become an elegant, memorable moment for all participants. The Grand Day event will take place just before sunset at Escape Bangkok, the stylish rooftop bar and restaurant on the fifth floor of The EmQuartier. The rooftop bar will spread the beachside vibes with chill out music played by DJ FT Saxophone. The highlight will be a real-time fashion shoot for sunset relaxation. The distinguished guests will enjoy Moët & Chandon Ice Imperial while savouring the last rays of the day together. By nightfall, our guests of honour will experience a night of unrivalled opulence with a memorable dinner to be held at the Park Hyatt Bangkok. The feast promises to make a lasting impression of everyone as they are treated to a stunning spectacle in the form of a light and sound presentation of Moët & Chandon's memorable glorious history with special technic along the dinner table.
Whipping up the sumptuous meal for the night will be well-known great chefs. For a real taste of luxury, paring with Moët & Chandon Brut Imperial, Moët & Chandon Rosé Imperial and Moët & Chandon Grand Vintage 2008. For enjoyment of the guests, the dinner will be accompanied with live piano music by Saksit 'Toh' Wejsupaporn.
After the meal, there's an exclusive fun party courtesy of Moët & Chandon that awaits all the guests at the Penthouse of the Park Hyatt Bangkok. Manning the deck will be well-known DJs who will keep everyone blissfully happy with their music that plays in rhythm with the "illuminating bottles".  The happy night will wrap up around midnight when guests drink the world's biggest toast that represents the identity of the "Moët & Chandon Grand Day". The occasion symbolise greatness, opulence, love and generosity that every gives one another.
Come and enjoy a memorable moment of happiness in a worldwide toast of Moët & Chandon. The champagne is available at leading department stores, restaurants and leading hotels nationwide. For more information, check out www.moet.com orhttp://www.facebook.com/moet/ .
#MOETMOMENT #MOETGRANDDAY #MOETCHANDONTH
For more media information, contact:
Goodwill Communications Co., Ltd.
Khun Saowanee (Nam) Call: 081-432-0789 or 02-010-5281 Email: [email protected]
Diageo Moët Hennessy (Thailand) Ltd
Kittisak Anansitichok (BiG) Call 083 159 2255 Email: [email protected]