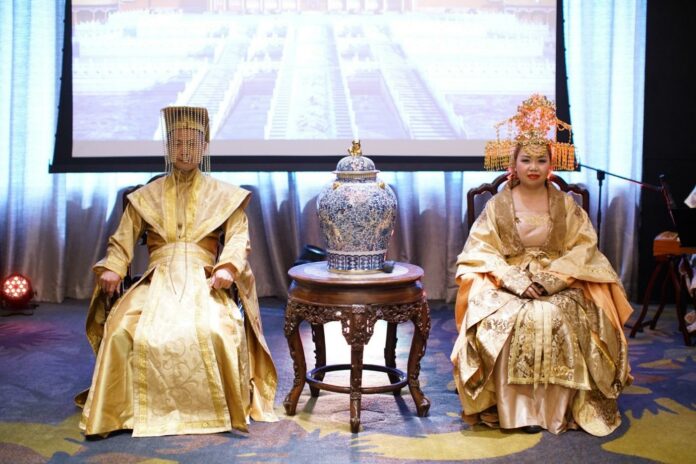 BANGKOK — Pagoda Chinese Restaurant, Bangkok Marriott Marquis Queen's Park is delighted to present a wide selection of mooncakes, the dazzling jewels of the Mid-Autumn Festival celebrated annually. Enjoy an array of mooncakes from traditional baked favorites to mini baked mooncake. All hand-crafted mooncakes are made by finest ingredients carefully selected by expert chefs. The packages of amazing flavored mooncakes are exquisite festive boxes that are ideal gifts to family, friends and colleagues as they guarantee to delight the recipients.
Take your pick from our selection below:
TRADITIONAL BAKED FAVOURITES
Signature Black Truffle, Single Yolk with Premium White Lotus Seed Paste
Our luxurious signature mooncake combines the rich, earthy flavor of black truffles with indulgent single yolk and the sweetness of white lotus seed paste to create an indulgent and irresistible treat. For guests seeking the ultimate Mid-Autumn Festival gift, these sublime mooncakes will make a lasting impression, both in the heart and on the taste buds.
Chanthaburi Durian, White Lotus Seed Paste and Single Yolk
This tropical Thai variety uses the finest local durian for a rich and creamy filling. Located in Eastern Thailand, the coastal province of Chanthaburi is famous for producing the country's finest durians. Plus the combination of white lotus seed paste and single yolk create a unique delectable taste. Our chefs have now used their distinctive, creamy flavor to create this wonderful Thai-style mooncake.
White Lotus Seed Paste with Single Yolk
Another traditional favorite harnesses the creaminess of egg yolk for a deluxe finish. Perhaps the most popular of all mooncakes, this is a wonderfully smooth variety that is sure to bring the very best wishes and good spirits to your friends, family and colleagues.
White Lotus Seed Paste with Macadamia Nuts
A modern twist on a classic favorite, this exquisite baked mooncake uses premium Australian macadamia nuts instead of chestnuts. With ingredients sourced from one of the finest macadamia producers, these luxurious treats will be sure to delight all who receive them.
Pork Bak – Kwah, Assorted Nuts
A popular Singaporean choice, this variety combines sweet and sticky cured pork with crunchy mixed nuts. The pork is prepared with spices, sugar, salt and soy sauce, before being blended perfectly with the nuts. For a festive gift with a twist, these mooncakes are the perfect choice.
MINI BAKED MOONCAKE
Vanilla Custard, Single Yolk
A mini unsweetened vanilla custard mooncake is a perfect choice for your afternoon relaxation. Choose your favorite tea to match with the mini mooncake.
Whichever type of mooncake you select, Pagoda Chinese Restaurant at Bangkok Marriott Queen's Park offers them all. It is the perfect choice to impress recipients for this year's Mid-Autumn Festival. Available to order the mooncake from now and pick up during 1 August – 26 September 2018. For more information and to order, please call 02 059 5999 or email [email protected]