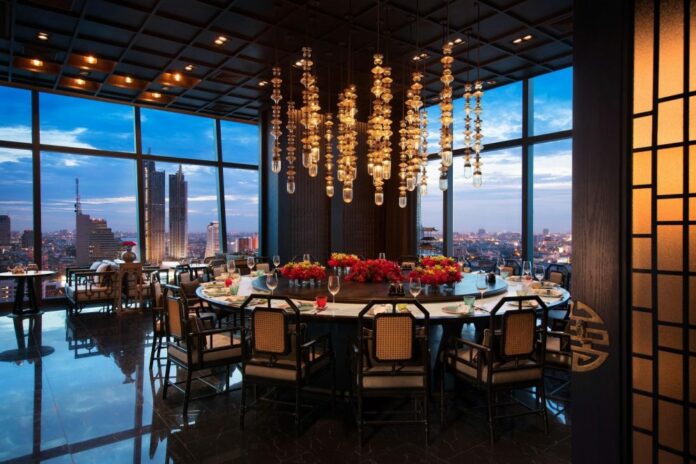 With the festive season in full swing, let's up the ante on happiness by celebrating this joyous time of the year with your loved ones, family or best friends at the four outlets of Bangkok Marriott Hotel The Surawongse. The various outlets offer the warm, perfect setting for every special meal as well as fun and relaxing activities for guests of all ages to pep up the upcoming special occasions as we ring in the New Year.
First up, food lovers have plenty to excite their taste buds about during the festive season at Praya Kitchen. The plush Thai restaurant will take diners back in time to revisit beautiful childhood memories of Christmas and New Year. The restaurant maintains menus of original-recipe Thai cuisine, local delicacies and rare dishes. Praya Kitchen focuses on the use of high-quality ingredients to create its repertoire of quintessential Thai delights for everyone to enjoy. Diners have the opportunity to witness live cooking playing out at the buffet station as they await their order to arrive on the table. Any meal at Praya Kitchen promises to keep diners' seated with pleasure.
The Christmas Eve buffet dinner on December 24, 2018 is a sumptuous feast with a range of buffet lines that stand out with bountiful fresh seasonal ingredients. Boosting excitement levels at Praya Kitchen during the festive season will be live music, the "Kids Corner" and Santa Visit that promise to turn every meal into a truly memorable dining experience. The buffet dinner costs THB 2,288++.
Food lovers keen on celebrating the arrival of the New Year will be delighted by an impressive New Year's Eve dinner buffet on December 31, 2018 from 18.00 – 22.30 for THB 2,288++. The dinner menu is a dazzling array of chefs' childhood memories dishes available from different food stations and using imported premium and local ingredients.
For every meal planned during the festive season at Praya Kitchen, children aged less than six dine for free. Kids aged from six to 12 are entitled to a 50 percent discount while teenagers aged over 12 are subject to normal adult prices.
Furthermore, Yào Restaurant, known for its seamless blend of classic and modern designs, is set to provide a special dining experience to all food lovers. The atmosphere is Chinese vintage with an air of metropolitan luxury, leaving diners feeling like they are celebrating the holiday season in the heart of Shanghai. Yào Restaurant maintains an extensive menu of original-recipe Cantonese and Shanghai cuisines plus a range of contemporary Chinese dishes. The selection here is greater than that of any other Chinese restaurant in town. Yào Restaurant is determined to keep diners' spirits up during the festive season by making sure every meal is a scene of jubilation.
Yào Restaurant's New Year's Eve set menus (starting from THB 3,888++) are on offer for lunch from 11.30-14.30 and dinner from 18.00-01.00. Prices for private dining at the restaurant's private rooms start from THB 5,888++. The restaurant looks set to titillate the palates of dim sum lovers with a New Year's Day dim sum lunch set from 11.30-14.30 for THB 1,888++.
Yào Rooftop Bar has lots of fun and drinks in store at the New Year countdown party that will culminate with a spectacular firework display sure to illuminate Bangkok's night sky for added nighttime ambience. Set to wow the guests starting 21:00 hrs are fantastic Chinese dance and art performances, cold fire display, a selection of delectable drinks and DJ entertainment.
On New Year's Eve (December 31, 2018), guests are welcome to go partying from 17.00-20.00 take advantage of early-hour packages priced at THB 888++ (free-flowing Chang beer and soft drinks), THB 1,888++ (add free-flowing white wine and red wine), THB 3,888++ (add free-flowing prosecco and house spirits) or THB 5,888++ (add free flowing Taittinger champagne).
For the countdown party On New Year's Eve, guests are welcome to go partying from 21.00-02.00 to take advantage of packages priced at THB 5,888++ (free-flowing Chang beer and soft drinks, white wine and red wine and house spirits), THB 8,888++ (add free-flowing prosecco) or THB 10,888++ (add free flowing Taittinger champagne). All packages include canapé snacks. Reservations are required as seats are limited.
Another cool place for celebrating the festive season is The Lobby Lounge, a stylish luxury spot. The Lobby Lounge is gearing up to provide the best festivities like no other. If you're looking for Christmas gifts, family activities, or a place to relax in during the holiday season with relaxing afternoon tea, then The Lobby Lounge is exactly the right place to be as it has everything in one place. The lounge will be holding festive activities for kids from December 6 to January 1 with cooking workshops for children on December 24 and 25.
For those looking for gifts from their loved ones, The Lobby Lounge has a full range of gifts for the holiday season available for purchase from December 6, 2018 to January 1, 2019. There's a delightful afternoon tea set designed specially for a good time over Christmas and New Year from December 6 to 30, 2018. Festive platters for these special occasions are available from December 24, 25, 31, 2018 and January 1, 2019.
Besides the delightfully scrumptious food, the hotel's four restaurants are blessed with a relaxed, fun atmosphere which is perfect for top-notch dining that cannot be found elsewhere. The festive season at Bangkok Marriott Hotel The Surawongse will be overflowing with delight, beauty and happiness. Booking a festive dining package in advance is highly recommended. For more information, call 02 088 5666 or www.bangkokmarriottsurawongse.com .