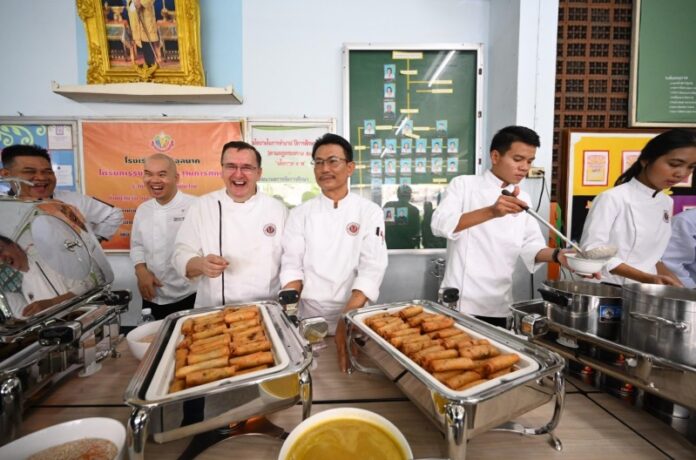 Bangkok Marriott Marquis Queen's Park helps to raise culinary standards and gives back to the community at Marriott Culinary APEC 2019
Bangkok, Thailand, 5 June 2019 – Bangkok Marriott Marquis Queen's Park has helped to raise awareness about key issues and improve best practices in the F&B industry, while also giving back to local communities in Asia Pacific, by hosting Marriott Culinary APEC 2019.
This four-day event, which took place from 27-30 May 2019, gathered chefs and culinary professionals from Thailand, Vietnam, Cambodia and Philippines for a series of events and discussions. The final day, 30 May 2019, was held at the Ford Resource and Engagement Center (FREC Bangkok), including Na Café & Bangkok 1899, and featured an action-packed morning of activities.
Hosted in association with the Scholars of Sustenance (SOS) Foundation, which provides meals for local communities, the event included a culinary workshop where chefs prepared a special lunch for children from Satri Julanak School. The summit culminated with a seminar for guests and the media, entitled "Food Trends, Communicating with Chefs and Writing about Food."
Bangkok Marriott Marquis Queen's Park operates a wide range of responsible practices, which are designed to foster sustainable development and social awareness within the F&B industry. These include sourcing from local and organic suppliers and working with SOS Foundation to optimize its produce, making use of all surplus food.
By hosting Marriott Culinary APEC 2019, the hotel continues to shine a spotlight on these critical issues and the F&B industry's impact on the environment.
"Since we opened in 2016, Bangkok Marriott Marquis Queen's Park has been dedicated to operating in an environmentally and socially responsible manner. This includes a series of innovative F&B initiatives, such as measures to reduce surplus food; in fact, we recently became the first urban five-star hotel in Asia Pacific to be awarded The PLEDGE certificate, for our commitment to tackling this issue," said Mr. Simon Bell, General Manager, Bangkok Marriott Marquis Queen's Park.
"We were delighted to host Marriott Culinary APEC 2019 and further highlight the key issues currently facing the F&B industry in Asia Pacific and worldwide. We were also honored to create a healthy and delicious menu for the children at Satri Julanak School, while also creating awareness among our business partners about how to forge a sustainable future for the industry," he added.
The event challenged the participating chefs to create a meal from surplus ingredients, which was then served to the children. After this culinary workshop and lunch, the seminar helped to provoke discussion among delegates and the media.