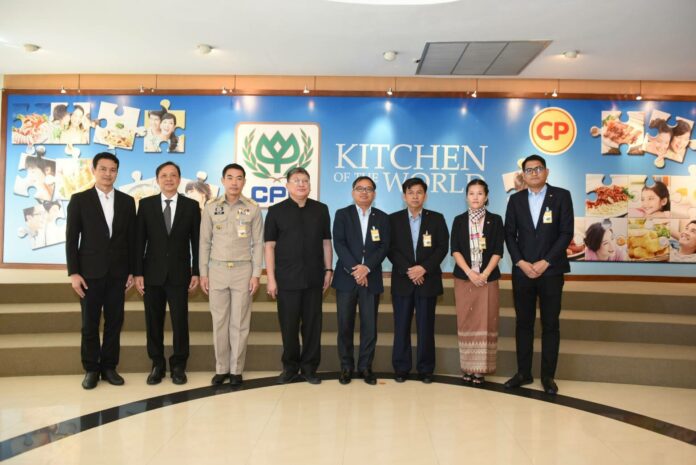 Charoen Pokphand Foods PCL (CP Foods) had implemented its long-term goal of the labour employment policies to provide productive, non-discriminatory, exploitation-free, decent, safe and healthy work opportunities to ensure equal treatment for proper human living of workers in line with international labour standards.
Recently, H.E. Mr. Ouk Sorphorn, Cambodia's Ambassador to Thailand, led a delegation to visit Cambodian workers at Charoen Pokphand Foods Plc (CPF)'s chicken processing plant in Nakhon Ratchasima. His presence affirmed that all workers were equitably treated in line with international standards.
H.E. Ambassador Mr. Sorphorn said Cambodia Government puts in place on Cambodian workers in any countries to make sure that they have fair treatment from their employers. They need to underline good management under international labour standards without discrimination for the Cambodian citizens.
"Meeting with our Cambodian people at CP Foods' manufacturing plant here made me felt very happy and confidence that everybody have good taking care and fair practices under Thai Labour Standard (TLS) and international labour standards. The Embassy will carry forward their good living standard and happiness in the workplace in Thailand to their family. We would like to thank the company for providing good labour practices like here is their second home," stressed Ambassador Sorphorn.
He added noted that Cambodian worker around the world is an important driven engine by building and managing a labour market that contributes to the Kingdom and Asean region so that it can compete at the global level. It also upgrades of better living standard of Cambodian people. The Embassy wants a collaboration of all parties to provide fair practices to those workers in Thailand for their happiness.
Mr.Niran Dutchanuthat, Deputy Governor of Nakhon Ratchasima, said foreign workers have played an important role to strengthen Thailand's social and economy sustainable growth. The government has praised CP Foods on its strictly implantation in line with TLS, Good Labour Practices and international labour measures.
Mr.Parisotat Punnabhum, Executive Vice President for Human Resources of CP Foods, said that the visit by H.E. Mr. Ouk Sorphorn, Cambodia's Ambassador to Thailand significantly boosted the morale of Cambodian workers in Thailand and helped assure their families of equitable and non-discriminatory practices under Thai labour law and international human rights principles. The practices are applied to all workers along with CPF's sustainable development goals under the determination to lift the quality of life of all workers in the supply chain and to affirm CPF's zero tolerance to all kinds of forced and illegal labour.
So far, the company had already implemented its concerned policies for labour management such as Human Rights Policy, Employment and Labour Management Policy, Foreign Labour Hiring in Thailand and Discrimination and Harassment Policy etc.
CPF also collaborates with the Labour Rights Promotion Network (LPN), a civil society organization in Thailand, to set up the Labour Voices Hotline by LPN. Starting operations late 2016, the hotline with staff proficient in Khmer, Myanmar, Thai and English
languages welcome workers' suggestions and complaints as well as provides advisory services and assistance. It also organizes training on human rights, Thai labour law, and occupational health and safety. It encouraged workers' engagement in communications and information exchange and their assistance to fellow workers in trouble. In 2019, the hotline center tasks itself to trace the migrant worker recruitment process from the countries of origin, to ensure full compliance with laws in Thailand and the countries of origin and zero employment of forced, slave and all kinds of illegal labour.
In addition, LPN also joins hand with CP Foods to conduct a traceability program to trace foreign labours from their home countries to Thailand. This is to ensure that all recruitment of the two countries are transparence and 100% legal employment without slavery labour and forced labour.
CPF currently employs a number of migrant workers to ease labour shortage in the food supply chain. Cambodian workers account for 6,900 and 3,500 are from Myanmar. They account for 40% of low-level workers. The chicken processing plant in Nakhon Ratchasima employs 6,160 Cambodian workers, an increase of 3,800 from 2015. Under CPF's recruitment policy, all are full-time employees and receive fair and equitable salary and welfare as specified by Thai law and CPF's rules. They also enjoy non-discriminatory opportunities to prosper in their respective fields of work.