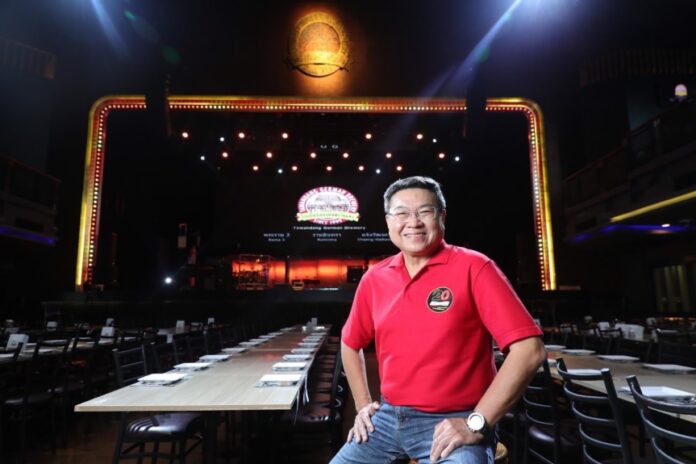 Tawandang German Brewery this year celebrates 20 years in business in grand scale. As the number one microbrewery in Thailand, the firm teams up with business partners to launch series of promotional campaigns to create brand loyalty and increase 10% of sales with focus on beers, food, entertainment and services. 
Mr.Supote Teerawatanachai, Chief Executive Officer (CEO) of Tawandang, German Brewery, reveals that throughout 20 years, Tawandang German Brewery has become a destination for fun and warm, welcoming vibe for patrons throughout 3 outlets in Rama III, Ram-Indra and Chaengwattana. With patrons that include families, friends and catering, the microbrewery welcomed 850,000 customers in a year at all its 3 outlets with 38% of patrons from Tawandang German Brewery Rama III, 36% from Ram-Indra and 26% from Chaengwattana. 
"We believe that Tawandang German Brewery is the landmark of Bangkok in terms of microbrewery. 50% of expats living in Bangkok are familiar with us, and tourists find us via guidebooks and travel tips. I cannot say we are without competitors, but so far, we're the only one left standing. Those that came before us are no more, and those that follow our footstep, hoping to copy us, are all out of business. But Tawandang German Brewery's biggest competitor is in fact Tawandang German Brewery. We have to work hard, maintain our strengths and improve ourselves. For the past 20 years, our increase in sales is considered from spending per person. When we first open, one customerswould spend around 300 baht, and now it's 700-800 baht. This may due to the increasing price of living, which also increase our income. My expectation is humbly to gain 10% growth every year. Our current income is 800 million baht, and I think it's not too far-fetched to reach 900 million by the end of this year."
Tawandang German Brewery looks to strengthen its four pillars in the business, i.e. beers, food, entertainment and services. Supote says Tawandang German Brewery now adds two new beers in the menu, which is the rose-hued rose beer that will be a hit among women and Hops Bomb, or Indian Pale Ale, that offers pleasant hoppy palate. The other three beers – Lager, Dunkel and Weizen – have already become favorites among Thai customers. 
For food, Tawandang German Brewery has set up PD (Product Development) department to create new menus every 3 months. The new menus, besides being flavorful and wholesome, have to appeal to younger generation customers. The menu will also have more dessert dishes. The overall quality and consistency will be overseen by a central kitchen that acts as a center for produce purchase, ingredient selection and making sauces and soups for various dishes, such as steamed fish with lime, sour soup, tom yum and dipping, to maintain standard throughout the 3 outlets. Best-selling menus are still deep-fried pork knuckles, deep-fried seabass with fish sauce, stir-fried cabbage with fish sauce, yentafo soup with no noodles, lotus root somtum and others. Japanese food lovers are also treated to Yuyake Sushi Bar that offers authentic Japanese dishes made with fresh ingredients and whole fish imported from Japan. The Japanese food section is 15% of overall income from food. 
Entertainment-wise, Tawandang German Brewery incorporates new technologies and features to offer more wow-effect that include digital mapping, shows in series, short plays in Thai and so forth under the supervision of Bruce Gaston. Each of Tawandang German Brewery outlet has its own artistic direction when it comes to entertainment, to best serve different target audience. Supot stresses that Tawandang German Brewery has the unbeatable entertainment offering that cannot be found anywhere else, with live concerts of Thailand's big-name artists every month to draw more potential customers to Tawandang German Brewery. 
Last but not least is the service where Tawandang German Brewery offers training to staff members for them to deliver fun, welcoming and genuine service. For 2 decades Tawandang German Brewery has accumulated the unique service know-how that win the hearts of the customers and send them to the number one spot in the microbrewery industry. 
Supote continues that, "During the festive season at the end of the year, we earn more than 80 million baht from catering and special events. This is all thanks to our strength as a one-stop service that can accommodate up to 2,000 customers and offer a complete package with stage, entertainment, singers, light and sound system, food and services and ample parking space. Many keep coming back and only use our venues for their special events. I dare say that no other restaurants can do it like us. They may be able to but the price will be too high."  
Celebrate 20 years of Tawandang German Brewery with the campaign "Eat and Drink with KTC". Indulge in a sumptuous array of food and drinks and enjoy nightly entertainment at three of Tawandang German Brewery branches. Every payment with KTC card receives 10% discount, and every 1,000 baht spent gets one chance to win a package trip for two (worth of 432,000 baht) to Oktoberfest 2019 in Germany until July 7, 2019.
"Previously we have offered something similar – the "Drink German Beers with Tawandang German Brewery" in 2003 and 2006 – and the campaign got overwhelming feedback from our customers that kept asking us to do it again. For our 20th anniversary, we think it's a great opportunity to respond to the demand with the alliance with KTC. Only 30 lucky winners will get to come with us to Oktoberfest 2019 to enjoy the authentic German vibe, German food and German beers as well as exclusive experiences curated by Tawandang German Brewery. Besides, the trip will happen through the romantic routes in Germany during autumn. All perks and privileges considered, the price we offer is a great deal," Supote says.
Patrons can enjoy series of 20th anniversary celebration activities by Tawandang German Brewery. Simple follow Tawandang German Brewery on social media and connect to the brand via LINE to get updates on discount deals. Tawandang German Brewery is gearing up to develop its social media membership of 15,000 to build lasting brand loyalty and offering various activities to entice microbrewery lovers and create fanbase and clientele in the younger generations. The celebration will also include an array of diverse, flavorful and high-quality food menus and new dishes to entice customers. 
  "What we aim to do from now is taking good care of the living and non-living aspects of Tawandang German Brewery. The non-living are the restaurants, the beers, the food and entertainment, and the living being our colleagues and staff. This is our duty," the CEO of Tawandang German Brewery professes.