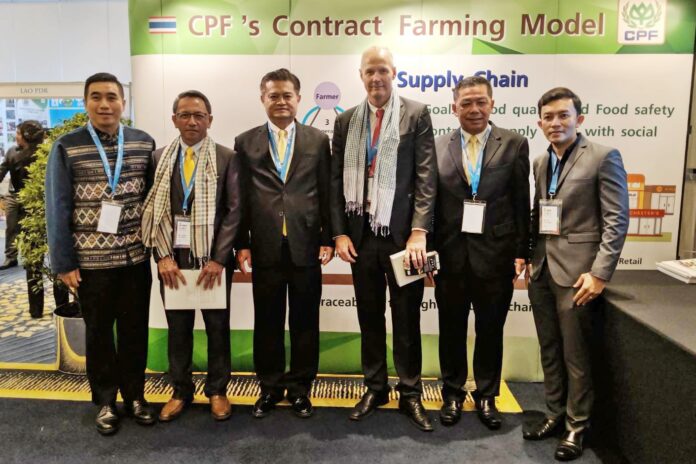 Charoen Pokphand Foods PCL (CP Foods) revised its contract farming agreement to allow more involvement of farmers in decision making process, assuring them of fair treatment.
The agreement are developed in line with UNIDROIT (The International Institute for the Unification of Private Law), the most well-known independent intergovernmental organization on private law. This guideline was endorsed by the Food and Agriculture Organization of the United Nations (FAO).
The company introduced contract farming model to promote employment and support income generation among Thai farmers since 1975. So far, CP Foods' contract farming operations include over 5,500 chicken and swine farmers, of that, small farmers accounting for 90%.
CP Foods' senior vice president Mr. Narong Jiemjaibunjong said the revised contract aims at creating win-win partnership by enhancing the participation of contract farmers in decision-making processes, for example, risk management and clarity of compensation and incentives details.
"We are the first company in Thailand that applied this international guideline in the scheme, he said. "CP Foods strives to set the best standards in which farmers are treated as our life-time partners."
To ensure that they are treated fairly, CP Food's established Contract Farming Complaint Center to increase communication channels between farmers and the company when questions or complaints arise. Farmers are encouraged to communicate directly to the executives through this channel in addition to voicing their concern to the local staffs.
Also, CP Foods is the first livestock company that offers disaster insurance for small farmers. Mr. Narong explained that the company is taking this risk on their behalf for the farmer's own stability as well as educated them to recognize the importance of risk management.
He added that all contract farms are closely supervised under the same standard as it owned farms, ensuring consumers of high quality and traceable products. The company hosted both group and one-on-one training programs for farmers to boost farmers' capacity on effective farm management and ecofriendly business practices.
Moreover, CP Foods is the only organization from private sector to Mekong Hub Knowledge and Learning Fair (MKLF) 2019, showcasing its contract farming model to delegates across Southeast Asia.
With a clear guideline and internationally accepted standards on fair business, Dr. Thanawat Tiensin, Thailand's permanent representative to FAO, said at MKLF 2019 that Thailand is a role model for contract farming scheme in Southeast Asia. He remarked that a strong collaboration between the government, financial institute and private sector has proven to successfully raise local farmers' quality of life as well as standard of Thai food products.
FAO also organized a study visit to CP Foods' contract farms for participants from seven countries including Vietnam, Cambodia, Laos, Myanmar, the Philippines, Nepal and Bhut since 2015. The study visit gave participants the knowledge and adapt the model to match their own environment.