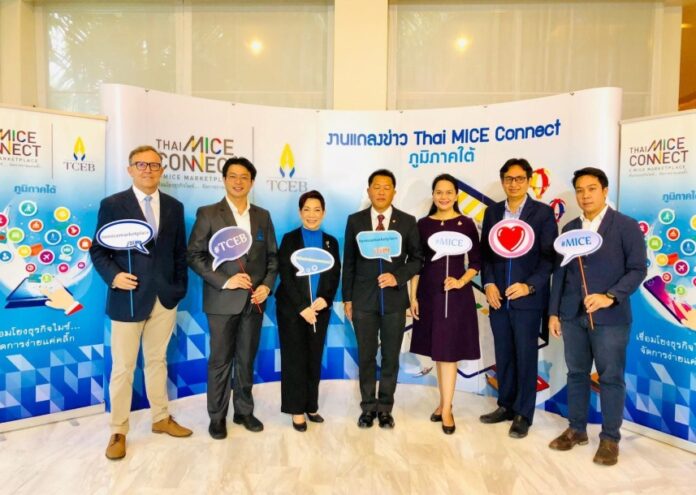 Aiming to connect and to build the largest MICE database in ASEAN region 
Phuket

is the pioneer MICE city in the southern region of Thailand for Thai MICE Connect project, to create business equality and develop the comprehensive platform that connects the MICE industry and make Thailand's the world's MICE destination with expected five times more GDP in the cities along Andaman Coast in the next 20 years.

 
Mrs.Supawan Teerarat,TCEB Senior Vice President – Strategic Business Development & Innovation of Thailand Convention & Exhibition Bureau (Public Organization) or TCEB announces that MICE business is the main platform that connects various fields of industries, from tourism to hospitality, services and logistics. As a government agency under office of prime minister in Thailand, our TCEB's role is to lift up MICE industry under national's three polices, i.e. generate income, disperse income to other parts of Thailand and improve MICE industry with innovation to equally and sustainably strengthen Thai MICE industry.
The development of national MICE information plays the crucial role in driving the overall economy of Thailand and generate dispersed income throughout the country with MICE-led businesses. TCEB therefore collaborates with more than 10 organizations from governments and the private sectors side to elevate MICE industry of Thailand with information innovation.
"We recently started information gathering and data collection of service providers and products in Thailand's regional MICE businesses for the initiation "Thai MICE Connect: E-MICE Marketplace" to become the comprehensive and reliable source for all MICE-related information in Thailand. And Thai MICE Connect will be Thailand's first comprehensive E-Marketplace for MICE industry. Thai MICE Connect project is divided into 2 phases. The first one will be implemented on the fiscal year of 2019, covers central Thailand, the south and the northeast, while the latter in fiscal year 2020 will cover the north and the east of Thailand." said Mrs.Supawan
Why Phuket… Pioneer city for Thai MICE Connect?
Phuket is considered the prime MICE destination among the Andaman Coast provinces, that include Phuket, Krabi, Pangna, Ranong and Trang, where MICE businesses are thriving with large number of MICE entrepreneurs. Phuket is also acknowledged by UNESCO as ASEAN's first Creative City Gastronomy and the city is also the pioneer target for long-term development by the Thai government, covering 4Ms which include Marine Hub to be the destination for regional maritime tourism, Medical Hub to offer medical tourism.
As MICE destination, Phuket is highly readiness as the center of international expos and seminars, and lastly Manpower Development that develops and enhances hospitality personnel for Phuket to become a true world class destination. The development initiative also covers 3S's, i.e. Sport Tourism to be the destination for sport tourism, Smart City to steer Phuket towards digital-led modernization and Sustainable Development that aims to maintain balance and sustainability in every aspect of development.
With the strong support from the government such as the mega project budget of 1.25 hundred million baht to create Phuket SMART city, the plan for the second international airport slated to open in 2027 as well as light rail transport system that connects the future airport with the city center and major maritime tourist attractions, together with the expanding of transport system from the airport to Phuket city, and the plan to develop piers for cruises and ships. These projects will support the potential of Phuket to become a MICE destination in Asia.
"With Phuket's great potential, TCEB has started collecting data of Phuket MICE industry, from upstream to downstream entrepreneurs, to offer more trade opportunity under the Thai MICE Connect. Thai MICE Connect is a data source in E-MICE Marketplace format. As the first MICE E-Marketplace in Thailand, the provided information includes surveys, analysis and information concerning MICE demand and supply chain to be the national MICE database. The information, presented in Thai and English, allows interested parties from within Thailand and all over the world to access information on Thai MICE products, services, providers and producers in the industry anytime, anywhere. Thai MICE Connect also accommodates digital MICE trend that has become more prominent and boosts potential and capacities of Thai MICE businesses, giving them more trade opportunity in one platform". concluded Mrs.Supawan
Thai MICE Connect is Thailand's first innovative platform that aims to elevates and promote Thai MICE industry in the new global market where MICE entrepreneurs need to be ready and ever evolving to stand out. The E-MICE Marketplace gives a "heart" to entrepreneurs that update their services and products frequently with images, text or promotions to attract buyers. Thai MICE Connect also inspires MICE entrepreneurs to improve their businesses with business development campaign where they can evaluate their performance with self-evaluation system. TCEB is also offering training workshop and public hearing to arm MICE entrepreneurs with data collection and digital marketing where participants can exchange ideas and experiences and apply the knowledge to best benefit the buyers. According to the TCEB's director, Thai MICE Connect: E-MICE Marketplace will be launched officially on October 15, 2019.