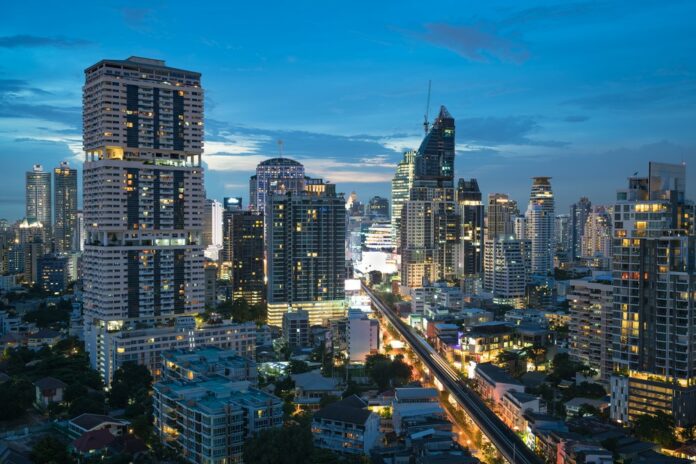 Phrom Phong is one of the most exciting areas in Bangkok. When you book your hotel in the Phrom Phong area, you'll enjoy staying in an area that features a multi-cultural community. It's the multi-cultural aspect of this vibrant neighbourhood that has made for the great selection of restaurants along the colourful streets and alleys of the area.
The Em District is also within the borders of the Phrom Phong area. This massive project includes the Emporium Shopping Mall, EmQuartier Shopping Mall, right across Sukhumvit Road from the Emporium, and EmSphere, which will be a vast, glass-domed structure beside Benjasiri Park. Together they will become a landmark in Bangkok, offering some of the most upscale and diverse entertainment, art, and shopping experiences in the entire city.
Quick and Easy Access to All Areas of Bangkok
The BTS Skytrain runs along Sukhumvit Road and right through the heart of this diverse neighbourhood. Take the BTS Skytrain from the Phrom Phong station and transfer to the MTR at the Asoke station one stop further along the line. You'll enjoy an interconnected rail transportation network that will open up the city for you to explore from your hotel in Phrom Phong.
With the combination of the BTS Skytrain and the MTR system, plus the Airport Link rail transport system, you'll be able to access all the historical and cultural areas of Bangkok easily. Plus, you'll enjoy all the entertainment, dining, commerce, and shopping areas for which Bangkok has become world-famous.
The Airport Link will whisk you from Suvarnabhumi Airport into your hotel in Phrom Phong without having to deal with the traffic of Bangkok. Use this rapid transit network to plan your sightseeing trips around the city, and save time and money by not having to rely on taxis or car rentals.
Explore Phrom Phong
There are plenty of activities in Phrom Phong to delight the entire family. Take a stroll around Benjasiri Park, right along Sukhumvit Road next to the Emporium. The park regularly offers dance and music performances and art exhibits to the public for free.
Take your kids to the Imaginia Playland on the top floor of the Emporium. This is an indoor play area and educational resource that offers a reading room, games to play and arts, and an arts and crafts area, along with playground equipment where they can get some exercise in air-conditioned comfort.
Do you want to go surfing in the middle of Bangkok? It's possible in Phrom Phong. Visit the Flow House, an urban beach club in the middle of the city that offers surfing in a FlowRider pool where you can experience riding the waves in complete safety.
When you book a hotel in Phrom Phong, you'll enjoy being in one of the most diverse and colourful locations in Bangkok. Plus, you'll have easy and quick access to all the attractions and features of the world's most-visited city.