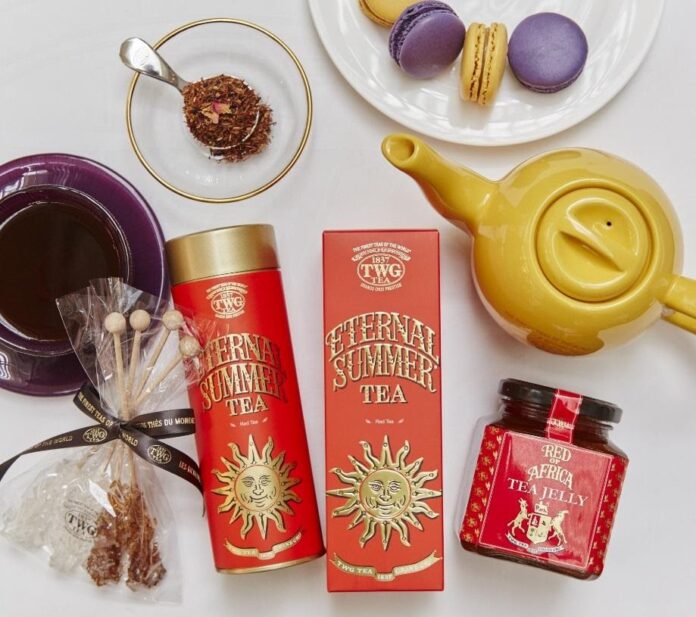 Bangkok, 12 March 2020 – As the balmy summer is approaching, TWG Tea gears up for the tropical season with an exceptional range of red teas from South Africa to pamper and refresh your palates.
High in antioxidants, vitamin C, mineral salts and protein, red tea or rooibos is produced from a bush known as the Aspalathus Linearis in South Africa. Red tea, an herb native to South Africa with a complexity much akin to the tea bush, is 100% theine-free and is suitable for tea lovers of all ages. The smooth, earthy-sweet herbal flavour of red tea also makes it a popular thirst-quenching beverage during the warm summer days.
Revitalise your senses with Red of Africa Tea, a delicate red tea blended with sweet TWG Tea spices, marigold and citrus. Enveloping, this theine-free tea can be served warm or iced at any time and is perfect for children as well.
A magical flight of the imagination, Red Balloon Tea is another perfect confection to brighten your summer day. Blueberries lend their tangy sweetness to this airy, theine-free red tea which sparkles with overtones of crunchy nashi fruit. Fly high with this delightful ode to youth and innocence while beckon dreams of magic and enchantment in a cup.
The Red of Africa Tea and Red Balloon Red from the Haute Couture Tea Collection® are available at all TWG Tea Salons & Boutiques in Bangkok at 1,360 baht each. Browse the full range of red tea blends at TWG Tea Salons & Boutiques.
For more information, please contact us at 0-2259-9510.
Infuse Your Summer with Red Tea Blends
Celebrate the delightful summer days with TWG Tea's selection of red tea blends from South Africa, coupled with a decadent red tea-infused dessert to pair with your favourite cup of tea.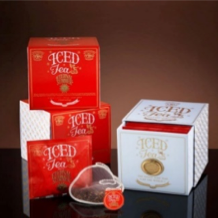 Eternal Summer Tea, Iced Teabag Collection
Embellished with notes of sweet summer rose blossoms accented with raw berries which finish with a lingering aftertaste reminiscent of ripe Tuscan peaches. This beloved red tea is enclosed in a gift drawer shaped like a chiselled ice cube, each box contains seven individually wrapped, hand sewn silken Iced Teabag. Eternal Summer Tea from the Iced Teabag Collection retails at 1,200 baht each.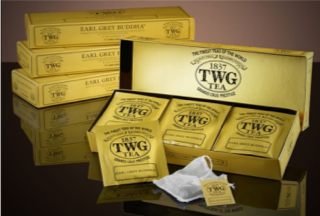 Crème Caramel Tea, Cotton Teabag Collection
Delicate red tea with a secret TWG Tea blend of sweet French spices. A dessert in itself, this theine-free tea can be served warm or iced, at any time of the day. These hand-sewn, 100% cotton TWG Teabags allow our whole leaf teas to develop their full and unique aroma and give them ample room to expand during infusion. Crème Caramel Tea from the Cotton Teabag Collection retails at 840 baht each (15 teabags).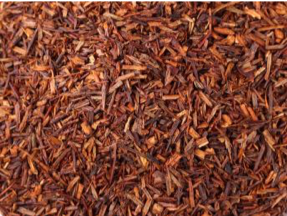 Choco Mint Truffle Tea
With soft notes of vanilla, rich chocolate and a hint of mint, this TWG Tea red tea of South Africa is a sweet and intoxicating cup of tea. A dessert in itself! Choco Mint Truffle Tea retails at 240 baht per 50gram.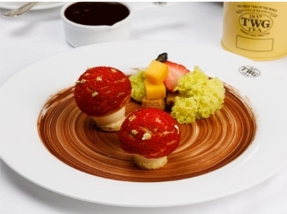 Profiteroles
For the sweet tooth, TWG Tea also offers a tantalising dessert of Vanilla Bourbon Tea ice cream filled profiteroles drizzled with a chocolate sauce. Red tea goes very well with desserts and would be a perfect accompaniment for an ideal summer treat. Available at 260 baht.
About TWG Tea
TWG Tea, the finest luxury tea brand in the world, was established in Singapore and celebrates the year 1837 when the island became a trading post for teas, spices and fine epicurean products. TWG Tea, which stands for The Wellbeing Group, was founded by Taha Bouqdib, Maranda Barnes and Rith Aum-Stievenard in 2008 as a luxury concept that incorporates unique and original retail outlets, exquisite tea rooms and an international distribution network to professionals. Committed to offering teas directly from source gardens, TWG Tea's collection is the largest in the world, with fine harvests from every tea producing country and exclusive handcrafted tea blends. Internationally recognised as a true innovator with the creation of new varieties of tea every season in collaboration with the world's most renowned estates, TWG Tea also offers exquisite signature modern tea accessories and delicate tea-infused sweets and savouries.
After launching its first Tea Salon & Boutique in Singapore in 2008, TWG Tea has opened across the island in iconic destinations such as ION Orchard, Marina Bay Sands and Takashimaya Singapore. Expanding its global footprint, TWG Tea has opened over 70 locations around the world, including London, Shanghai, Paris, Tokyo, Dubai, Hong Kong, Seoul, Bangkok, Jakarta, Kuala Lumpur, Taipei, and Manila, to name a few. TWG Tea is retailed in gourmet épiceries including Harrods in the UK, El Corte Ingles in Portugal, Feinkost Kaefer in Germany, David Jones in Australia, and GUM in Moscow, Russia. The premier supplier to the finest hotels, restaurants and international airlines, TWG Tea is served in Singapore Airlines, Qatar Airways and Nippon Airways as well as Seabourn Cruise Line, Marriott International, AccorHotels, Hilton Worldwide Holdings, Hyatt Hotels & Resorts, Rosewood Hotel Group and InterContinental Hotels Group. In addition, TWG Teas has a wide distribution network across 40 territories, including Australia, Azerbaijan, Belgium, the Czech Republic, Denmark, Estonia, Germany, Kuwait, Maldives, Mauritius, Mexico, Morocco, New Caledonia, New Zealand, Pakistan, Portugal, Qatar, Russia, Saudi Arabia, Seychelles, South Africa, Spain, Turkey and Ukraine. Worldwide orders can be made online at TWGTea.com or through the TWG Tea mobile app.
Follow us on social media and tag us with #TWGTeaOfficial #TWGTeaTH
Facebook – https://www.facebook.com/TWGTeaOfficial and https://www.facebook.com/TWGTeaThailand
Instagram –@TWGTeaOfficial and @TWGTeaTH
Twitter – @TWGTeaOfficial
YouTube – https://www.youtube.com/user/TWGTea1837