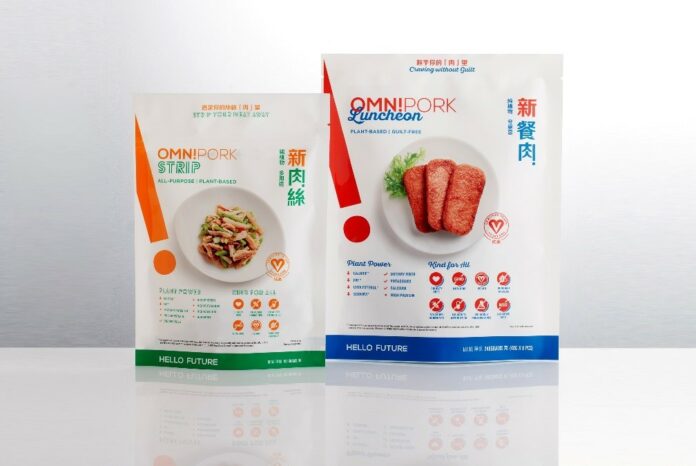 OmniMeat was first launched in April 2018 and it overwhelmed the market with its unique blend of plant-based proteins and striking resemblance to traditional pork in both taste and appearance.
Within just two years, OmniMeat has become widely available to Hong Kong, Macau, Mainland China, Taiwan, Singapore, Thailand and Canada. It is expected to reach up to 20 regional markets and 40,000 points of sale by the end of this year, striving to become the world's most popular plant-based ingredient.
As of today, two long-awaited, revolutionary products are debuting to excite everyone in Asia and around the world – OmniMeat Luncheon and OmniMeat Strip.
New Company Name: OmniFoods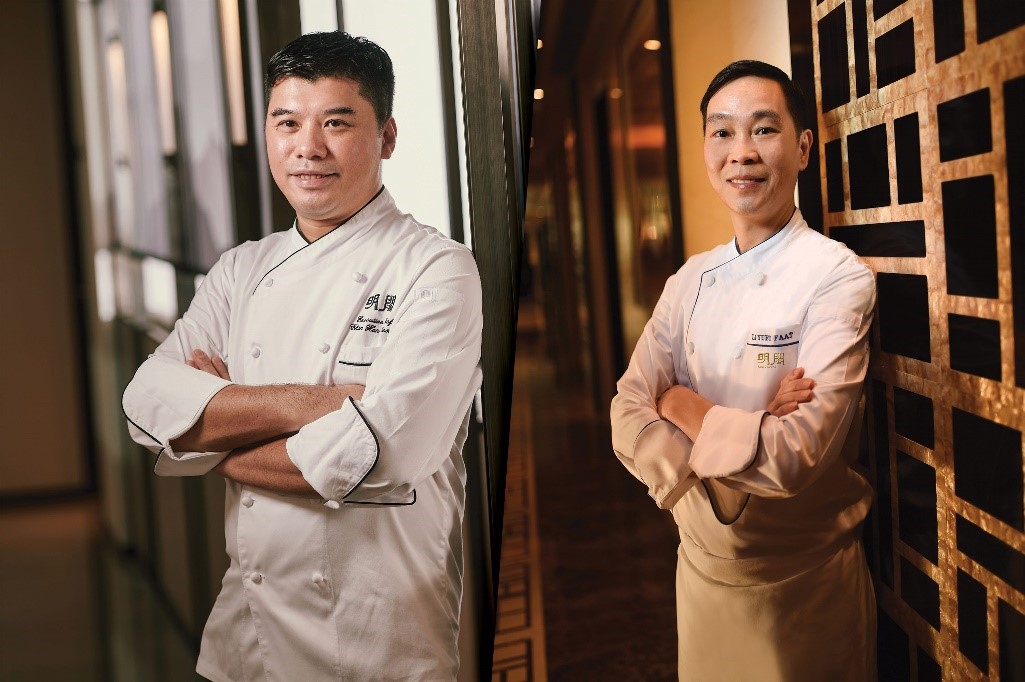 In an effort to further support the company's future branding and development strategies, Right Treat, the food research company of OmniMeat, officially announces its change of name to OmniFoods today.
"Changing our name from Right Treat to OmniFoods allows the company to align to its future branding and global development in a more prominent and consistent manner," said OmniFoods founder, David Yeung.
"The Omni series is omni-purpose in application, especially targeting omnivores. In other words, people who follow either a plant-based or carnivorous diet are able to enjoy the revolutionary and innovative products in this series. The gradient color of the OmniFoods logo changes in hue from red to green, symbolizing that vegetarians and carnivores can peacefully coexist. It is possible for anyone to be a part of this plant-based movement and create a better future for the earth and for yourself."
Canada is the research and development base for OmniFoods, whereas the group's headquarters are in Hong Kong. The OmniFoods team acknowledges that pork has a wide range of applications and is an indispensable ingredient for Asians.
Under the scourge of African swine fever, global food security problems have started to derive and pork prices have risen exponentially. It has become increasingly apparent that the food supply chain dominated by animal protein is unsustainable. A growing population and outdated food systems have put immense burden on our planet – it is vital to improve the world's eating habits.
As a champion for sustainability, OmniFoods will continue to develop more plant-based pork products to quicken the pace and broaden the transformation of the food systems. The goal is to provide more environmentally-friendly food choices, especially when climate change is aggravating.
Annual Luncheon Meat Sales in Asia-Pacific Exceeds 400 Million Cans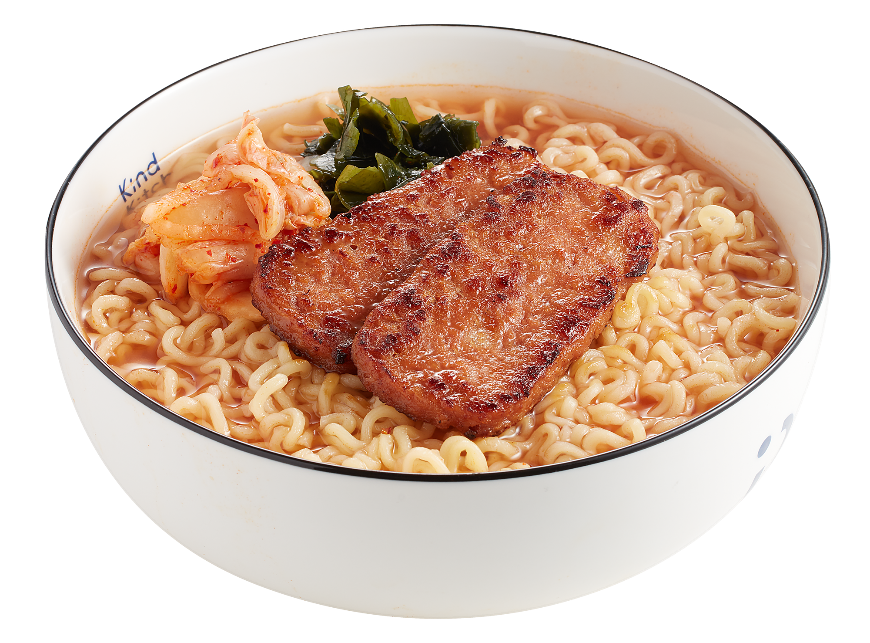 According to the "Global Luncheon Meat Market 2020 by Manufacturers, Regions, Type and Application, Forecast to 2025" report published by Global Info Research, the annual global sales of luncheon meat in 2019 reached USD 3.1 billion. Sales are expected to increase by 29% and reach USD 4 billion by 2025. Five out of eight of the regions with the highest luncheon meat sales last year are located in Asia-Pacific, namely China (USD 460 million), Southeast Asia (USD 220 million), Japan (USD 130 million), South Korea (USD 96 million) and India (USD 93 million).
Global sales of luncheon meat in 2019 reached 374,000 metric tons, of which Asia-Pacific reached 146,000 metric tons, accounted for 39%, followed by North America reached 119,000 metric tons (32%) and Europe reached 88,000 metric tons (23%). With the market's standard size of 340g per can of luncheon meat, around 1.1 billion cans were sold in global, of which at least 400 million cans were sold in Asia-Pacific alone.
Asians Crave Luncheon Meat, With Many From Hong Kong Considering It Their Favorite Processed Meat
A survey conducted by independent market research company IPSOS and commissioned by OmniFoods discovered that Asians have a great demand for luncheon meat. Among the different kinds of processed meat, luncheon meat is Hong Kong people's favorite, followed by sausage and bacon; Koreans also consider luncheon meat as their favorite, more than sausage and bacon, reflecting that luncheon meat is the most popular processed meat in Asia.
Asians love luncheon meat and eat it frequently. 88% of the people in Mainland China eat luncheon meat at least once a month, followed by those in South Korea (78%) and Hong Kong (69%). Among the surveyed, 50% of those in Mainland China and 29% of those in South Korea eat luncheon meat one to four times a week.
Despite the fact that consumers have a soft spot for luncheon meat, they also have their concerns about potential health risks. 60-70% of consumers in several regions are particularly concerned about the health effects of processed meat.
72% of Hong Kong consumers and 64% of Mainland Chinese consumers are concerned about the carcinogenicity of processed meat, while 70% of American consumers and 60% of Korean consumers are concerned about the level of sodium in processed meat. The statistics show that consumers hold different concerns about the impact of processed meat on health.
WHO Labels Luncheon Meat as a Class 1 Carcinogen, Eating One Slice per Day Increases Cancer Risk
As nitrates are added as a preservative in traditional luncheon meat, the International Agency for Research on Cancer – an intergovernmental agency forming part of the WHO – classifies processed meat like luncheon meat as a Class 1 carcinogen. Each 50g portion of processed meat consumed per day, which is about one slice of luncheon meat, can increase the risk of colorectal cancer by 18%. Around 34,000 cancer deaths worldwide each year are attributable to the overconsumption of processed meat. The Consumer Council of Hong Kong has also published a report stating that veterinary drug residues were found in some luncheon meat brands and may cause allergic reactions in consumers.
The onset of African swine fever has caused a surge in pork prices, including that of luncheon meat. As a result, a decrease in luncheon meat consumption was recorded, leading to a significant drop in annual sales in 2019. The "Global Luncheon Meat Market 2020 by Manufacturers, Regions, Type and Application, Forecast to 2025" report published by Global Info Research shows last year's luncheon meat annual sales drop in various countries/regions: South Korea by 9.2%, Japan by 6.8%, Southeast Asia by 4.1%, India by 3.8% and China by 3.1%.
A survey conducted by independent market research company IPSOS and commissioned by OmniFoods shows consumer interest in a vegan luncheon meat that tastes the same as traditional options. Not only is it free of cholesterol, antibiotics, GMOs and hormones, it is also low in fat and calories. Among the 88% of respondents that expressed interest, 42% show high level of interest, whereas 46% show interest. The survey reflects that consumers look forward to trying a healthier luncheon meat alternative.
Choose to Eat Kindly – Debuting World's First Plant-Based Omnimeat Luncheon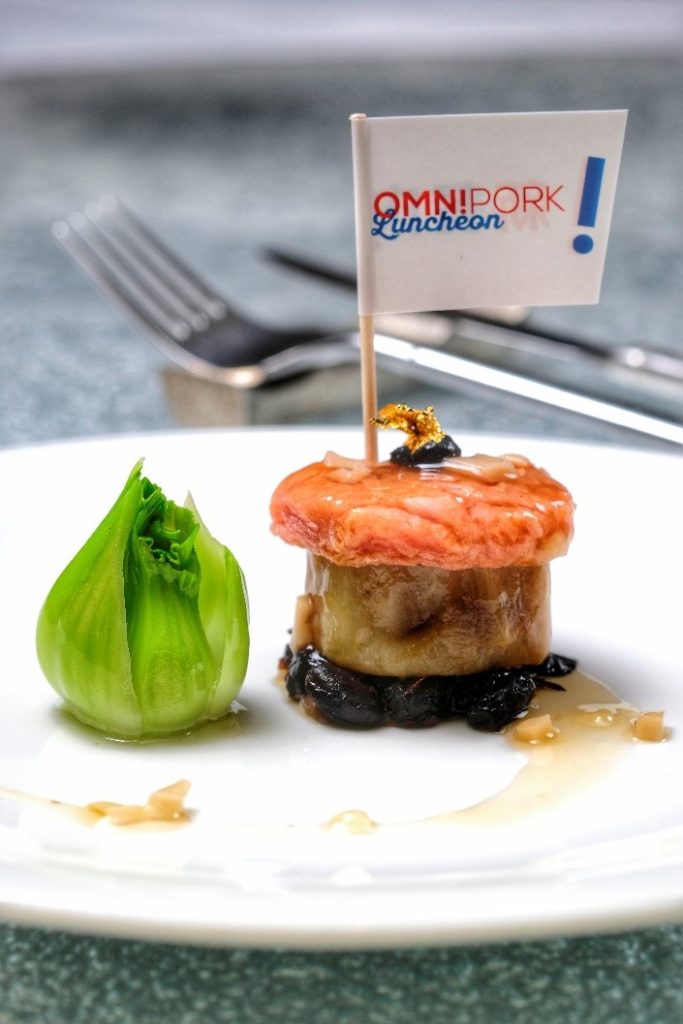 OmniFoods is launching a healthier plant-based version of luncheon meat – OmniMeat Luncheon. It contains 0mg cholesterol, is rich in protein and provides dietary fiber, potassium and calcium. Compared with traditional canned pork luncheon meat, OmniMeat Luncheon's calories and total fat content are 40% and 49% lower respectively, and sodium content is 62% lower. OmniMeat Luncheon is cruelty-free, non-GMO, contains no added hormones, antibiotics and MSG.
More importantly, OmniMeat Luncheon does not contain any carcinogenic nitrates. The cooking method is designed to be convenient. For best results, simply fry both sides of the OmniMeat Luncheon for one to two minutes and serve. It is an ingredient that everyone can easily prepare.
"Since the launch of OmniMeat two years ago, a lot of people have been asking what our next product will be. In fact, pork is widely used in everyday cooking. As pointed out by the survey, luncheon meat is a food that everyone in Asia has a love-hate relationship with, including those in Hong Kong, Mainland China and Korea, etc. Eating is not only about filling up our stomachs and absorbing the daily nutrition we need, it is also about satisfying our cravings. Just like how Hong Kong people have an irresistible craze for luncheon meat & egg noodles and luncheon meat & egg sandwiches. That is also the case for me. Even though I have been following a plant-based diet for almost 20 years now, I still miss the taste of luncheon meat & egg noodles once in a while. Therefore, I am very excited to finally provide a healthier plant-based alternative with the groundbreaking OmniMeat Luncheon," said David Yeung.
Omni-Purpose Omnimeat Strip Becomes Everyone's New Healthy Option
Pork strips are a commonly used ingredient for Asians as it can be incorporated into a wide range of popular dishes, including Vermicelli with Pork Strips & Preserved Vegetables, Noodles with Pork Strips (Zhajiangmian), Stir-Fried Spaghetti with Assorted Meat Strips, Shanghai Fried Noodles with Pork Strips, and more. Pork strips are widely used in Asian cuisines, and OmniFoods is eager to meet that need by debuting a plant-based pork strip – OmniMeat Strip.
OmniMeat Strip is rich in protein, with 18.6g of protein per 100g. It is low in saturated fat, free of cholesterol and is also a source of dietary fiber while being rich in potassium, calcium and iron. Compared with raw pork shoulder with separable lean and fat meat, OmniMeat Strip's calories and total fat content are 48% and 76% lower respectively. The formula is cruelty-free, non-GMO and contains no added hormones.
"In addition to ground pork, pork strip is another commonly used ingredient in Asian restaurants and homes. OmniMeat Strip is suitable for almost every dish and is even better when paired with OmniMeat, allowing chefs to curate an infinite variety of plant-forward dishes," said David Yeung.
OmniFoods' products–OmniMeat, OmniMeat Luncheon and OmniMeat Strip–are also Buddhist-friendly.
OmniMeat Luncheon and OmniMeat Strip retail packs will be available for purchase starting July 2020 in Hong Kong.