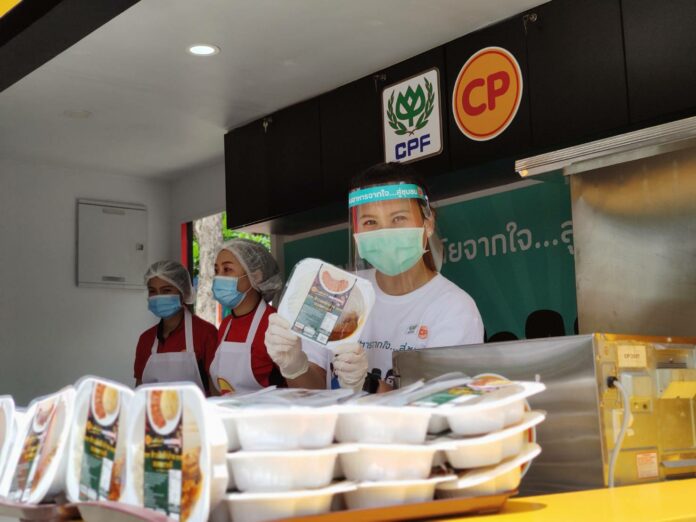 Ministry of Agriculture and Cooperatives and Charoen Pokphand Foods PCL (CPF) jointly manage food truck to serve safety meals for people affected by COVID-19 crisis in 10 Bangkok Noi's communities.
The food truck project called "Food from heart to community" aims at feeding low-income people in six districts of Bangkok with quality and nutrient food supplies, starting from Bangkok Noi district.
CPF's chief executive officer Prasit Boondoungprasert said the food truck project has emphasized on good corporate citizen philosophy, which the company places as its priority focusing on well-being of the country and the people.
At Wat Chaiyatid's community where the food truck moved there recently, many of its residents have lost their jobs and barely afford for the basic necessities. Just only one meal will help them save for another meal.
"People are afraid to visit the shop because of COVID-19," says Mrs. Thippawan Wanjongkum, 62 seamstress, whose business are also severely impacted by the outbreak. Despite fewer customers, she has been working tirelessly every day to pay for her husband's medical treatment.
"I'm glad that CPF food truck visited our community," she said, adding that the food truck project could help her to save some expense for the more important expense.
Mr. Sommai Wantavee, 48, a motorcycle taxi, said he used to earn around 700 baht to 800 baht per day before the outbreak but now reduced by half. Lower income has also made difficulty to his family. The COVID-19 relief project has helped him to reduce living expenses.
CPF food truck and its alliance will continue to serve people in five more districts, including Bang Phlat, Bang Khun Thian, Bang Bon, Nong Khaem and Huai Kwang.
CPF's "Food from the heart against COVID-19" to community drew to give free food to low-income people mainly in Bangkok by joining forces with the Public Health Ministry, the Agriculture and Cooperative Ministry and the 1st Army Region. This activity by the food truck will move to targeted areas to provide hot meals to people to help them reduce daily cost of living.