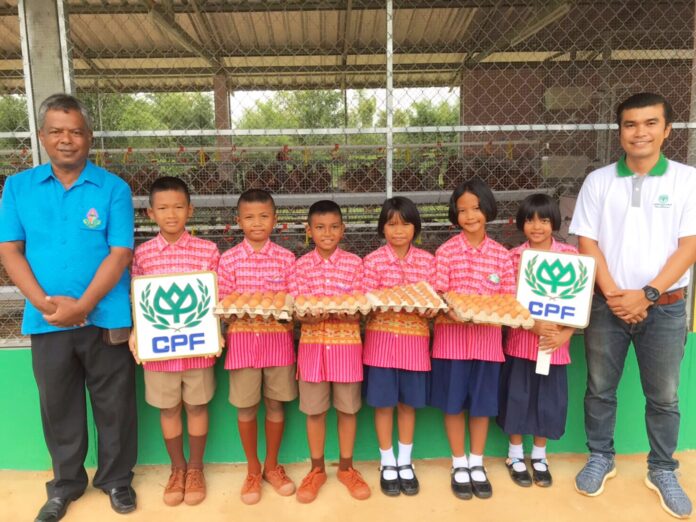 Over three decades, Charoen Pokphand Foods PCL (CP Foods) and its partners have been offering food security to children and youth in Thailand by setting up an egg farm at their schools and teaching them to produce protein food for their lunch.
The "Raising Layer for Student's Lunch" project was established by Charoen Pokphand Foods PCL (CP Foods) collaborated with Charoen Pokphand for Rural Lives' Development Foundation, and partners in 1989 to improve nutrition among Thai children and youth and promote sustainable food security nationwide.
CP Foods made a commitment to support 1.3 million children, youth, and consumers to access to food, food-related knowledge or skills, nutrition-related knowledge, and sustainable consumption by 2020, , helping the organization to achieve a United Nations Sustainable Development Goal for Zero Hunger.
The project provides fund, laying hen house, feed, and laying hen to help schools start their eggs production in the first year. Currently, there are 855 primary schools around Thailand participating in the project.
Mr. Somkid Wannalukkhee, senior vice president for egg business at CP Foods', added that the company has not only provided the materials for producing eggs but also shared its expertise in laying-hen farming business to teachers and students. Subsequently, they can run the farm sustainably, offering food security to students while earning income from selling surplus production to its community, and, ultimately, becoming a knowledge centre for promoting sustainable farming that the whole community can learn from.
CP Foods has recently launched "Poultry Layer School" application, a Chatbot program on Line application, to provide farming solutions for the schools. This application helps CP Foods officers to closely connect with schools, which some of them are located in the rural areas that are hard to access.
Every day, the school will provide a data such as number of laying hen, number of death animal, daily production, amount of feed, cost of operation and revenue from selling extra products to CP Foods via this mobile app. This information allows the company to analyze and provide guidance that can improve the school's egg production according to food safety standards.
The application enables CP Foods' specialists to give a real-time advices to the schools when needed. Besides online channel, CP Foods' animal husbandry officers regularly visited the participated schools in person to ensure that the hens are healthy and provide sufficient eggs for school lunch.
The project has offered so much more than food security to Thai children. Mr. Channarong Yothapun, director at Ban Khokplai School, one of the participated schools in Sa Kaeo province, added that eggs menus are served at lunch 3 times per week, making over 300 students healthy.
Moreover, egg farming is now a lesson at the school. Students have learnt how to raise hens professionally, following the advice from CP Foods' experts. Besides learning farming skills, they have learnt to work as a team and gain business skills from managing their egg production, and selling surplus eggs to the nearby communities.