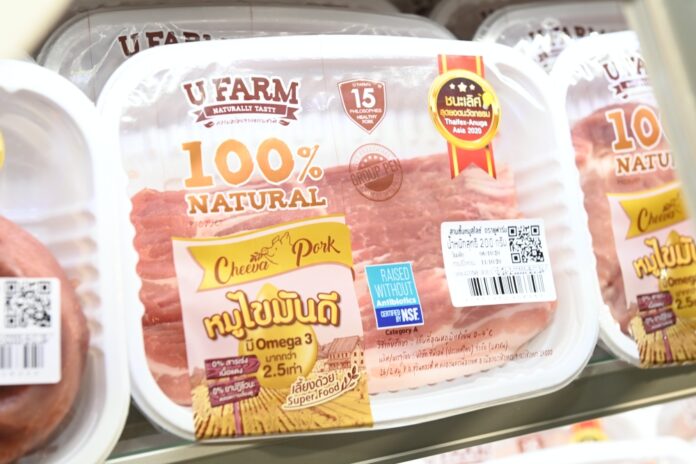 Charoen Pokphand Foods PCL (CP Foods) unveiled U Farm-branded "Cheeva Pork", a novel product rich in good fatty acids and omega-3 that follows extensive breeding and feed development and concerns about Animal Welfare.
Agriculture Minister Chalermchai Srion presided over the launch event at Waldorf Astoria Hotel Bangkok, accompanied by Department of Livestock Development Director General Dr. Sorravis Thaneto, DVM.
Mr. Chalermchai said in his speech that one of the Agriculture Ministry's priorities concerns food safety. Farmers and food producers are encouraged to produce quality and safe food. CPF has been recognized domestically and internationally as a safe food producer and it climbs up another ladder through the innovative "Cheeva Pork", a new health food choice.
Dr.Sorravis added that the Department of Livestock Development has implemented the "Pasusat OK" (Livestock OK), a food safety standard label, to control meat production throughout the supply chain or from farms to slaughter houses and selling venues. Such control that enables traceability is part of the safe food policy, to ensure quality meat products. CPF is 100% certified for this standard and Animal Welfare, which add values to its products. "Cheeva Pork" showcases Thai food producers' exemplar competence, supported by continual research and development to achieve second-to-none food innovations.
Thailand's First Good Fatty Acids-Rich Pork!
U Farm-branded "Cheeva Pork" is a result of a specially-designed feeding technique. Pigs are fed with flaxseed, fish oil and deep-sea seaweed rich in omega-3. They are raised in group pens gestation under Animal Welfare principles, free of beta-agonist and antibiotics as certified by the NSF International (National Sanitation Foundation). The product is aimed to satisfy new-generation families' thirst for good health and pork lovers.
Mr. Prasit Boondoungprasert, Chief Executive Officer of CPF – the producer of U Farm-branded products, noted that healthy food products have enjoyed an increasing demand and U Farm-branded "Benja Chicken" has experienced immense success which drives further research and development on healthy meat products. "Cheeva Pork" is the latest product in this line. Rich in good fatty acids and omega-3, the pork will entice modern consumers who yearn for good health and are concerned about Animal Welfare.
"The Cheeva Pork innovation involves the development of breeds, food, and farming techniques, to produce pork rich in good fatty acids and omega-3 as demanded by consumers. Backing up this process are extensive researches and the certification from NSF, a leading international organization in sanitation and food safety standardization. Cheeva Pork was also named the most innovative product at THAIFEX–Anuga Asia 2020" Mr. Prasit said.
Dr. Pairat Srichana, Senior Vice President – Feed Technology office, added that "Cheeva Pork" pigs are fed with unique and different from conventional products, as the ingredients are Super Food substances like flaxseed, fish oil and deep-sea seaweed. The substances ensure the accumulation of high omega-3 and good fatty acids, for consumers' good health.
They are raised in line with the Department of Livestock Department's "Pasusat OK" standards and CPF has applied maximum safety standards. The closed farm is equipped with stringent disease control measures while the barns are air-conditioned and controlled by the Evaporative Cooling Systems (EVAP), ensuring comforts and healthy living. Meanwhile, group pens allow sows to move and interact freely and naturally with others. The farm is 100% free of growth hormones, beta-agonist and antibiotics, to ensure that the pork meat is safe and good for all family members.
Associate Prof. Dr. Kammal Kummar Pawa, a deputy rector of Thammasat University, asserted that the "Food as Medicine" concept offers a healthy option. A test showed that the cholesterol, triglyceride and LDL levels of animals fed with fat from Cheeva Pork are significantly lower than that of the animals fed with coconut oil-based foods. This is due to Cheeva Pork's higher level of omega-3 fatty acids, compared to conventional pork products, and omega-3 can reduce inflammation which leads to the damage of blood vessels.
Moreover, "Cheeva Pork" products mainly targets health-conscious consumers, modern-day parents looking for quality food for their children, the middle-aged, and those who seek to rehabilitate their health conditions.
Cheeva Pork will be available at modern trade channels like CP FreshMart, The Mall, Tops Supermarket, Foodland, Villa Market, Max Value, Rimping Supermarket and Golden Place Supermarket. The products are for all menus like steaks and pork chops. As a next move, leading premium restaurants and Michelin-starred restaurants will be involved in raising awareness and promoting consumption, to establish public confidence in the nutritious values of these premium-grade pork products.