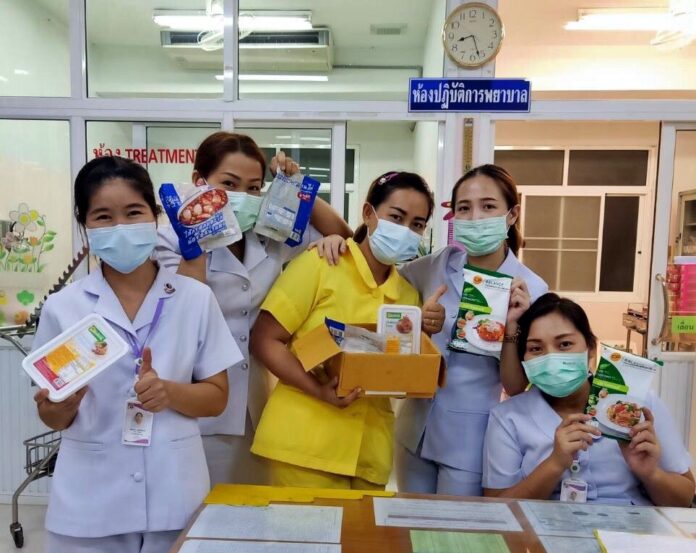 Charoen Pokphand Foods PCL (CP Foods) gave away ready-to-eat meals to five hospitals in Tak province in an effort to boost morale for healthcare workers who have worked tirelessly to prevent COVID-19 at Thai-Myanmar border with nutritious, hygienic and delicious food.
"CPF's food from the heart against COVID-19" project is currently providing food to Phop Phra Hospital, Mae Ramad Hospital, and Mae Sot Hospital. The project will also support two more hospitals in Tak Province, namely Thasongyang Hospital and Umphang Hospital.
"CP Foods, as a producer of safe and quality food, would like to lighten the burden of the Ministry of Public Health as well helping Thai people through the COVID-19 crisis," Mr. Manop Noothade, the company's representative said.
He added that the company hopes to use its expertise in food business to support this important mission, encouraging the healthcare professionals who are risking their lives to keep COVID-19 out of Thailand as Tak is a border province with a large number of workers from Myanmar.
CPF's food from the heart against COVID-19 project was intimated as a part of the company's commitment to help Thailand overcomes this global pandemic. Since the kick-off in March 2020, CP Foods has delivered variety of food menus to over 200 public hospitals nationwide.
This project is among multiple COVID-19 relief efforts in line with CP Group's "Three-Benefit Principle to sustainability" principle, these are; benefit to the country in which the company invests, benefit to the people of that country and lastly of benefit to the company.