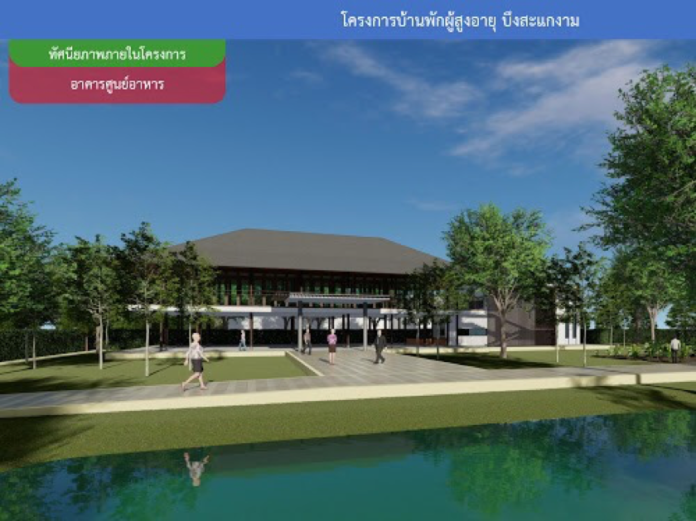 Bangkok is now a full-fledged ageing society. Most importantly, the city becomes the area where there is the highest number of aged populations in Thailand. Therefore, it is essential that the Bangkok Metropolitan Administration (BMA) be prepared in terms of economics, medical services development, and the elderly care to be able to provide more inclusive and effective services.
At present, the BMA has run one elderly home called Ban Bang Khae II home, located in Bang Khae District. It can accommodate only 140 elderly persons, while the number of the elderly in Bangkok at present is more than 1 million. Pol.Gen. Aswin Kwanmuang, Governor of Bangkok, has assigned related BMA organizations to work together in finding the place to build additional elderly homes to cover every corner of Bangkok. It is fortunate that the BMA received support from charitable persons who donated 32-rai land located at Bueng Sakae Ngam, Khlong Sam Wa District. This is the most suitable location for building a new elderly home. Hence, the Governor of Bangkok assigned the BMA Public Works Department to design the Bueng Sakae Ngam Elderly Home Project in which, presently, the initial design has been completed.
As for the conceptual idea for the design and planning of project, the project area is divided into 3 zones. Firstly, public zone comprises Public Health Center building and parking lot. Secondly, semi-public zone comprises administrative building, vocational training building, food center building, health park, physical therapy and aquatic therapy building. Thirdly, accommodation zone comprises houses, service and residence buildings for officers, and activity building. Houses in accommodation zone has been designed and categorized into 2 types. Type A house can accommodate up to 8 people. Each house has 2 large bedrooms (4 persons per one bedroom with one toilet). Type B house can accommodate up to 14 people. Each house is divided into 7 large bedrooms (2 persons per one bedroom with one toilet). Both types of houses will be equipped with beds, wardrobes, tables, chairs, air conditioners, and handrails for the elderly bathrooms.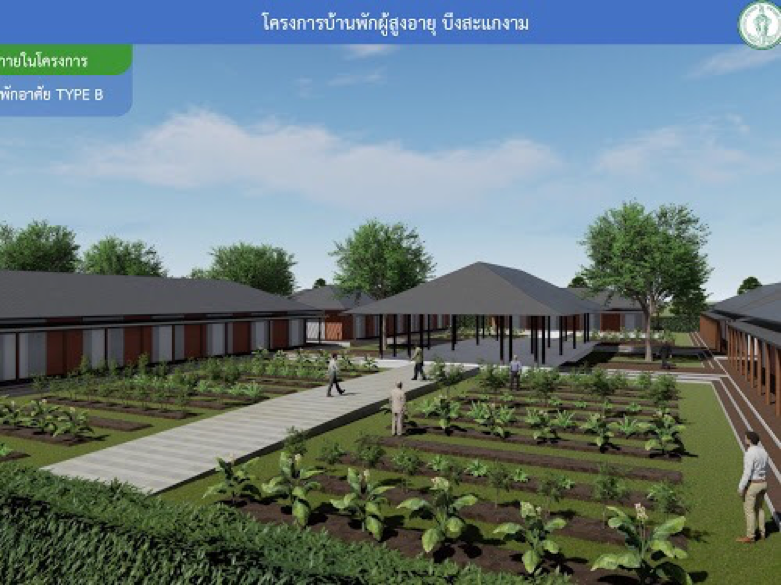 Construction plan for the 1st phase starts from overall landscaping works; construction of food center building to be used temporarily as canteen and administrative and vocational training buildings, construction of Type A houses; construction of dykes and moats around the project area as well as pool digging; construction of road that lead to the project area; planting of trees to use as a project area fence; and installation of lighting and sanitary system.
Construction plan for the 2nd phase starts from the construction of additional Type A houses, Type B houses, activity building, service and residence buildings for officers, administrative building, vocational training building, physical therapy and aquatic therapy building, and Public Health Center building. Lastly, it will be landscape improvement and construction of parking lot.
It is expected that the 1st phase of this project will be completed in 2022. After that the BMA will accelerate the construction of the 2nd phase. Budget for the implementation of this project includes BMA budget and donations in which the BMA will ask the charitable persons to donate for this project. The BMA believes that it will receive supports from both the general public and private sector to take part in and contribute to the success of this project as it has always been supported by all sectors in moving forwards various social service projects.
For more information : www.prbangkok-eng.com