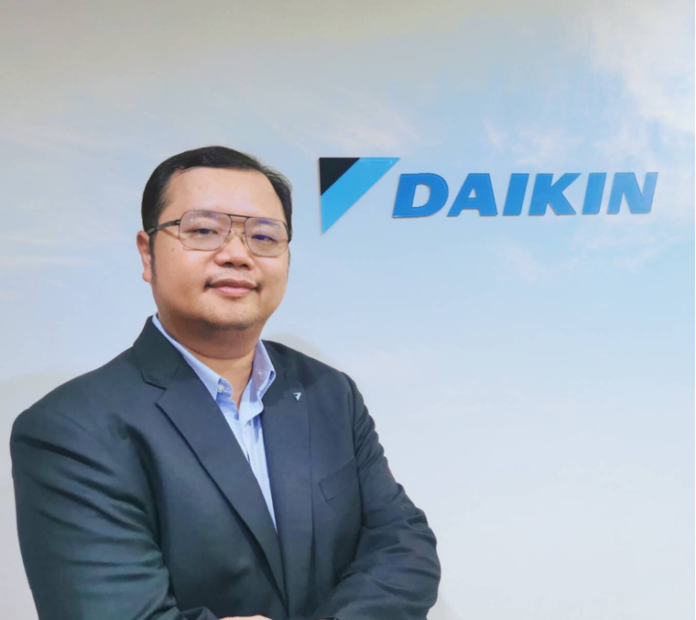 Mr. Sarawut Tempattarasak, Corporate Planning Assistant General Manager of Siam Daikin Sales Co., Ltd., the world's leader in air conditioning technology, announced the launch of Daikin air conditioner latest model, ZETAS, that comes equipped with Daikin's patented streamer technology which helps eliminate virus, bacteria, fungus, allergens and various harmful gases in the air. Daikin ZETAS hit the market in March 2021.
For the time, streamer technology emits high-speed electrons that can deactivate SARS-CoV-2 and MHV-A59 by 99.9% – the test result was confirmed by Tokyo University and Okayama University in Japan on 16 July 2020.
The patented technology that is featured in Daikin ZETAS harnesses 3C innovations: Clean Air, Comfort Room and Convenient Control, that bring cool, comfortable air with user-friendly control via smartphone.
The Clean Air innovation comes with Air Purifying Mode. The streamer technology emits high-speed electron that help decompose germs and harmful matters. Efficiency tests by leading institutions in and outside of Japan since 2014 reveal that streamer can deactivate virus, fungus, bacteria, allergens and 60 kinds of harmful gasses, hence reduces germs and unpleasant odor to generate clean, pure air.
The model also has upgraded Mold Proof Function that better prevents moldy odor fungus. The automatic cleaning feature creates water from condensation to clean the fan coil then rids the moisture with blowing wind infused with streamer's electrons to deactivate remaining germs in the air conditioner unit. The latest filter not only effectively filters PM2.5 dust but also virus, bacteria, unpleasant odor and allergens with Enzyme Blue technology that is proven to deactivate 99% of germs.
The Comfort Room innovation delivers cool and comfortable air with Hybrid Cooling technology that automatically keeps humidity level to 50-60% RH, which is scientifically proven to be the most suitable humidity level for Thai consumers, allowing for comfortable, light and pleasant feeling.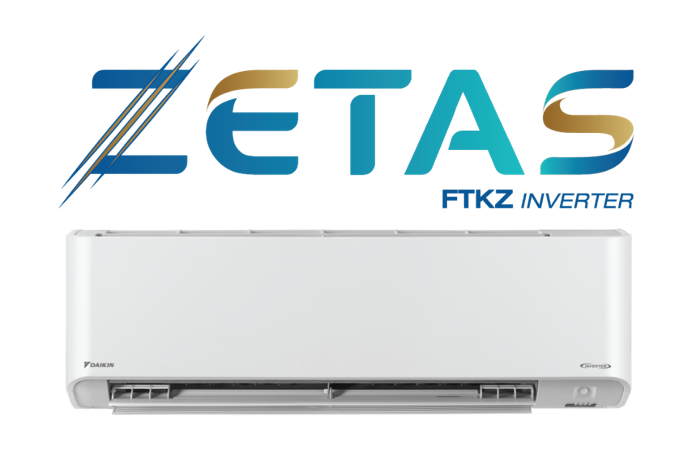 The last innovation, Convenient Control, is powered by built-in wi-fi adaptor that allows for easy control anytime from anywhere via Daikin Mobile Controller application on smartphone.
Mr. Sarawut added that Daikin ZETAS's swing compressor also helps save energy, hence save electricity expenses. The fitted Super PCB PRO Inverter circuit board is also extra durable, and it helps protect the air conditioner unit damage from drop in voltage and power surge, allowing the unit to continue operating at as low as 130 volts and no damage through 440 volts of power surge. The board is also coated with dust-free, humidity-free and pest-free surface, and comes with 3-year warranty for this part.
Daikin ZETAS FTKZ09/12VV2S also comes with Intelligent Eye that maximizes comfort with automatic human movement detection, allowing for specific air flow or comfort airflow. Every BTU capacity of the model comes equipped with motion censor to save energy. The smart technology increases room temperature by 2 degrees Celsius when  no human movement and reverts to the pre-set temperature when motion is detected.
Daikin ZETAS condensing unit is also pest-proofing. Small animal, such as house lizards, can cause serious damage to the circuit board, especially for residential areas upcountry. The newly improved condensing units either have smaller than 4mm access to the circuit board or are paved with proofing stickers (for slots wider than 4mm) to minimize possible damage from pest and prolong service life of the product.