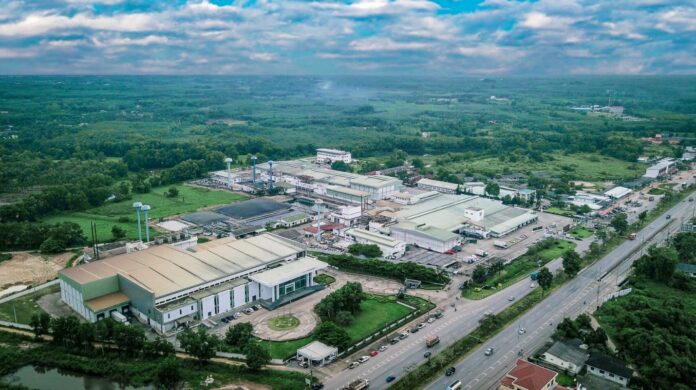 Charoen Pokphand Foods Public Company Limited (CPF) has won the Ministry of Public Health's praise for the successful implementation of the Bubble and Seal measure, in line with the government's aim to safeguard industrial plants' workers and neighboring communities against COVID-19 infections. 
During his recent visit to CPF's processing plant in Klaeng District, Rayong province, Dr. Sathit Pitutecha, Deputy Minister of Public Health, praised the Company for the correct implementation of public health measures that concern workers and workplace. CPF has exceeded standard measures at some points and is exemplary in situation management, particularly the speedy and efficient implementation of the Bubble and Seal measure, he said. 
The Ministry of Public Health recently launched the Bubble and Seal measure following the new COVID-19 wave. It is designed specifically to contain the situation at industrial plants that house a large number of workers. Under the measure, while the infected receive medical treatment at field hospitals, other workers with negative test results are separated from risk groups. 
In line with factory quarantine, workers with negative test results will be transported to provided accommodations, to reduce risks of infection during their travel.  There will be no cross-group work and workers are prohibited from venturing out of the workplace or provided accommodations, to quickly control the infections and allow continuous operations. Bubble and Seal has won supports from various organizations, to ensure uninterrupted production. 
Mr. Prasit Boondoungprasert, Chief Executive Officer of CPF, noted that the COVID-19 outbreak put grave pressure on people and the economy. Under the vision of "Kitchen of the World", CPF takes it as a duty to keep business running to ensure food safety and food security. 
"We have strictly followed the government's measures to keep our workers safe and ensure no infections at our premises, under our goal to keep our supply chain safe from the disease so that we can continue producing safe food and continuously satisfying food demands no matter what," he said. 
For the safety of workers and all food products, all workers are 100% vaccinated. 
At CPF's processing plants, control measures have been exercised from the entrance. All workers are tested for COVID-19 prior to entering the workplace. At the production lines, proper cleaning and disinfection is carried out, along with other touch surfaces in line with Good Manufacturing Practice (GMP), as food safety has been the emphasis of Thailand's health authorities. 
Prior to starting their jobs, all workers must have their temperature measured. Anyone with temperature above 37.30C or having any symptom is immediately subjected to quarantine. 
The plants establish continuous communications with workers about control measures and regularly review their understanding. The plants are regularly cleaned and disinfected in line with the Ministry of Public Health's guidelines, under provincial health offices' supervision. Swab tests are conducted on a weekly basis on all frequently-touched surfaces, to trace COVID-19. Other control measures have been strengthened to the maximum level. 
Mr. Prasit added that stringent control measures are the only way to quickly ease the situation, as CPF is striving to uninterruptedly proceed with its safe food production duty for all consumers. Under the Bubble and Seal measure, all in the supply chain will be shielded from negative impacts and at the end it will help sail Thai society through this health crisis.  
"We are doing everything to protect both our workers and nearby communities as well as all consumers," Mr. Prasit concluded.