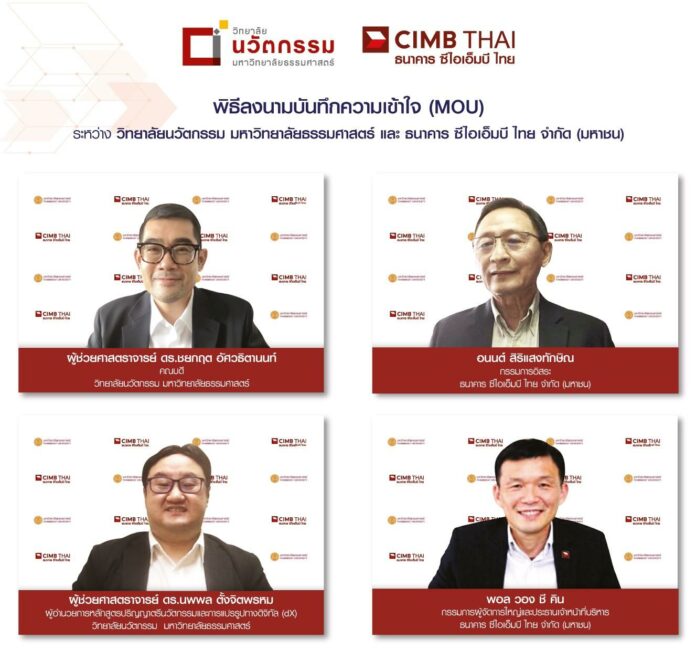 CIMB Thai Bank and College of Innovation of Thammasat University ink MOU to enhance students' professional potential and open up banking business learning opportunities
Mr. Anon Sirisaengtaksin, Independent Director, and Mr. Paul Wong Chee Kin, President and CEO, CIMB Thai Bank Plc., jointly with Asst. Prof. Chayakrit Asvathitanont, Ph.D., Dean of College of Innovation, and Asst. Prof. Nopphon Tangjitprom, Ph.D., Director of Digital Transformation and Innovation Program, College of Innovation, Thammasat University (CITU), together with the executives, have signed a Memorandum of Understanding (MOU) for collaboration in promoting and supporting professional skill development for students, professors and relevant personnel aiming to open up opportunities for sharing of knowledge among students and relevant personnel so that they are equipped with future skills and capabilities as quality members of the society.  
Mr. Paul Wong Chee Kin, CIMB Thai Bank President and CEO, said "CIMB Thai Bank has all along given priority to development of human resource as a key element for the success of the organization. Meanwhile, next generation people are considered a strong driving force of business growth under the rapidly changing landscape looking forward. Therefore, we have taken part in promoting education and opening up opportunities for students to boost their professional skills and capabilities through internship and cooperative education programs in which the students will acquire practical working experience from our experienced staff, including problem-solving and teamwork skills, so that they would be fully prepared for their future career advancement."
Asst. Prof. Chayakrit Asvathitanont, Ph.D., CITU Dean, said "the signing of the MOU is a testament of both institutions' firm commitment to people development on a sustainable basis. In addition to the internship programs for learning banking business, the students will also gain knowledge through the knowledge sharing programs." 
"The Bank has developed strategies focused on people development in response to changes and to support their sustainable advancement along with the Bank. We not only enhance our internal staff's capabilities, but also give opportunities for students to learn and grow with us. Besides the internship and cooperative education programs, we also provide CIMB ASEAN Scholarship to build talents of next generation in pursuit of growth alongside ASEAN and to achieve our goal as ASEAN leading organization," added Mr. Paul Wong Chee Kin.