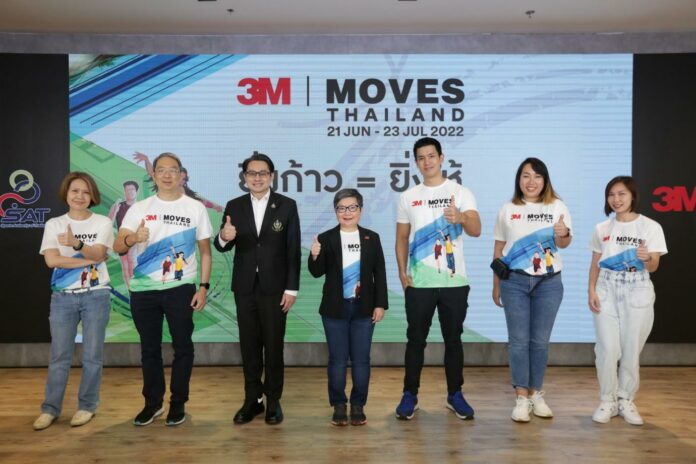 Public called on to exercise under the concept "Move More, Give More"
to stay healthy and give back to the society
Bangkok, June 21, 2022 – 3M joined forces with the Sports Authority of Thailand (SAT) to premiere its fitness initiative "3M Moves" in Thailand to encourage Thais to care for their health and exercise more under the concept "Move More, Give More". Every step collectively made during the campaign from June 21 – July 23, 2022 will translate into donations of 3M products to the Donation Center of the Ministry of Social Development and Human Security for those in need.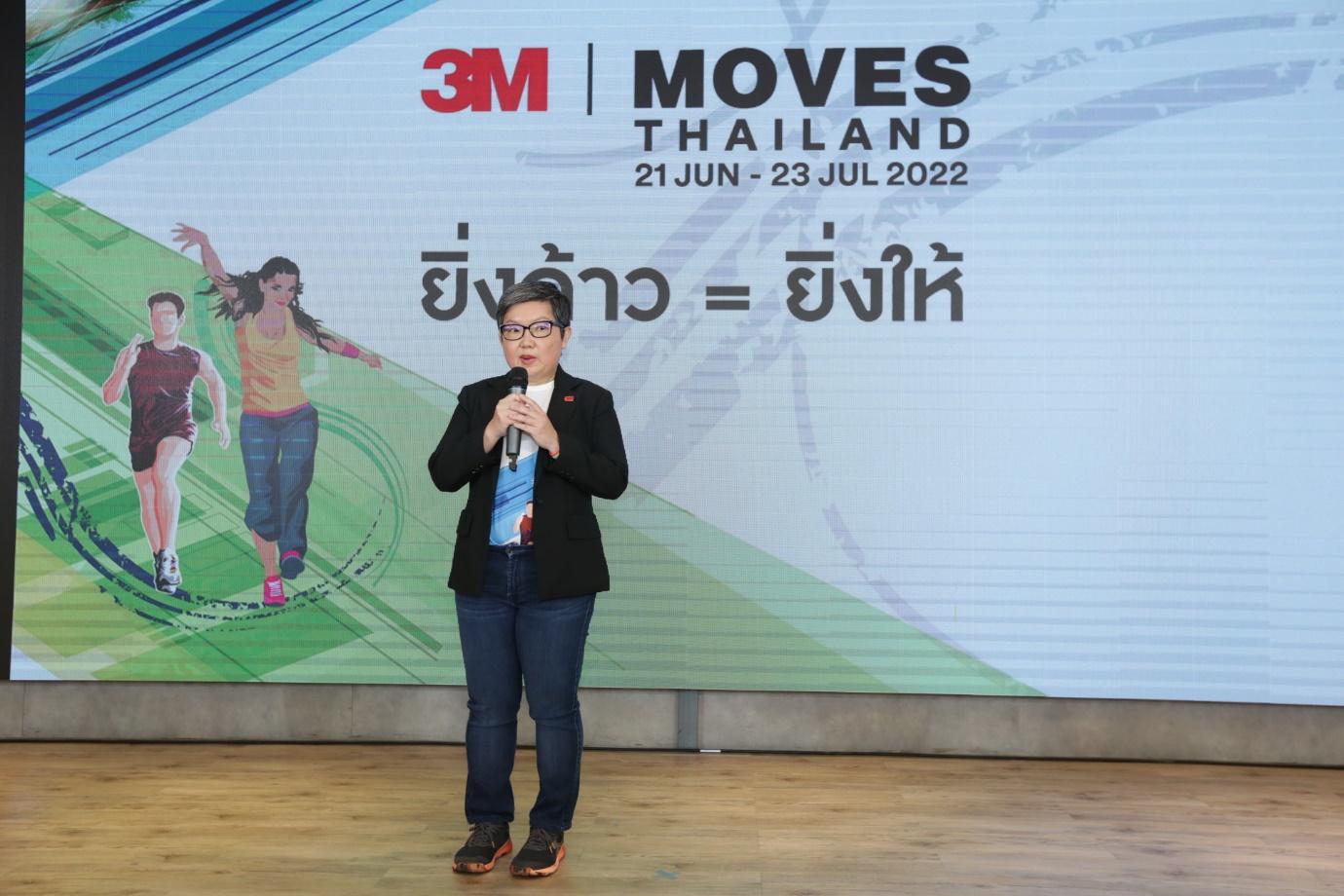 A Good Cause Aligned with 3M's Commitment
Mrs. Wiyada Srinaganand, Country Leader, 3M Thailand noted, "3M, as a global science and innovation organization, realizes the importance of good health, especially for modern lifestyles involving social distancing. We also believe that a healthy workforce is key in enabling organizations to move toward a sustainable future. Therefore, the 3M Moves campaign was initiated to encourage people to exercise and care more about their health, further fulfilling 3M's commitment to actively and inclusively contribute to the society."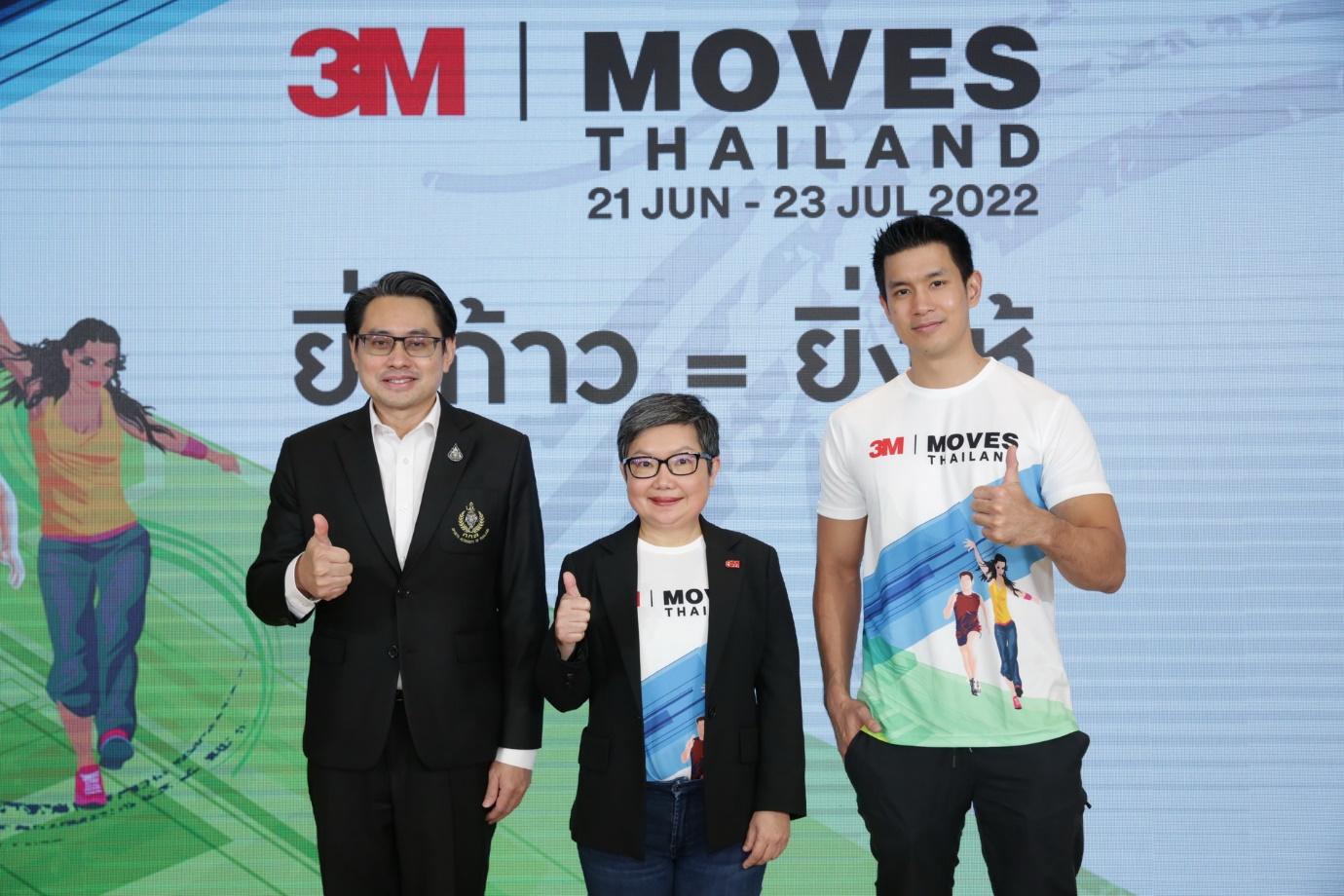 Inaugural Partnership with Sports Authority of Thailand
Jointly organized by 3M and SAT, 3M Moves was recently introduced in Thailand to promote various forms of wellness activities that suit the lifestyles of Thai people. The activities are aligned with SAT's mission to support and inspire people in exercising and participating in sports activities. This campaign includes walking, running, or simply moving the body anywhere and anytime. Through this initiative, the more you move, the more you contribute, as 3M will donate one 3M product to the needy through the Donation Center for every 5,500 steps accumulated. Donations will be made after the end of this campaign. 
Dr. Kongsak Yodmanee, Governor of Sports Authority of Thailand, shared "We are glad to be a part of 3M Moves as SAT's intent is to create and support activities to help Thailand achieve a sustainable healthcare system for a better quality of life for the Thai public. Apart from promoting individual health, this campaign offers opportunities to the broader society to access good health through 3M products that are useful in everyday life. This also matches current lifestyles of the people as they can join the campaign in making meaningful contributions to the society while keeping themselves fit."
Coach Fasai to Inspire and Guide
The campaign also features Mr. Fasai Puengudom (Coach Fasai), a popular fitness specialist, who will share workout techniques that can be applied either at home or work, as well as other useful healthcare tips, before leading a 3-Minute Workout Challenge at the end of the launch event.
To further help keep participants active and healthy, 3M will team up with Coach Fasai to organize virtual activities under the "Boost-up Campaign" to share knowledge on proper ways to exercise and other healthy habits. Interested people can join via Coach Fasai's Facebook Page on July 2 and 16, 2022. 
At the end of the campaign, 3M will deliver its products to the Donation Center. The 3M products to be donated includes cleaning products and equipment – such as Scotch-Brite® Scrub Sponge, Scotch-Brite™ Cotton Mop, and Scotch-Brite™ Broom and Dustpan Set – floor cleaning and disinfection products, hand sanitizer, and more. 
How to Participate 
Members of the public can join the 3M Moves campaign from June 21 to July 23, 2022 by scanning the QR code on the 3M Thailand website to start tracking and contributing steps. Follow campaign news and special activities at 3M Thailand Facebook.