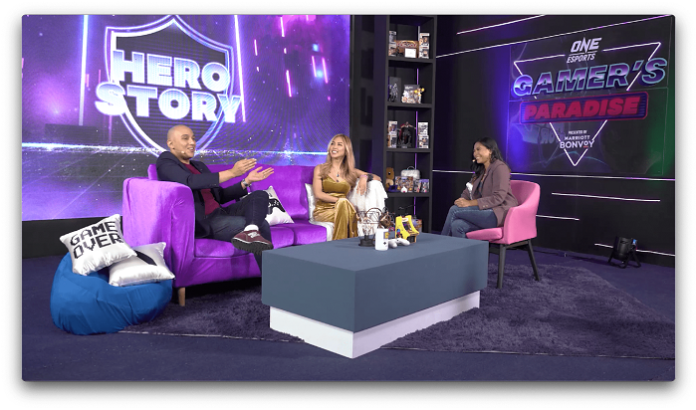 Viewers can experience the global culture of esports through the
new gaming variety talk show series
premiering across ONE Esports' digital channels on 4 July
Produced by ONE Esports, a subsidiary of ONE Championship™ (ONE), and presented by Marriott Bonvoy, Marriott International's award-winning travel program, Gamer's Paradise is a 15-episode variety talk show series. The all-new program will feature content that celebrates the diversity of gaming and esports culture across Indonesia, Japan, Malaysia, Philippines, South Korea, Singapore, Thailand, and Vietnam. 
Gamer's Paradise will feature the best esports athletes, gaming and influencer talent, and industry experts. Each episode will center on a theme, from deep dives into popular gaming titles to explorations of broad industry trends. The list of episode titles can be found in Appendix 1. Each episode highlights hotels and resorts from the Marriott Bonvoy portfolio in Asia and enables viewers to immerse themselves in travel destinations through the lens of gaming culture.
The program will be hosted by popular 'Super Host' and emcee Eri Neeman and ONE Esports' MikaFabs. Neeman has hosted several premiere esports events and tournaments such as the ESL One Birmingham 2019, ESL One Manila 2016, Manila Masters, and REV Major. MikaFabs is a writer, producer, and esports host, who has hosted for international tournaments for Valorant and League of Legends: Wild Rift.
Fans can expect to catch their favourite gaming and esports talent on the series and stand to win prizes from Marriott Bonvoy by engaging with the show online. Program guests include League of Legends player Teddy from Korean esports team Kwangdong Freecs; Dota 2 personality and host Sheever; Japanese Street Fighter player Kawano; Mobile Legends: Bang Bang players Edward and OHEB from Filipino esports team Blacklist International; popular cosplayer and streamer from Singapore Kiyo; gaming personalities Clara Mongstar from Indonesia and Megan Young from the Philippines, and many more. A full list of program guests can be found in Appendix 1. 
Each episode will be broken down into five engaging segments:
| | |
| --- | --- |
| Segment title | Description |
| The Pulse  | A panel of experts and gaming celebrities will discuss hottest gaming and esports topics. |
| Hero Story (Stories of Inspiration)  | An in-depth interview with Asia's favorite esports heroes and personalities. Learn about the life of the pros and what it takes to chase their dreams.  |
| Gamer's Haven (A Day Away From The Game)  | A day of relaxation using Marriott's facilities, offering our esports personalities and gaming celebrities a much-needed break.  |
| Side Quest  | A feature on the best video game worlds in history. We'll focus on the games that were inspired by real-life locations.  |
| House Party | Our hosts and guests that appear on the episode will participate in a variety of geek-themed party games. |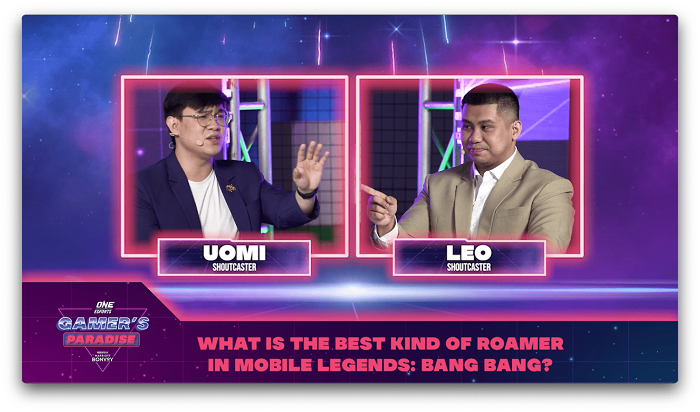 Gamer's Paradise will premier across ONE Esports' digital channels, including Facebook, Twitch, YouTube, and AfreecaTV, on 4 July 2022 at 8.30PM GMT+8. The program will air in English every Monday, with subtitles in Bahasa Indonesia, Bahasa Melayu, Japanese, Korean, Tagalog, Thai, and Vietnamese. View the trailer for Gamer's Paradise here. 
"The goals for Gamer's Paradise are to celebrate esports, provide our audience with deep insights on the ecosystem and community, and share the stories of gaming and esports heroes who ignite the world with strength, hope, dreams, and inspiration. The series will highlight Marriott Bonvoy's portfolio of properties across Asia. Marriott Bonvoy is the perfect travel program for the gaming and esports fan, whose lifestyle consists of frequent travel, "said Carlos Alimurung, CEO, ONE Esports. 
"We teamed up with ONE Esports on Gamer's Paradise to bring Marriott Bonvoy's expression of good travel in both virtual and physical settings to gamers across the region. This series is rooted in travel, and we hope to showcase how the digital and gaming worlds draw inspiration, energy, and community from the transformative power of travel," said Julie Purser, Vice President, Marketing, Loyalty & Partnerships, Marriott International, Asia Pacific. "There has been great synergy working alongside ONE Esports to execute this project together and we are confident Gamer's Paradise will be a thrilling spectacle that inspires audiences." 
Appendix 1: Gamer's Paradise List of Episodes
Episode Title
Air Date
Guests

EPISODE 1: 

Mobile Legends Pt. 1

4 July

EPISODE 2: 

Mobile Legends Pt. 2

11 Jul

EPISODE 3: 

League of Legends Pt. 1

18 Jul

EPISODE 4: 

League of Legends Pt. 2

25 Jul

EPISODE 5: 

Retro Video Games

1 Aug

EPISODE 6: 

Fighting Games (Street Fighter and Tekken)

8 Aug

EPISODE 7: 

Sports Games (FIFA and NBA 2K)

15 Aug

EPISODE 8: 

Videogame Subcultures

22 Aug

EPISODE 9: 

Dota Pt. 1

29 Aug
EPISODE 10: 

Dota Pt. 2

5 Sep

EPISODE 11: 

Arena of Valor

12 Sep

EPISODE 12: 

Asian Esports Landscape – Mobile Games

19 Sep

EPISODE 13: 

Asian Esports Landscape – PC Games

26 Sep

EPISODE 14: 

Asian Esports Landscape – Console Games

3 Oct

EPISODE 15: 

Season Finale

10 Oct