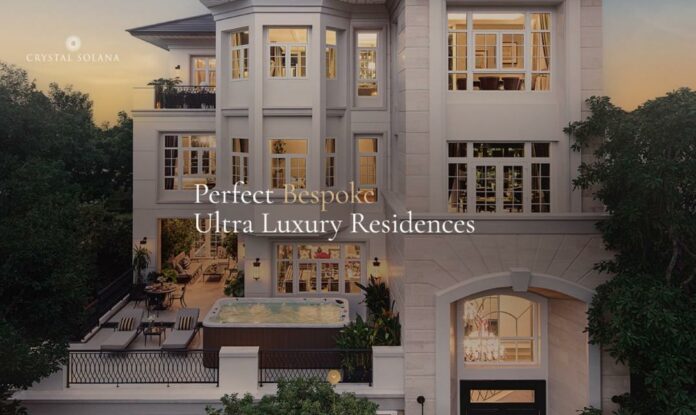 Photo credit https://www.crystalsolana.com/
A Luxury House in Ekamai Ramintra
If you are getting weary of living in the heart of Bangkok city with its gridlocked traffic jams and thick air pollution, why not consider the suburbs on the outskirts of Bangkok? If you consider the cleaner air and lack of depressing traffic jams, buying a luxury house in Ekamai Ramintra starts to become a very attractive option.
The larger expanse of space means you can literally find the house of your dreams when you start looking beyond the city center. Finding a large luxury house is fairly uncommon within the Bangkok city center, but just a few kilometers away, there are literally hundreds to choose from. 
Urban planners are starting to look towards the outskirts of Bangkok as the availability of space becomes more limited within the city center. Consumer behavior has also contributed to this trend as more people are looking for a quieter life in the suburbs. And with more people pushing this trend of larger living outside the city, many real estate companies are now focusing on producing more luxury house projects in the Ekamai Ramintra area. 
These large projects feature houses that are upwards of 1,000 square meters with all the trappings you would expect of a modern-day palace of your dreams.  
One such project is by K.E. Land Company Limited.  Named the Crystal Solana, the exclusive gated community is made up of 47 special residences with six unique residence designs that reflect the luxury and exclusivity of this luxury house located in Ekamai Ramintra. 
Emeralda
This four-story home is both imposing and welcoming in its towering presence and is one of the largest (in built-up area) in the development. The double-volume foyer will lead you up to an impressive Great Room that opens outdoors into a loggia and terrace. Situated close to the Great Room is the Gourmet Kitchen, a reading nook, and a dining room. All the rooms boast intricate design details that have been carved into the overall design of this stately luxurious home. It features four bedrooms, a large 57 Sq.m Living Room and a garage that will hold up to eight of your prized vehicles. The total built-up area measures a whopping 1,100 Sq.m. 
The Clubhouse
One of the highlights of this ultra-luxurious gated community is the clubhouse and its many amenities. It boasts of five-star level hospitality over its 2,000 Sq.m sprawling area dedicated to lifestyle, entertainment, and health amenities. It features design influences from the elegant beaux-art steel and bold forms reminiscent of Parisian public spaces. 
If you are looking for that next-level five-star luxury living, look no further than the Crystal Solana. The exclusive luxury house development in Ekamai Ramintra.