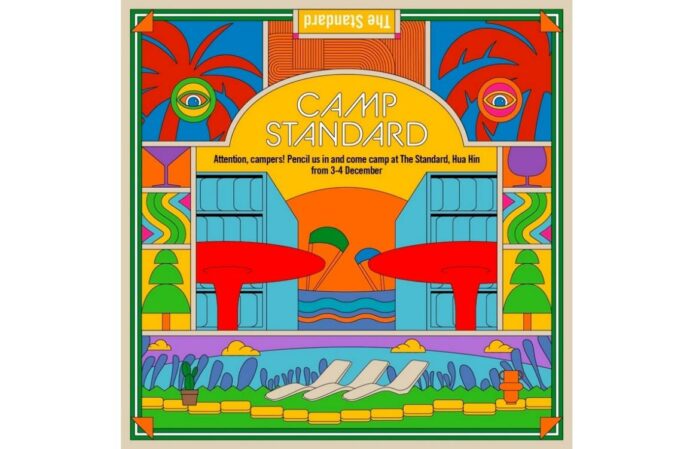 Staged on Saturday 3rd and Sunday 4th December, "Camp Standard" will be a full-on, two-day birthday bash featuring poolside parties, energizing activities and fun surprises on Thailand's gulf coast
HUA HIN, THAILAND, NOVEMBER 2022: The Standard, Hua Hin, the Thai resort where chic beach vibes meet mid-century style, is celebrating its first anniversary this December, and in true Standard fashion we're not just planning a normal birthday bash! On 3rd & 4th December 2022, exactly one year since we welcomed our first free-spirited guests, the resort will throw open the doors to "Camp Standard" – a full-on, two-day holiday camp featuring poolside parties, energizing activities and fun surprises.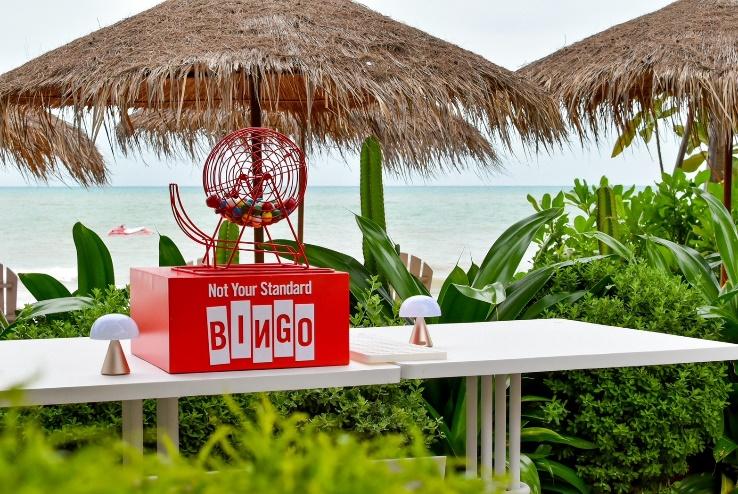 The action starts at 7am on Saturday 3rd December, so wakey wakey, rise and shine for an uplifting stand-up paddleboard yoga session at The Pool, hosted by Kru Nueng! Followed by free healthy shots of fresh-pressed juice at The Juice Café (which are available from 8am to 5pm), and an invigorating Beach Bootcamp, a warm up and workout drill session with Pitta Na Pattalung from 10am to 11am, this is a wonderful way to kickstart your weekend.
Nothing says camp like a picnic, so from 12pm to 3pm we'll pack up a hamper full of fruits, cold cuts, cheeses, light bites and a bottle of rosé wine for you and your partner or bestie to share at our Lido Rooftop. Prices start from THB 500 per person. And of course, it wouldn't be The Standard without a pool party! From 2pm to 6pm, revelers can slip on their swimwear and slide into the pool for a "Surf & SUP" session by KBA, with upbeat tunes by DJ Deejai at our Lido Bar. Alternatively, a complimentary flower workshop by Plant House will let you learn an enchanting new craft.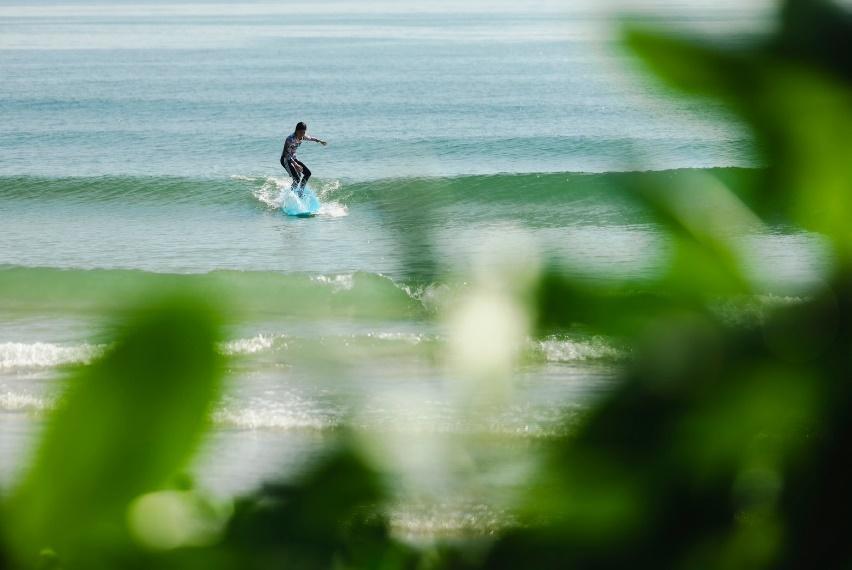 Then, as the sun sets on the first day of Camp Standard, the festivities start to heat up! Head down to the Beachfront Lawn for a nostalgic campfire and dance show (6pm to 9pm), including a sizzling barbecue with fresh seafood, then get your groove on at the Beach Bar, with make-your-own gin & tonics with live beats by DJ Aopsher, DJ Sonny and Gena D'Souza (7pm to 11pm). Finally, a complimentary Cacao Ceremony at the Pool Lawn (9pm to 10pm) will open your heart and transport your spirit to another world!
Sunday 4th December starts in a blissfully spiritual fashion with a tai chi session by Kru Nueng (6.30am to 7.30am) and fresh fruit shots at the Juice Café. Pitta Na Pattalung will be hosting the Beach Bootcamp (10am to 11am) for fitness lovers who want to accelerate their journey to health and wellbeing, and couples and friends can come together at the Lido Rooftop for a perfect picnic with wine (12pm to 3pm). Fancy putting a little more sparkle into your wellness rituals? From 2pm to 6pm, deeply indulgent and detoxifying "Mud Scrubs & Bubbles" sessions can be experienced at the Beachfront Lawn, including a bottle of Prosecco. This is priced at THB 2,000 per person, or THB 3,000 per couple including the bubbly.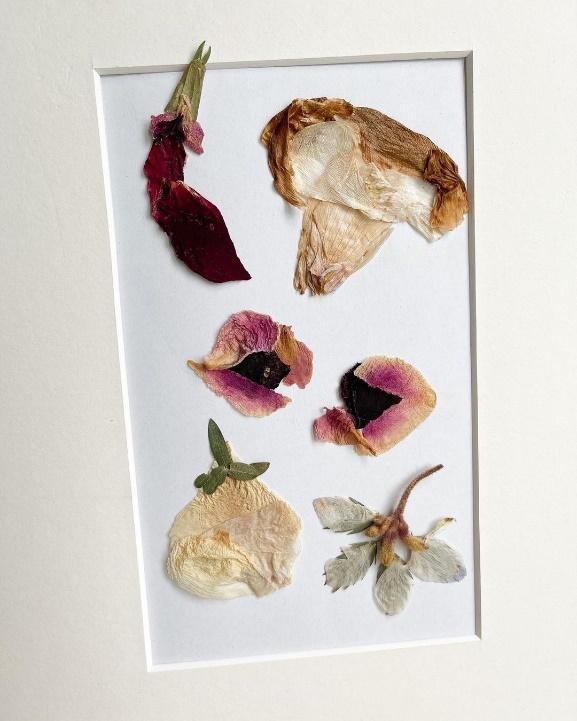 Impromptu dance party? We think yes! See you at the pool from 3pm to 7pm for a live set by DJ Pichy. For a more chilled out afternoon, drop in to the Lido North from 4pm to 6pm for a wine painting session with Yaya, free-of-charge. And what would camp be without a little competition? Join us for a castaway edition of Not Your Standard Bingo (5pm to 6pm) for the chance to win a special prize!
As day turns to night (from 6pm), head to Praça, our restored beachside heritage house and Thai izakaya, for a bite to eat. Then from 8pm to 9pm, we're swapping campfires for crystals with a complimentary evening ritual by Soul Matters at the Pool Lawn. Finally, from 7pm to 11pm, it's time to celebrate the last night of camp with your new-found friends at a DIY G&T session at the Beach Bar, with uplifting tunes by DJ Prague and DJ Deejai.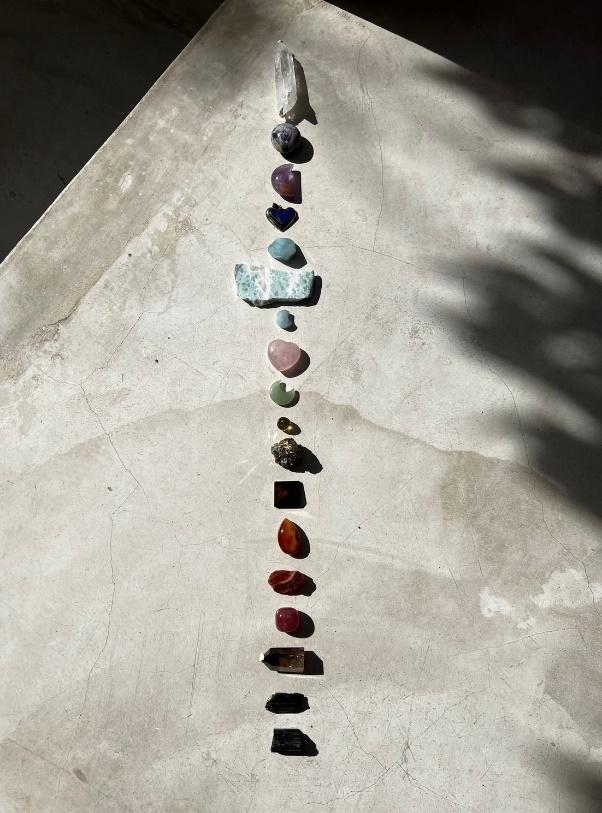 "The last 12 months have been such a buzz! We've greeted guests from all around the world, staged one-of-a-kind events, partnered with creative icons and made fabulous new friends. Now, we want to thank everyone who have made this first year such an amazing journey. Camp Standard will revive the spirit of the summer camp with a wealth of activities. This is our way of saying 'thanks' and we can't wait to welcome our cherished guests back to Hua Hin this December," said Mai Vejjajiva Timblick, Chief Creative Officer.
Further information about SUMMER CAMP WITH FIRST ANNIVERSARY WEEKEND CELEBRATION at The Standard, Hua Hin can be found on the website . Here Camp Standard | Happenings (standardhotels.com)
Nestled directly on Thailand's glittering Gulf coast, just a short drive from Bangkok, The Standard, Hua Hin offers 199 rooms, suites and villas, chic dining venues, social hubs and world-class wellness, all surrounded by lush gardens and mid-century design. The resort has also elevated the social scene in Hua Hin with a series of cultural "Happenings", from wellness weekends and artistic escapes to pool parties, live concerts and more.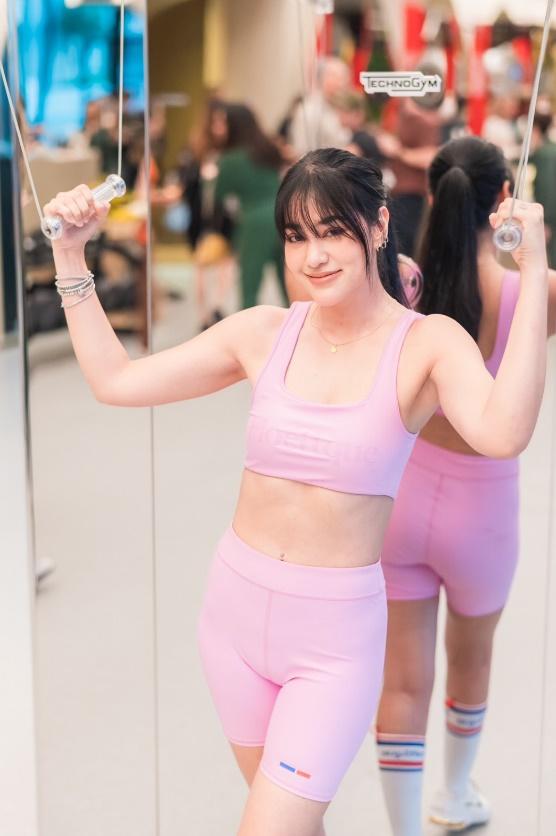 The Standard hotels are present in the most desirable of destinations, from Miami Beach to the Maldives, London to New York, Hua Hin to Bangkok. A haven for curious explorers, The Standard, Hua Hin was ranked as the #1 resort hotel in Southeast Asia – and the #35 best place to stay in the world – in the prestigious Travel + Leisure World's Best Awards 2022! It was also named on Condé Nast Traveler's "Hot List" for 2022, a highly exclusive selection of the world's most exciting new hotels. 
Connect with the hotel via:
Facebook: The Standard Hua Hin
Instagram/Line: @thestandardhuahin
Web: www.standardhotels.com/hua-hin