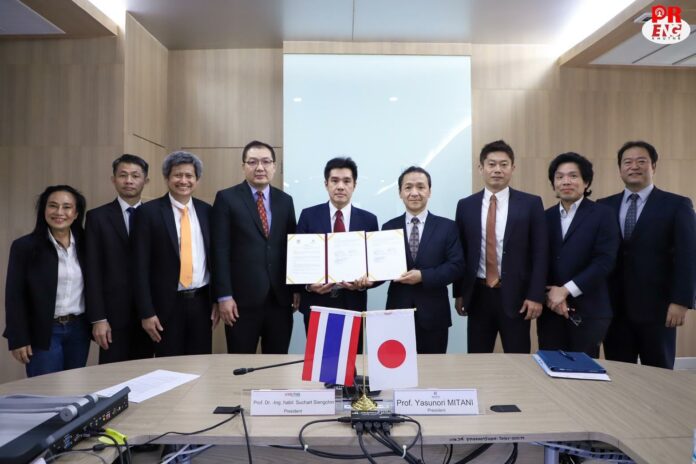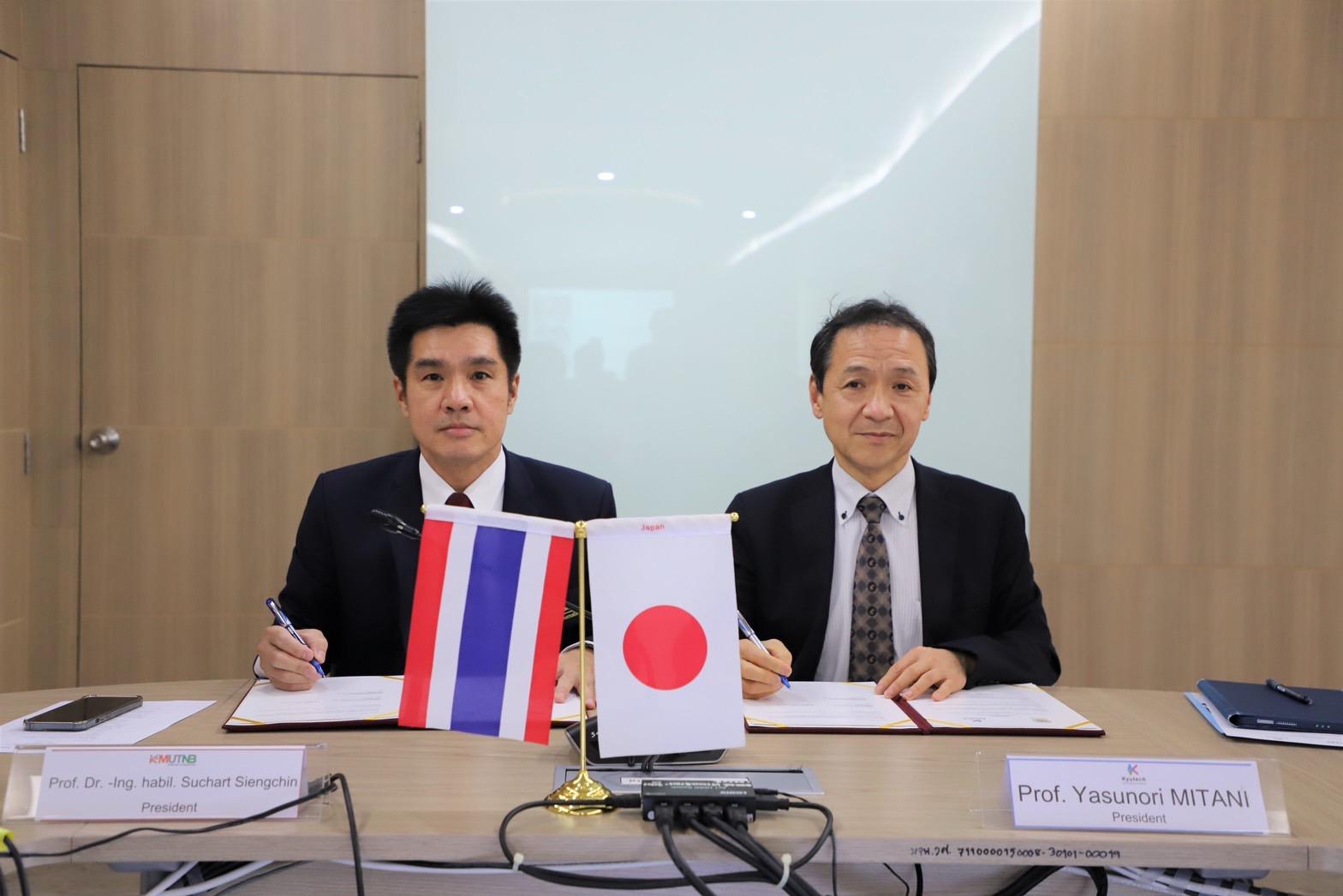 On Friday 17 February 2023, King Mongkut's University of Technology North Bangkok (KMUTNB) hosted the university's 64th founding anniversary. On this occasion, Prof. Dr. Yasunori MITANI, the president of Kyushu Institute of Technology (Kyutech), Japan, and his team, visit KMUTNB to attend this celebrative event and the 4th renewal of MoU signing ceremony. The MoU signing ceremony between Faculty of Engineering, KMUTNB and Kyutech took place at meeting room 212, Faculty of Engineering, and was presided over by Prof. Dr. -Ing. habil. Suchart Siengchin, KMUTNB President, and Prof. Dr. Yasunori MITANI, Kyutech President. This 4th MoU signing will facilitate collaboration and cooperation between both institutions in a number of key areas such as co-organizing conference, and expansion of double degree program. In addition to the signing of the MoU, the Kyutech president and his team also had the opportunity to visit the temporary and the construction site of the KMUTB-Kyutech collaboration satellite office. The two institutions look forward to working closely to advance research, knowledge, and education in their respective fields.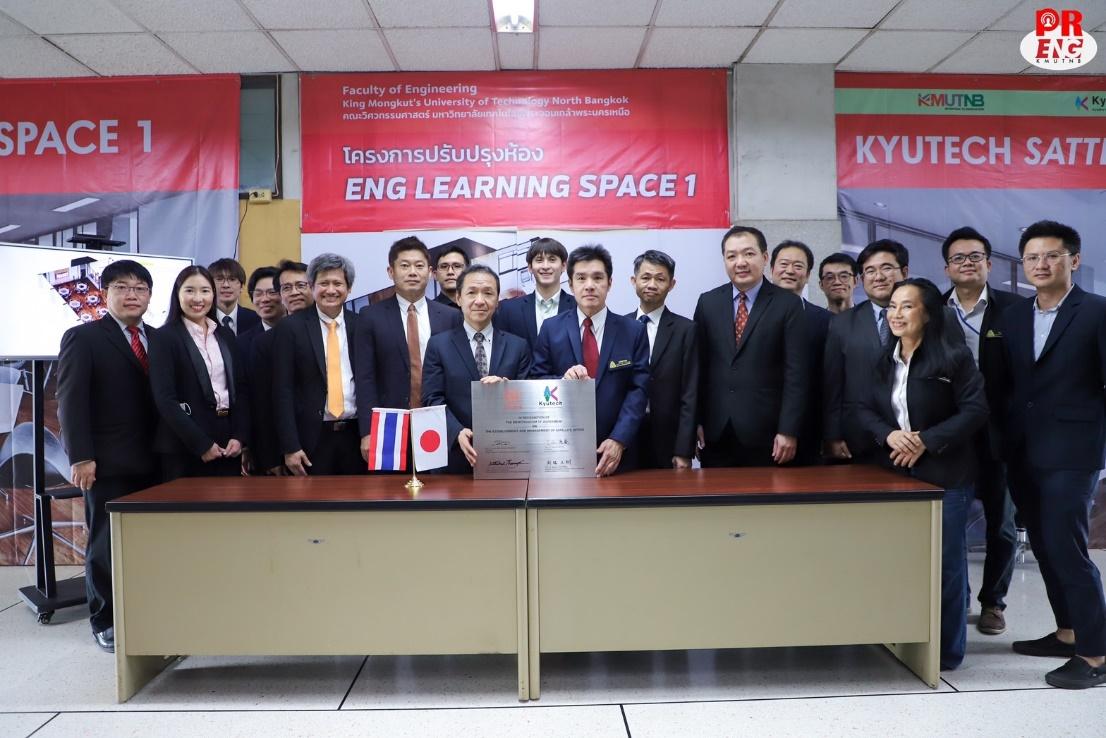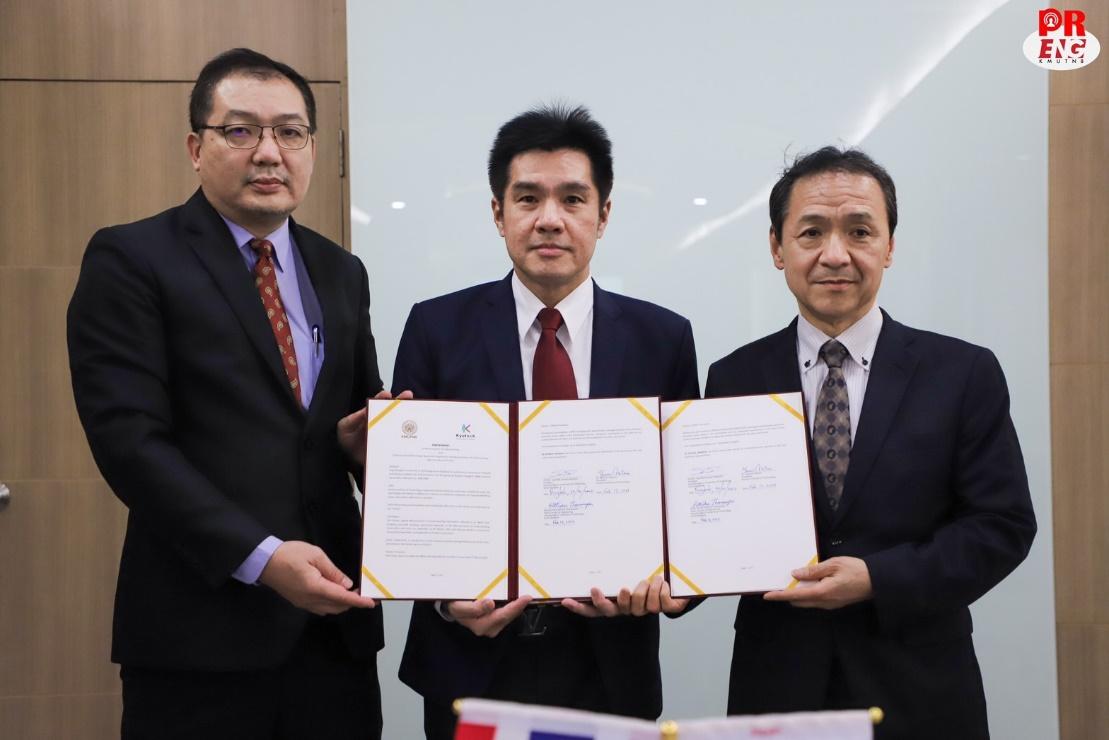 Since KMUTNB has entered into the first MoU with Kyutech in 2009, both parties have achieved series of fruitful cooperative outcomes, such as the exchange of staff and students, the funding for research stay, the provision of doctoral and master's scholarships for KMUTNB faculty members and students of Faculty of Engineering, Faculty of Technical Education, College of Industrial Technology, Faculty of Applied Science and the Sirindhorn International Thai -German Graduate School of Engineering (TGGS), the joint publication, the co-hosting of academic conference, seminar, workshop,student camp, etc. These cooperative activities contribute to promote friendship and encourage the exchange of knowledge, academic experiences, and culture among the Thai and Japanese faculty members and students. It leads to a greater understanding and cooperation between the two countries.
Also, KMUTNB and Kyutech have initiated the short exchange program since 2014 and it has been organized annually until now. Over 200 students of the Kyutech and KMUTNB students of Faculty of Engineering joined this program.
In 2015, KMUTNB  and Kyutech cooperated to launch the Double Degree in Master of Engineering. Presently, there are 3 student were graduated and 2 students are currently studied under this program. One of them is currently the CEO of the NBSPACE, which is a start-up and spinoff company of space technology from KMUTNB. Moreover, Kyutech and TGGS at KMUTNB has discussed on double degree programs in Mechanical Engineering Simulation and Design and Materials and Production Engineering Programs.
In 2019, KMUTNB celebrated the 60th founding anniversary while Kyutech celebrated its 110th founding anniversary and also celebrated 10th KMUTNB-Kyutech cooperation anniversary. To mark these milestones, the two institutions established the "KMUTNB-Kyutech Collaboration Satellite Office" at Faculty of Engineering, KMUTNB, to be the center to promote and strengthen the cooperation on the development of research and education. The faculty members, researchers, students, and alumni of both institutions will come to work together to generate new knowledge and technologies which will lead to the sustainable progress of the academic community.