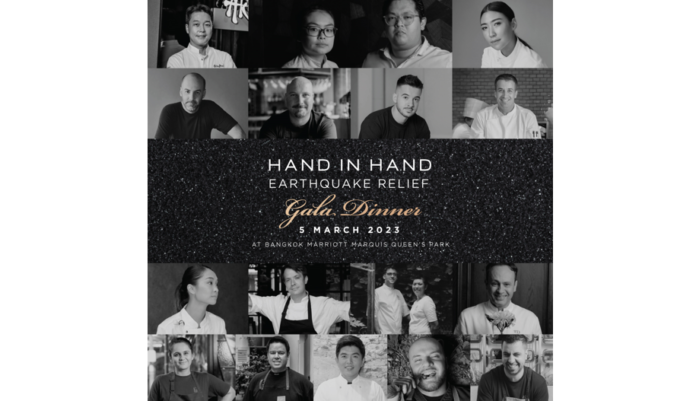 In the wake of the devastating earthquake that has ravaged cities across Turkey and Syria, we cordially invite the Thailand community to join us for a one-of-a-kind Fundraising Gala to show our support for all those that have been affected by this tragedy.  
Bangkok (16 February 2023) We are pleased to announce the Hand in Hand Fundraising Gala is set to take place on March 5th at the iconic Bangkok Marriott Marquis Queen's Park for those that have been severely affected by the devastating earthquakes throughout Turkey and Syria.
As you probably have seen in the news, the loss of life has surpassed 28,000 in addition to entire cities left in crumbles, families torn apart and limited housing from the freezing temperatures. We are heartbroken beyond words to witness the scenes unfold and we believe this time, thoughts and prayers are just not enough. Though we, in Thailand, are far, we still have the chance to help those who are in desperate need which makes this cause extremely important. 
The one-night gala will see some of Bangkok's top restaurants converge with top-tier wine suppliers, cocktail makers and beverage experts for a night of fine dining, live music and a diverse silent auction options. Canapes and dinner will be a collaborative effort served by:
Pichaya "Pam" Utharntharm (Potong)
Paolo Vitaletti (Appia & Peppina)
Chalee Kader (Wana Yook)
Dylan Jones and Bo Sonvisava (Bo.lan)
Tim Butler (Eat Me)
Top Russell & Michelle Goh (Mia)
Pepe Dasi Jimenez (Vilas)
Thierry Drapeau (Signature)
Mirco Keller (Keller)
Andrew Martin (80/20)
Garima Arora (Gaa)
Chef Ton (Le Du)
Chef Yoon (Akira Back)
Tam Chudaree (Baan Tepa)
David Hartwig (IGNIV)
Ferran Tadeo (Embassy Room)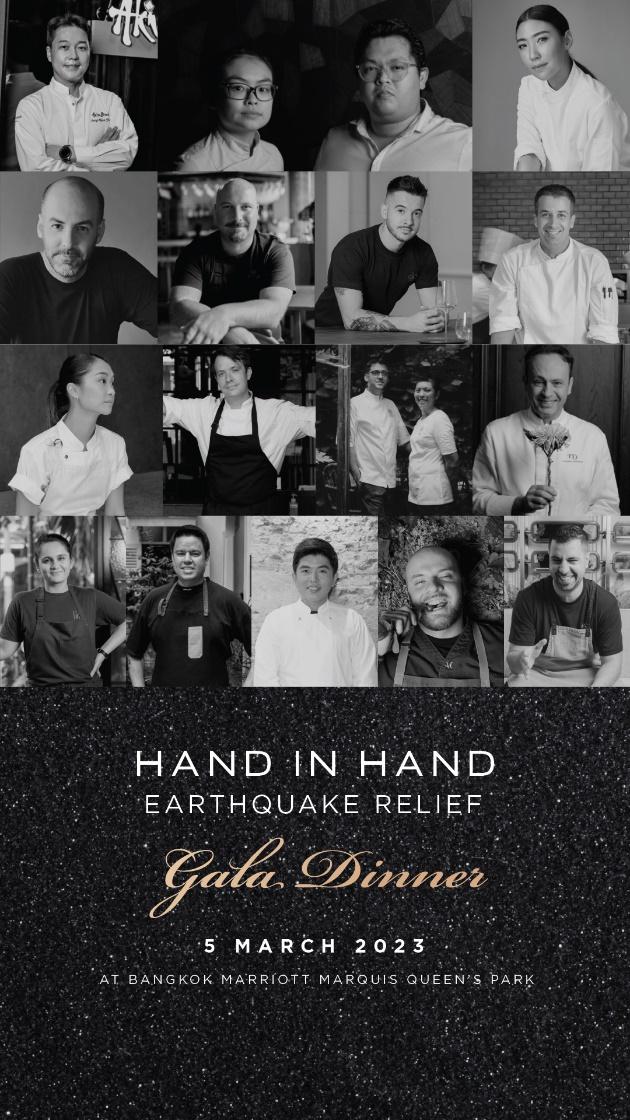 Drinks will be graciously sponsored by Wine Garage, Zuma Bar, Fin Wines, italasia, Full Moon Brewery, Soul Wines, Beervana, Bootleggers and MORE.
We are also honored to host the Ambassador of Turkey who will join us for the evening in solidarity with the people affected. The Hand in Hand Gala is dedicated to sending 100% of the proceeds directly to The World Central Kitchen by Jose Andres.  
The evening will start at 7pm with ticket prices set at B12,000 net per person including cocktail hour with canapes, a silent auction, live music and dinner hosted by the influential MC, Matthew Dean. 
For those who aren't able to join the event but would still like to contribute;  there are several options for donations on the booking site, starting at B500. 
The diverse silent auction will include dinner vouchers from impossible-to-book restaurants including Samrub For Thai, Gaggan, Haawm and Suhring in addition to local art, hotel stays across Asia, Topgolf vouchers and much more. 
We sincerely thank you for taking the time to read about our mission and greatly 
appreciate it if you could share through your respected publications. Please do let us know if you would like to also get involved with our fundraising efforts or have any inquiries. We would be immensely grateful if you could share this message with as many people as you can to help spread the message and show our love for the two countries. 
Sincerely,
Megan Leon
+66 82 499 2277
Hand in Hand
Earthquake Relief Gala
Date – March 5th, 2023
Time– 7pm-late
Location- Bangkok Marriott Marquis Queen's Park, 199 Soi Sukhumvit 22
Tickets- B12,000 net per person
Instagram- @Hand_in_Hand_Th
Reservation Booking Link – https://megatix.in.th/events/hand-in-hand-earthquake-relief-gala