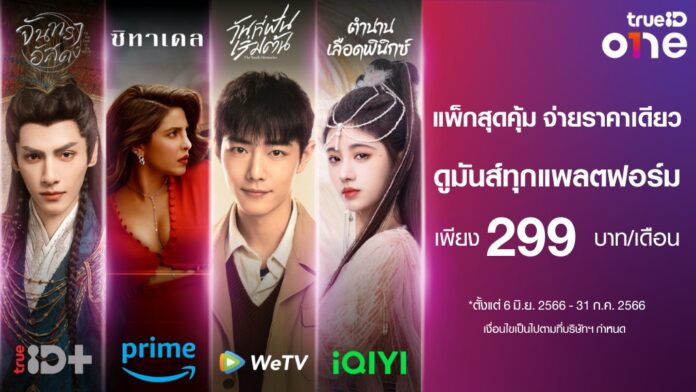 "TrueID ONE" Revolutionizes Streaming with Unbeatable Value: TrueID+, Prime Video, WeTV, and iQIYI Combined for Only 299 Baht per Month!
Bangkok, May 28, 2023 –  TrueID, the leading streaming platform, has launched an unparalleled entertainment package called "TrueID ONE," offering an extraordinary lineup of three global streaming giants – TrueID+, Prime Video, WeTV, and iQIYI – all at an astonishingly low price of just 299 Baht per month. This groundbreaking offering is set to captivate viewers and redefine the streaming landscape.
With "TrueID ONE," subscribers gain access to a vast library of premium content from renowned platforms, including TrueID+, Prime Video, WeTV, and iQIYI. Whether it's binge-watching the latest trending series, exploring blockbuster movies, or indulging in captivating documentaries, this unbeatable package offers it all, ensuring non-stop entertainment for viewers of all preferences.
For just 299 Baht per month, viewers can immerse themselves in the world-class content offered by TrueID ONE. From gripping Thai series with top-notch Thai subtitles and dubbing on TrueID+ to Hollywood blockbusters and globally acclaimed Korean dramas, the range of options is unparalleled. Say goodbye to boredom and hello to limitless entertainment with the top four streaming platforms all conveniently accessible through TrueID ONE.
TrueID understands the importance of convenience and affordability in today's streaming landscape. By consolidating these three global streaming giants into a single package, TrueID ONE provides unbeatable value, giving subscribers access to a world of captivating content without breaking the bank.
To seize this extraordinary opportunity, viewers are encouraged to sign up for "TrueID ONE" immediately by visiting the official website at https://bit.ly/TrueIDONE. Experience the next level of streaming entertainment at an unbeatable price with TrueID ONE!