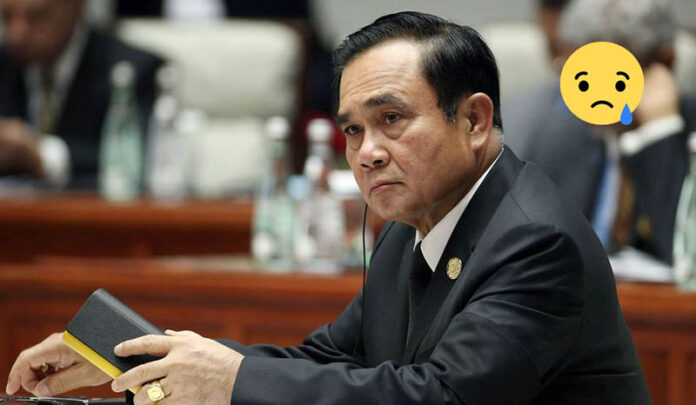 BANGKOK — A day after Facebook denied a Thai government claim its CEO was coming to Bangkok to meet junta leader Gen. Prayuth Chan-ocha, all of officialdom clammed up Thursday rather than explain where the notion came from.
After detailing earlier this week that he would discuss transnational crime with Mark Zuckerberg, Prayuth on Thursday refused to answer reporters' questions today as to why the much-anticipated meeting was not taking place after all.
Various departments had been discussing the topics they would like to raise in the visit up until Wednesday, when Facebook Thailand representatives told Khaosod English no such meeting was in the works.
Read: Mark Zuckerberg Has No Plans to Visit Thailand or Prayuth: Facebook
"There are no plans currently for any of our senior leaders to visit Thailand," read the brief statement, which did not elaborate. Messages to a publicist for Facebook were met Thursday by an out-of-the-office reply. Calls to Hill & Knowlton, which handles the California-based social media firm's publicity, had no further information either.
A female staff member who answered the phone and declined to give her name said the company could not say whether the Thai government had in fact reached out to Facebook to seek such a meeting. "We can't give this information. We also don't know the background," she said.
It wasn't just Prayuth keeping mum. Deputy Prime Minister Somkid Jatusripitak – the man who broke the news – could not be reached by phone or through his office yesterday and today. Calls were not returned. His office said he'd taken a sick day.
After telling Khaosod English on Wednesday to ask Somkid to explain about the non-meeting, government spokesman Maj. Gen. Weerachon Sukhonthapatipak was unreachable by phone Thursday.
Reporters with Khaosod's Thai-language newspaper gave a possible explanation of what may have taken place. Two reporters, who didn't want to be named for fear of damaging relationships with their sources, said Somkid first told reporters late last week that Zuckerberg was coming and the Board of Investment was arranging the details. Somkid allegedly told Government House beat reporters to keep it confidential. Matichon, a sister publication to Khaosod, broke the news Monday.
Friendzoned?
Since seizing power in 2014, the military government has tried to replicate its real-world success in suppressing speech on social media. Those efforts – from briefly blocking Facebook and requesting its cooperation to devising a Chinese-style Great Firewall and threatening advertisers – have mostly failed after meeting wilting resistance.
Online rights advocates concerned about the junta's attempts to control and censor Thais online found troubling the news that Zuckerberg, a kind of internet head of state, was to meet junta leader Prayuth.
Arthit Suriyawongkul, coordinator of Thai Netizens Network, which promotes free expression online, said that for the government to meet a leader on an internet platform, it must have considerable influence.
Artit said organizations such as Facebook should care about whether rights to freedom of expression on its platform are protected by governments. In April 2016, eight people were abducted from their homes and later charged with sedition and violating the Computer Crime Act for operating Facebook pages critical of the junta.
Two of the six were also charged under Article 112 of the constitution, which forbids insults of the monarchy. Offenders face a maximum of 15 years in jail.
Arthit said it would be okay for Zuckerberg to meet Prayuth – known for his crackdown on free press and online freedom of expression – as long as the Facebook founder raised concerns about such violations.
"It depends on what will be discussed. I don't think Mark Zuckerberg has the same status as [foreign] government leaders wherein not seeing [Prayuth] means they are banning him [because of the 2014 coup]. I don't think Mark Zuckerberg is a representative of freedom and democracy. However, if he visits [Prayuth] in the future and does not raise the issue of users' rights, that would be a disappointment."
Human Rights Watch senior researcher Sunai Phasuk said he also didn't know what had gone wrong. He added however that if such a meeting were to take place, it would send a wrong message contradictory to Facebook's business principles.
"A handshake with a military junta [leader] who is widely known for his aggressive online crackdown on freedom of expression would not bode well with the image of Facebook."
Additional reporting Teeranai Charuvastra
Related stories:
Mark Zuckerberg Has No Plans to Visit Thailand or Prayuth: Facebook