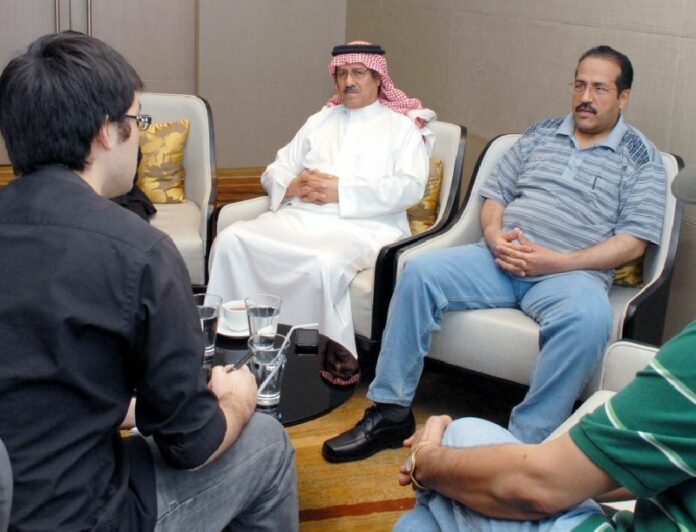 (21 May) 23 years ago, a Saudi businessman with ties to the Saudi royal family was kidnapped in Bangkok, never to be seen again.
The case of Mr. Mohammad Al-Ruwaili, which came just after triple murders of 3 Saudi diplomats based in Bangkok and the infamous theft of jewelry from the Saudi royal court by a Thai gardener, proved to be a deadly blow to relations between the 2 kingdoms.
The diplomatic penalty lasts to this day, preventing thousands of Thai labor force to enter Saudi Arabia while the Saudi authorities discouraged tourists from visiting Thailand.
5 senior police officers were arrested and charged of kidnapping and subsequently murdering Mr. Al-Ruwaili. The 5 insist their innocence. Meanwhile, governments after governments in Thailand were accused of being too reluctant to pursue the matter seriously out of fear that the case has involved influential figures in the country.
Recently, Mr. Ateeq Al-Ruwaili, brother of Mohammad, and his cousin Mr. Matrouk Al-Ruwaili have arrived in Thailand to attend the court hearing for the first time. The decision by the Thai Criminal Court to hear testimony from an important witness who is currently residing in United Arab Emirates could be a major turning point in the saga.
Ateeq and Matrouk agreed to be interviewed in person by Khaosod in order to tell their side of the story.
Note: This article was compiled from 2 separate interviews with Ateeq and Matrouk on 19 May and 20 May – before and after their first court attendance. The interviews were conducted in English, and had been slightly edited for a concise presentation.
The locations of the interview are undisclosed due to concerns for the safety of those involved in the case.
* * *
Khaosod English: It′s been 23 years since the abduction. In your opinion, what made this case so delayed?
Matrouk: That is up to the Thai authorities to answer. I have come here to confirm our quest for justice. We have been following this case for more than 20 years, all the time.
What I can say is this: the Thai government should stop putting the interest of few people over the interest of many people. The people who suffer are not only Al-Ruwaili family. There are also the people of Saudi Arabia and Thailand who didn?t have any hand in this. They were affected, too.
Ateeq: My father was very sad when he passed away 4 months ago. He died not knowing what happened to his son Mohammad. He wondered till the day he died, what happened to Mohammad? What′s his fate?
His other son Ayed died few years ago, but my father could accept that. He said: at least I could see this son of mine died in front of my eyes, I accept that he′s gone to peace. But not Mohammad. My father died very unpeacefully.
Imagine you lost someone and you don?t know whether he lived or died. It is not easy.
Khaosod English: You acknowledged that the case involved some very powerful people in Thailand. Aren?t you afraid they will try to disrupt the legal procedure? Aren?t you afraid of your safety?
Matrouk: I expect that they are trying to lobby and use their influence in this case. But I hope they won?t succeed. And I?m sure they won?t succeed. This matter is now more important than whatever the power of influence they have. It involves the relation of 2 nations. What′s at stake is bigger than their power.
And no, I don?t feel threatened. We have had enough. We have already lost Mohammad, so we are willing to risk in this search for justice on his behalf.
Khaosod English: The case is said to be connected to the theft of Saudi Blue Diamond.
Matrouk: We don?t know. We have no clue about the motives of people who did this. All we have been hearing for the last 23 years is story after story, talks after talks, but no fact. We have been completely in the dark. That is why I?ve come to Thailand, to find out the truth. My family rely on Thai justice to give us answers.
Ateeq: In fact, my mother did not want me to come here. She said, they have already taken Mohammad, why would you go there to put yourself in danger? But I explained to her there is chance for justice and truth for Mohammad in Thailand, so eventually she let me come here.

Khaosod English: Have you ever talked to anyone from the Thai government?
Matrouk: No. We handle our case and communicate with Thai authorities via the Saudi Embassy. We don?t do it directly. We trust our Embassy′s judgement.
Khaosod English: Tell us about Mohammad and your family.
Ateeq: My parents have 7 children, 5 sons and 2 daughters. My eldest brother is called Ayed. He was the head of the family, so the pressure fell most heavily on him. People kept asking him what happened to Mohammad, including my parents. Eventually Ayed fell into depression and very poor health. He was very unhealthy when he died 4 years ago. He suffered from Mohammad′s disappearance till the day he died.
The second son is me. The third is Mohammad. The younger brothers are Hammad, who′s now working for the Saudi Consulate in Hong Kong, and Ahmed. Ahmed is our youngest brother. He stayed in our hometown, taking care of our mother. Time to time our mother asked him if there′s any progress on Mohammad case.
As for Mohammad, he′s very generous man. He had many friends. He was very reliable, so he was respected a lot by our family.
Khaosod English: How did Mohammad end up in Thailand?
Ateeq: My brother was an adventurer. He never stayed anywhere long in his career, he likes to travel a lot, but in the end he settled down in Thailand. No one forced him to be there. No one put handcuffs on him. If he did not like Thailand he would have left long ago.
Mohammad made many Thai friends and had many Thai employees. He was a very lively man. When he talked to us on the phone, he told us Thais were friendly and receptive people. He kept inviting other family members to visit Thailand.
That is why we don?t hate or blame Thai people for what happened. We knew from Mohammad that what happened must have been an isolated case of some bad individuals.
Khaosod English: Do you still have hope?
Matrouk: If we don?t have hope, why are we here? I?ve never lost my hope.
Ateeq: I have faith in God, and in the laws. Including Thai laws. This is the chance for the Thai authorities to prove their justice system to the world.
Khaosod English: In that courtroom you have – for the first time ever – faced the officers accused of kidnapping Mohammad. What did you feel about that?
Matrouk: I don?t know. I saw them in court, I saw them talking, but I don?t understand Thai language. I don?t understand what they were saying. I don?t understand their expression. So, I don?t know what to think. I believe we?d better judge someone if we don?t know what′s in their heart.
Khaosod English: What would you tell your family once you?re back in Saudi Arabia?
Matrouk: I would tell them, rest assured. I?ve seen the light at the end of tunnel in Thailand. It′s very big progress and I?m very satisfied to know that the court will hear testimony from that witness in UAE.
I?ve been there at the court, finally. I feel closer to justice than ever. It′s the first time I?ve seen progress in front of my eyes.
Khaosod English: If the court case didn?t go anywhere eventually, what will you do?
Matrouk: Maybe the Saudi government would bring matter to international court. We?ll see.
This case is very big news in Saudi Arabia. The Al-Ruwaili is very big family. Everyone knows about it. The media reports the news when there′s development.
Khaosod English: There are fears that if there′s political upheaval that leads to change in government, this case might go back to zero again.
Matrouk: That′s possible. But this case has seen moving more forward than backward in last 23 years, so I?m optimistic it won?t completely go back to zero.
Khaosod English: Do you have anything to address the Thai public?
Ateeq: Please know that I still have big hope and trust in Thai justice system to solve this matter.
Matrouk: We need to reach an end to this incident in our countries? relations. If anyone has information related to the case, please come forward. It would greatly help.