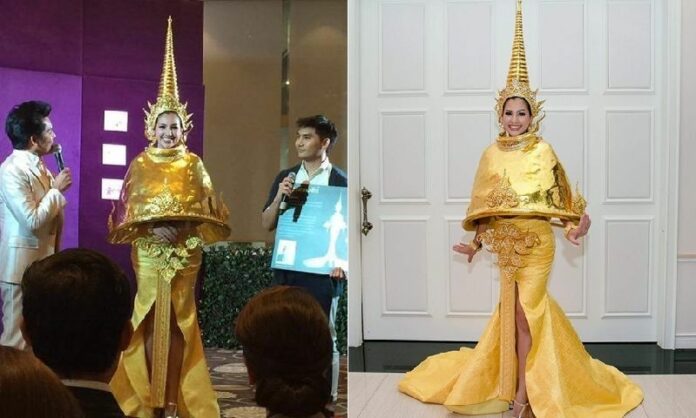 BANGKOK — Unlike last year's tuk-tuk dress worn at the Miss Universe contest, the groundbreaking Golden Pagoda gown will not grace the international stage at the Mrs. Universe pagaent as Thailand's national costume.
Beside the same authorities who two weeks ago flamed her choice of costume, contestant Kanthicha "Yui" Chimsiri on Monday announced it would no longer please her to wear the dress inspired by the pagoda at Bangkok's Wat Phra Kaew, as it was deemed inappropriate.
Instead she introduced a new design that instead of profaning the sacred is just profane.
Representing the ministry which sees itself as a defender of traditional values, Minister Weera Rojpotchanarat said he received many complaints from people who were worried about the dress.
"This case concerning religion will be a lesson for costume designers in the future," Weera said.
---
CultureMin Slams 'Golden Pagoda' Costume
---
Since it was introduced to the public May 17, the Golden Pagoda dress was panned for taking inspiration from the Phra Sri Rattana Chedi inside the kingdom's most venerated temple. Authorities said the designer should have avoided matters of belief.
Weera said instead of courting controversy, the national costume should reflect "Thainess" for example, by using Thai fabric.
Kanthicha said the new dress, which will be introduced on June 13, will be made of Thai silk.
While keeping its gold color, the design will change from a pagoda to a woven bamboo fish which is a handicraft that is popular as a souvenir.
Mrs.Thailand said the costume which she will wear to the pageant for married women held August in China might also have an ear of rice as its pattern to present Thailand's famous crop.
Minister of Culture Weera Rojpotchanarat and Mrs. Thailand Kanthicha 'Yui' Chimsiri at the press conference in Bangkok Monday.
Woven bamboo fish Photo: TAT Ayutthaya
Related stories:
CultureMin Slams 'Golden Pagoda' Costume
Tuk-Tuk Wins Best Costume at Miss Universe
Yes, Miss Universe Thailand Will Wear a Tuk-Tuk