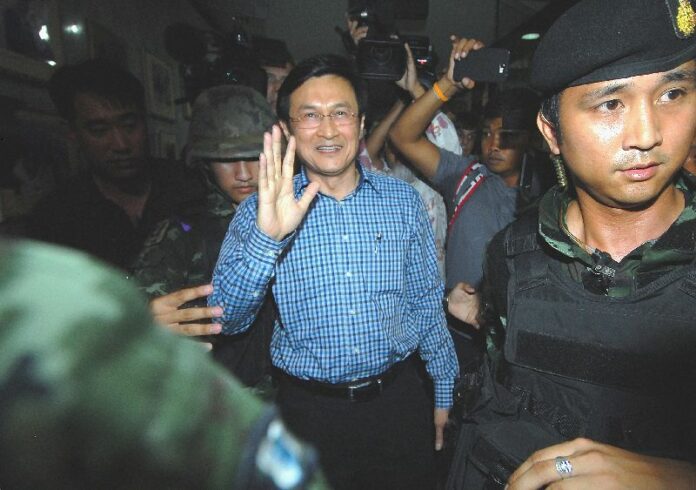 BANGKOK —When news got out that the junta will lift the ban on overseas travels against its critics on Wednesday, some friends of former minister Chaturon Chaisang congratulated him, only to be rebuffed by Chaturon saying that his diplomatic and civilian passports are still revoked by the junta.
Friends then said as a consolation, they should have lunch or dinner together, Chaturon recalled on his public Facebook post.
"I told them, [fine,] but you have to treat me, okay? I don't have any credit cards and I can't use the ATM," Chaturon, who served as Education Minister under the government toppled by the junta two years ago, wrote Sunday. "My financial activities have been frozen for two years now."
Chaturon's lament is a reminder that, in spite of the junta's decision to ease travel bans imposed on its critics, some are still facing other types of restrictions that have been placed on them to curtail suspected anti-government activities.
Another person facing the same predicament is pro-democracy activist Sombat Boonngam-anong. He said around one million baht in his bank account has been frozen by the junta for two years, as a punishment for leading a failed short-lived attempt to resist the coup makers who called themselves the National Council for Peace and Order, or NCPO.
"They should just unfreeze it by themselves and not have me plead. I don't feel like I should have to plead for it," he said Monday.

Sombat Boonngam-anong mimics a pigeon – considered by Thai activists as a symbol for freedom – as he is brought to the martial court in Bangkok on June 12, 2014.
As for his passport, Sombat doesn't know if it has been canceled by the junta or not.
"I won't be inquiring about my passport's [validity] with the NCPO. I'll be asking the Foreign Ministry instead," said Sombat, who wants to visit his daughter, now a Grade 12 student, in Pennsylvania in the near future. His daughter was taken out to America in the aftermath of the May 2014 coup by his friends to spare her from potential harassment by the junta.
Junta spokesperson Col. Winthai Suvaree said he has no idea when their bank accounts would be unfrozen, or when and whether Chaturon's passports would be reinstated.
"It may have something to do with the other legal cases against them. I really have no details," Winthai said by telephone Monday.
Living Without Bank Accounts
Life without a functioning bank account can be awkward.
Sombat was recently invited to assess the work of students at Thammasat University's Faculty of Political Science. He said a university official was puzzled when she asked for Sombat's bank account to transfer the fee for his service, only to be told that he has none.
Because of the financial restriction, Chaturon said he can't buy basic things like life or health insurance.
"I am being punished. I can't use my money. I can't even buy insurance," said Chaturon.
Both men say the junta should let them have the bank accounts back because they are not participating in any anti-junta activities, contrary to what the regime suspects.
"I am so nicely behaved now. So low profile," said Sombat. "I'm most affable and not a threat [to the junta] in any way. I've not engaged [in anti-junta activities]. I may express my political views a bit but I'm not playing the leader role."
Chaturon said he wrote similar declarations to junta chairman Prayuth Chan-ocha, but he hasn't received any reply so far.
"The continued imposition of your order is not only unconstitutional but also goes against the rationale in issuing the order," Chaturon wrote in the latest letter, dated March 28, which he showed to a reporter.
With his appeals unanswered, Chaturon said he's thinking about filing a lawsuit with the Administrative Court to regain access to his money.
He already has one case pending in the Administrative Court; a lawsuit to restore validity to his passports. Chaturon said he is currently waiting for the court to call him to testify but doesn't know when yet.
Related stories:  
Letters Show Prayuth Ordered Passports Pulled From Former Education Minister Jaturon
Critic's Passport Revoked as Junta Reaffirms Ban on Criticism