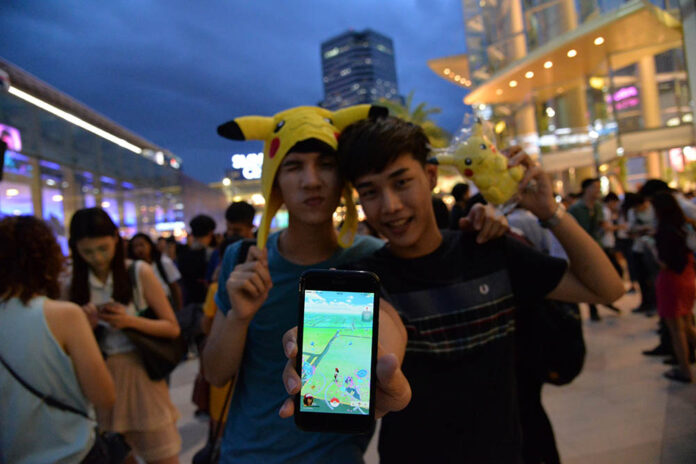 BANGKOK — Telecommunications regulators threatened to ban Pokemon Go if developers refuse to restrict the areas where it is played.
Acknowledging it was unsure it had the legal authority, the National Broadcasting and Telecommunications Commission, or NBTC, on Wednesday said it would ban the game if its San Francisco-based developer does not respond to their request to limit areas where Pokemon appear.
"If they do not proceed, we might have to do what the prime minister wants, which is banning the game," said Takorn Tantasith. "Russia and Iran also banned it."
After being widely misrepresented in the media as the force behind bringing Pokemon Go to Thailand, telecommunications conglomerate True Corp was summoned by the commission Tuesday and asked to deliver its message to game developer Niantic. Takorn said he'd also like to know if Niantic could limit it to certain hours.
True clarified they weren't involved with the game and only hold a license for the characters. The Pokemon cartoon has appeared on its TrueVisions satellite service. Nevertheless, the company said it would do what it could.
On Wednesday, the secretary general announced True had drafted a letter to Niantic which would be submitted to the American developer on Thursday after his office reviewed it.
Takorn, a top regulatory official, admitted he would need to go back to study the law on who held the power to ban the mobile game.
Asked why he was so alarmed by the game, Takorn acknowledged it wasn't the first of its type.
"But nothing ever made people walk around in a governmental or religious place," he said.
As the fad becomes a burning obsession and public places fill with players of the augmented-reality game, what is understandably a generational misunderstanding seems exacerbated by a poor understanding of what the game is and how it works.
Takorn's statements reflected an improved understanding of the game since Monday, when he believed it was operated out of Tokyo by Nintendo. Still, while Iran announced a ban which has been ignored by Niantic, Russia has only threatened to do so.
The locations where the game are played were established several years ago by players of Niantic's previous augmented-reality game Ingress, which lacked the power of a popular franchise to take off.
Those locations, many of which are landmarks or public buildings, were essentially recycled when Pokemon Go went live on Saturday.
Authorities want four types of areas removed:
Dangerous places such as roads, narrow sidewalks, riverside or seaside locations and railways
Sacred sites, such as religious structures and historical sites
Sensitive sites, such as government areas
Private property
There are precedents for Niantic agreeing to remove Pokestops upon request.
But they've only been in extremely sensitive locations so far, such as the Hiroshima Peace Memorial in Japan and the Holocaust Museum in Washington, D.C.