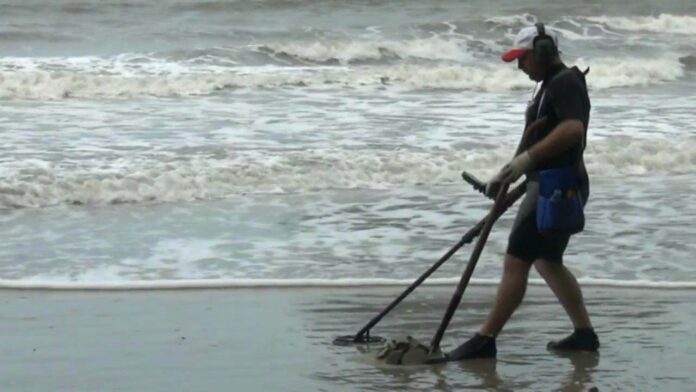 TRANG — Ever since a ship loaded with resort employees sank off the coast of Trang seven years ago, people have looked for the coins which still wash ashore.
Thursday morning, beach-goers were amazed when just after 10am a British man lugged a Minelab CTX 3030 metal detector into the surf and began turning up coins by the dozens.
Stefan Burford, 34, left after gathering more than 100 coins in about an hour.
A Matichon reporter said the man was extremely focused on his search.
Most of the unearthed treasures were 1 baht coins, although some were more rare as they were stamped 1965 by the mint. He also found a number of Buddha amulets and nine-sided 5 baht coins removed from circulation in 2008.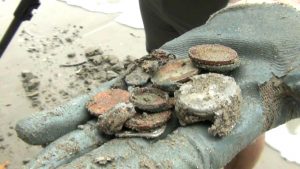 Burford appeared very pleased with his discoveries while onlookers appeared amused that he put so much effort into it.
Pak Meng Beach has been an attraction ever since the Andaman II sunk south of the coast in 2009, said Prathip Jongtong, a local tourism and trade official.
The Andaman II was carrying Burmese workers and Thai contractors back to shore from the Thanya Resort on nearby Koh Ngai.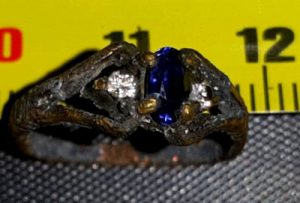 When the boat sank, everyone made it to shore safely. However, their possessions ‒ including the Burmese resort workers' tips and Thai contractors' Buddha amulets ‒ sank and have been gradually washing to shore ever since.
Update: This story has been updated with Stefan Burford's name after he reached out and identified himself to Khaosod English.