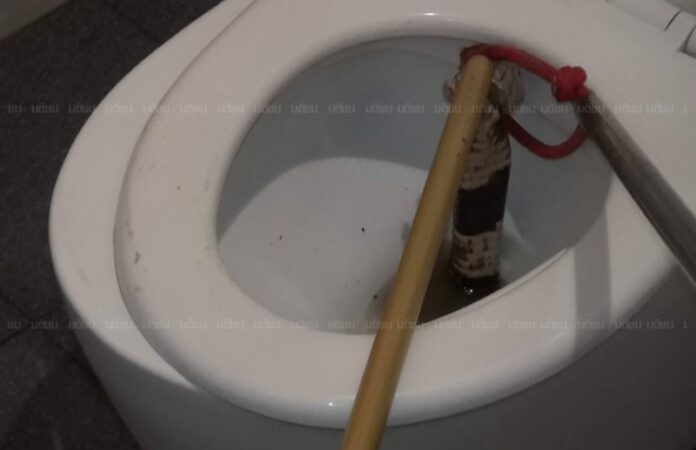 NONG KHAI — A Nong Khai man's nethers narrowly escaped a close encounter with a cobra Wednesday night in his bathroom in northeastern Thailand.
The two-meter cobra had snaked its way into the toilet of Suriya Rotprasert, 42 of Nong Khai city, leading to a less than charming encounter between the two. Fortunately a sharp-eyed Suriya spotted the venomous and deadly reptile before lowering himself into striking distance.
"When I looked at my toilet, I thought it was a piece of cloth at first. I leaned in quite close and was shocked," Suriya said Wednesday. "It was a huge snake sleeping in my toilet!"
Read: Man Wins Desperate Struggle to Free Penis From Toilet Python
Suriya then ran out and shut the door behind him before calling animal control at about 7pm.
He narrowly avoided the fate of Atthaporn Boonmakchuay, who 10 months ago was midway through an extended bowel movement when a toilet python famously slithered out, bit his penis and refused to let go. He survived the ordeal, as did Atthaporn.
The two-meter snake coiled inside Suriya's toilet bowl was equally fortunate, but put up quite a fight.
Workers wielding snake-catching equipment were unable to pry the cobra's head from the edge of the seat. Animal control had to grab the snake with their bare hands and slowly pull it out, hand over hand, which took about 10 minutes.
The cobra was then returned to the wild.