BANGKOK — A sleek white Ferrari will be shown in its land of origin with just one difference: It was handwoven from rattan in Thailand.
Architectural designer Anon Pairot's "Chiangrai Ferrari" is among three works chosen for the "Islands in the Stream" exhibition for the Alamak Pavilion to showcase contemporary Asian art at the the 57th Venice Biennale beginning May 13.
"The car will go back to its origin," Anon said Wednesday at the Bangkok Art and Culture Centre.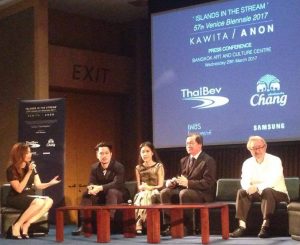 He recounted that the Ferrari car woven from rattan, wood and steel was produced and inspired by Chiang Rai villagers as their children believed that weaving wasn't a dignified job. Anon asked one villager what his son liked. The answer was Ferrari.
"Their parents are talented but they don't even care about it," said the 38-year-old artist. "It was my passion to prove to those children of what weaving can do."
They spent two years making the car from scratch in the same size of an actual Ferrari and it was first shown at Anon's solo exhibition "Absurd Aesthetic" at Numthong Gallery in November 2015 and at Art Stage Singapore in 2016.
Apart from Anon, artists chosen for the "Islands in the Stream" project are all Asian. One is London-based Japanese sound artist Yuri Suzuki and Thai-Australian video artist Kawita Vatanajyankur.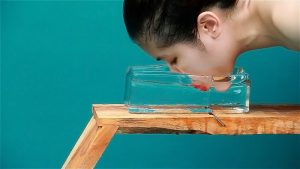 Kawita's work often deals with women's roles and equality in society. In front of candy-colored backgrounds, the 29-year-old artist uses herself to replace objects or tools handled by Thai laborers, such as the poles used to carry fruit to sell on the street, a mop and an ice shaver.
As for the Thai national pavilion, "Krungthep Bangkok" a work from the acclaimed 68-year-old acclaimed artist Somboon Homtientong will be shown and curated by Numthong Sae Tang, the owner of Numthong Gallery.
The show runs through Nov. 26.