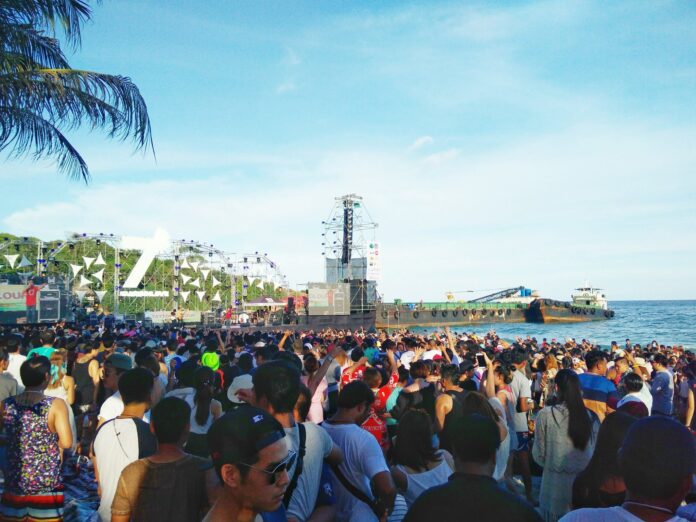 RAYONG — A music festival on Ko Samet suspended ticket sales Thursday after the island community complained it benefits only the organizer and leaves behind nothing but garbage.
Prayoon Pongphan, head of the national park where the island is situated, said Friday that he fielded complaints about the environmental impact and appropriateness of the Samed in Love Music Festival, which is scheduled to take place in June.
"Locals said that for the past seven years, garbage piles of plastic bags and bottles from the festival still remain and have increased," said Prayoon, chief of the Khao Laem Ya–Mu Ko Samet National Park.
Read: Banana Boats, Parasails Banned From Samet Beaches
On Wednesday, Prayoon, who replaced the park's former head in September in a bid to stem corruption, presided over a meeting where the objections were raised.
Environmental issues topped concerns at the meeting, as did the national mourning period for King Bhumibol. The residents asked that the festival be barred from taking place this year.
The islanders said they don't benefit financially from the festival, as its organizer prevents them from selling anything there. Resort owners complained rooms booked for two were used to cram in six guests.
Others suggested it was a double-standard.
"They also questioned how music could be played almost all night at the festival while it's not allowed at the pubs, bars and restaurants on the island after 11pm, and they must close at midnight since the coup," Prayoon said, adding that their comments have been forwarded to the National Parks, Wildlife and Plant Conservation Department.
The festival organizer said it has sought to address the issues, according to a Thursday post on Samed in Love's Facebook page, and suspended ticket sales, which began April 8.
"There are no tickets selling as of now," it said.
The chief said the music festival was against the law under Section 16 of the 2010 National Park Act, which prohibits causing loud disturbances or disturbing others within a park.
Since the 2014 coup, the authorities have sought to rein in Ko Samet's reputation as an LGBT-friendly party destination by imposing a nightlife curfew and banning other activities from the island, which is part of a national park.
Previously, it was Rayong Gov. Surasak Charoensirichok who filed the request to allow the festival with the national parks department. Its director-general, Thanya Netithammakun, declined to sign the deal and asked the organizer to consider whether the festival should be held.
Prayoon said Friday he had no recommendations to offer the festival organizers, as their event is technically against the law.
"We have to protect the law," he said.
The festival is set for June 3 at Silver Sands Beach on Ko Samet.
In September 2016, Prayoon was transferred to the position to replace Thanit Chantadech as part of a mass transfer of 80 officials to combat organized crime, which allegedly demanded money from businesses such as banana boat operators, masseuses and fire dancers.
Related stories:
Banana Boats, Parasails Banned From Samet Beaches
Business Owners Decry Koh Samet Nightlife Curfew