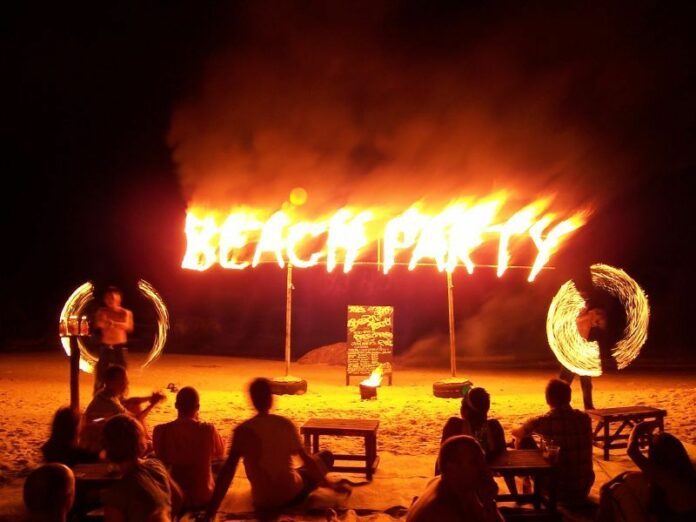 KOH SAMET — Those planning an all-nighter on the party island of Samet, beware: You may be in for disappointment.
Since Jan. 1, all bars and nightclubs must close by midnight, and all music stop by 11pm, under order from the military regime, a nightlife curfew which business operators complain is driving tourists away.
"It's so quiet now. The economy is already bad," Mookda Chomsiri, owner of Sawasdee Coco Resort, said in an interview by telephone Monday. "Tourists want to come here for parties. There are groups that specifically come here for that. We also have many gay bars. That's what they want. Now that they can't get it, they are upset."
Even though her hotel doesn't operate any bar or nightclub, Mookda and other proprietors said the curfew is adversely affecting tourism, and tourists are grumbling about the policy.
Few tourists seen Sunday on Sai Kaew Beach on Koh Samet.
Koh Samet is a national park, and the junta; known formally as the National Council for Peace and Order, or NCPO; said its order is meant to benefit tourists who prefer to sleep in peace.
"You have to understand that Koh Samet is an island for conservation tourism, so [all bars] must cease operations by 11pm," local army commander Col. Phop-anand Lueangphanuwat told business owners Dec. 14 when conveying the junta order, according to Bangkok Biznews.
Less than a three-hour drive from Bangkok, Koh Samet is known for its lush inland forest and tranquil beaches. But it's also famous as a gay-friendly party destination, with Haad Sai Kaew a popular location for beach parties that run into the early morning.
By setting aside the appeal of the latter, several business operators complained, the authorities are driving tourists away.
"They complain to me. They say they don't understand. They can't go out and have fun," Mookda said. "It's already late when they leave their rooms, but they can only sit for a little while before music stops. After that, they can only eat or drink without music. In the past, they played music until 2am or even 4am."
Mantarawit Singhara na Ayudhaya, owner and manager of Sai Kaew's Finale' Bar, voiced the same concern. He said he could not understand the reason for the junta's closedown order because Samet has long been a party destination, but lacks the crime problems of Koh Samui or Koh Tao.
"Samet is a party town. Most of our revenue only comes from Fridays and Saturdays," Mantarawit said. "Tourists want to come here to relax. They want to sit and listen to music on the beach. It doesn't affect anyone. The NCPO should crack down on something more important, like price extortions of tourists and local mafia influence."
Mantarawit said he feared tourists would stop coming to the island once word-of-mouth spread of the new limits on bars and nightclubs. Some tourists already expressed bewilderment at the new closing time, he said.
"Some of them drove all the way here [from Bangkok] on Friday night. It was already 10pm when they got here. They were so surprised," he said. "They asked us, why the early closing? They expected a lot, because they have been to parties on Samet before."
'They are Soldiers'
Several business operators said they're resigned to their fate.
"They don't talk to us at all," Mantarawit said. "They only order us. They say it's the NCPO's order. So we have no other choice but to follow. We can't do anything."
Although he lives in Bangkok, Mantarawit said he saw no use in taking his complaints to the junta's public complaint office there.
"I don't see why we would make any request to them," he said. "The government is the NCPO. They have absolute power on this matter. It's over."
A woman who manages a beach bar and restaurant said she and others have appealed the policy to the junta to no avail.
"They won't listen. They are soldiers," said the woman, who asked not to be identified because she doesn't want trouble with authorities. "And for soldiers, 'no' means 'no.' They are not businesspeople. They just use a military system to rule our island, strictly."
She said her bar still holds parties after the curfew in secret away from the beach, but their business is falling because they can't operate openly.
New Social Order 
Samet's new regulation fits the pattern of the junta's attempt to "reorganize" Thailand since it came to power in the May 2014 coup.
Under the military's watch, the regime has cracked down on drug peddlers and street racers, sought to curtail the sale of alcohol, declared war on regional "mafia" and more, all in the name of a crusade against social vices and disorder.
Lt. Peerapong Thongbai, an naval officer garrisoned on Koh Samet, explained the junta's closedown order is not a new law, as national park regulations already require businesses and visitors not disturb the peace.
"There's already a law. We are just enforcing it," Peerapong said, adding that many tourists have complained of being unable to sleep due to loud noise. "Tourists are very happy after we created this policy."
Asked how he enforces the curfew, Peerapong said soldiers and administrative officials regularly patrol beaches to look for any nightclub defying the closing time. He said soldiers politely encourage businesses to comply with the policy rather than punishing them if they don't.
"We rely on polite conversation. We ask for their cooperation. We never threaten anybody," he said.
But the Sai Kaew Beach bar manager said the presence of the soldiers and military patrols are unnerving to her and the tourists.
"When soldiers walk past, they are frightened. They ask us, 'What's wrong?'" she said, adding, "Sometimes soldiers stand and watch us. Sometimes they wear uniforms, sometimes they don't. They also take photos of us sometimes."
According to Lt. Peerapong, the early closing time will be exempted for major holidays such as New Year's Eve, Songkran and Loy Krathong.