BANGKOK — Fans of former footballer David Beckham were flooding the Thainet during the weekend with photos of the star, who was in Bangkok to film a commercial.
After Beckham, 42, posted Friday on Facebook that he was "so happy to be in Thailand for the next few days and looking forward to chatting to you all," fans took him at his word and posted photos of their encounters until he left early Monday morning.
On Saturday morning, fans found him at the Chaloem Phrakiat 80 Phansa Public Park in the Bangkok Noi district, filming a commercial for life insurance company AIA Group. In the afternoon, Beckham signed autographs for fans in Chinatown.
มีคนถามกันเข้ามาเยอะ ขออนุญาตตอบในทวีตนี้นะคะ เฮียเบคส์มางานของ AIA ค่ะ และเมื่อวานมีถ่ายทำโฆษณาที่สวนสาธารณะเฉลิมพระเกียรติ 80 พรรษา 🇹🇭 pic.twitter.com/dSLh7pUlIw

— David Beckham Club (@DavidBeckhamTH) July 1, 2017
Saturday night, television personality Vuthithorn "Woody" Milintachinda asked Beckham questions such as "Do you want to try Muay Thai?" and "Do you meditate?" in a live Facebook interview. Beckham also posted an Instagram image and several stories of his adventures in Bangkok.
The ex-football star, has gained a huge following in Thailand since his glory days at English Premier League club Manchester United, Spanish giants Real Madrid, Major League Soccer team LA Galaxy and the English national team between 1992 and 2012. There's even a temple in Bangkok with a statue of his likeness.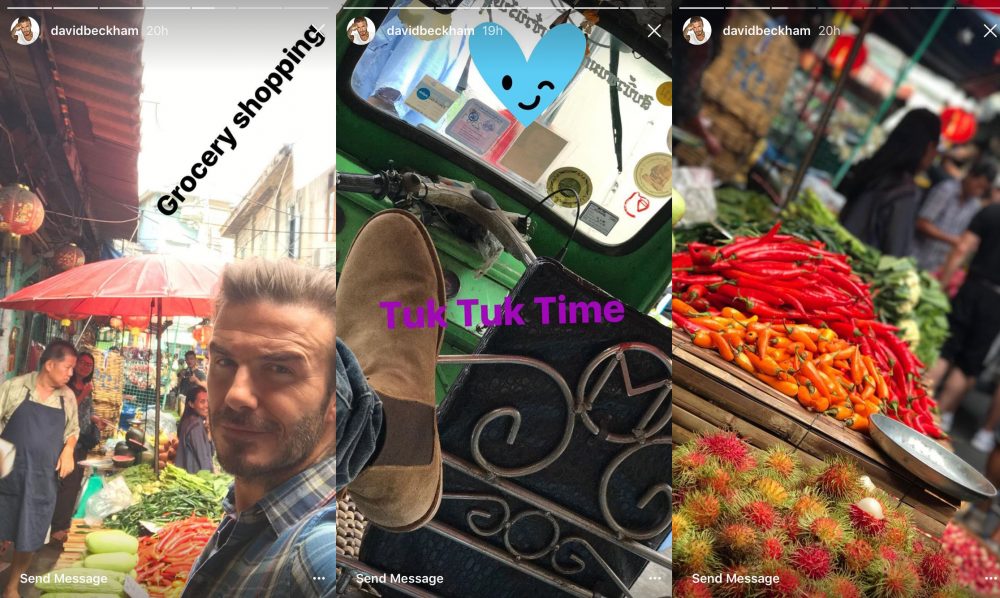 ภาพเฮียเบคส์ที่แถวสำเพ็งวันนี้ค่ะ 🇹🇭

(เครดิต+ขอบคุณเจ้าของภาพค่ะ) pic.twitter.com/ii0NopXL4X

— David Beckham Club (@DavidBeckhamTH) July 1, 2017
นำภาพDavid Beckham in Bkk มาฝากแฟนๆ…รวมทั้งที่liveสดเมื่อวานทางเฟสกับวู้ดดี้ เบ๊คกันเอง/เบ๊คน่ารัก @DavidBeckhamTH pic.twitter.com/XdOBTYu9bI

— Bless Sil (@bless_sil) July 2, 2017
ไปเจอเฮียมาเมื่อเช้านี้ค่ะ ☺️ pic.twitter.com/Emchl3jiOZ

— Parichart B. (@pariebenjy) July 1, 2017
ภาพเฮียเบคส์ที่สำเพ็งเมื่อวานเพิ่มเติมค่ะ 🇹🇭

(เครดิต: คุณณัฐชา ปรีชาหาญ จากเว็บ TNN24) pic.twitter.com/kyi6g97aiz

— David Beckham Club (@DavidBeckhamTH) July 2, 2017
@DavidBeckhamTH good bye Thailand 💖 Cr.น้องผมทั้ง2 pic.twitter.com/QscVk1A1km

— กะลุ๊ก กุ๊กไก่ (@kai01parn) July 2, 2017
มุมไหนก็ดูดี หล่อไปไหมหละะะะ #DavidBeckham pic.twitter.com/NJ0l27BuxY

— gift maneenil (@GiveBM) July 2, 2017
Related stories: