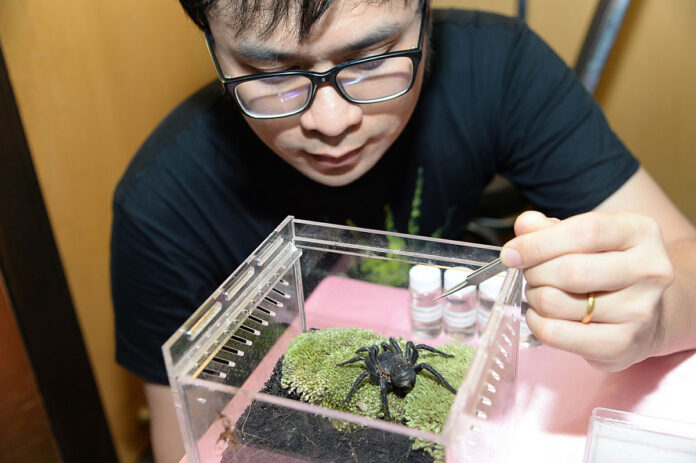 BANGKOK — A species of rare spider unique to a national park in western Thailand was discovered through a serendipitous encounter on a research trip, said the biologist who discovered it Thursday.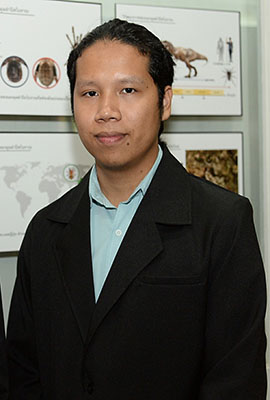 On Wednesday, biologists at Chulalongkorn University announced the discovery of Liphostius maewongensis Sivayyapram, a burrowing, venomous trapdoor spider discovered dwelling in the high cliffs of Mae Wong National Park.
"Although spiders are small animals, they are plentiful predators that support the ecosystem they're in. An area with a lot of spiders indicates that it is rich in prey, or insects and therefore that nature is plentiful," said graduate biology student Varat Sivayyapram, who discovered the species and for whom it is named.
Varat said the spiders only live at altitudes above 1,000 meters sea level in the national park which sits mostly in Nakhon Sawan province. They have venom that is harmless to humans.
He discovered the insect late last year on a research trip through a happy trekking accident.
"I found the spider by coincidence when I was in the jungle and came upon its burrows," Varat said Thursday. "No one had ever researched that area before for spiders, and I know that it's a rare spider, so I got a permit to go in and study the spiders there."
The moment he knew he had found a new type of spider, Varat said he was "happy, but it just confirmed my established hypothesis."
The find will be certified in the next issue of the Journal of Arachnology by the American Arachnological Society, said Natapot Warit, Varat's academic advisor.
"I'm so proud of my student because he was so resilient, and we worked together a lot," Natapot said. "Hopefully the spider can become a mascot for the conservation of Mae Wong National Park.
Natapot said the new spider could draw tourists there. He cautioned that tourists should not touch the spider or their burrows, however.
Natapot and Varit said that a tentative common name for the spider is "Mae Wong Primitive Trapdoor Spider."
Thirty-three of the 97 species of trapdoor spiders discovered worldwide have been in Thailand.
They account for less than 1 percent of all types of spiders, Varat said. There are only approximately 200 Sivayyapram spiders in the park. Unlike other spiders, they don't spin webs but dig burrows into cliffsides before lining their homes with webs with a hinged opening – thus the name.
"Mae Wong National Park gives us hope," environmental conservationist Panudech Kerdmali said. "It's richness in flora and fauna gives us hope in conserving the forest … the discovery of this trapdoor spider points to the need for continued research in finding new species, which will benefit both humans and the world."
Panudech also expressed his wish the national park be declared a UNESCO World Heritage site.
Noppadon Kittana, head of biology at the college's Faculty of Science, said the spider's especially sticky, resilient webs will be studied and possibly used in industrial research for development of products such as bulletproof vests.
Additionally, research into the spider's silk can lead to research and development of products ranging from durable cloth to vehicle frames.