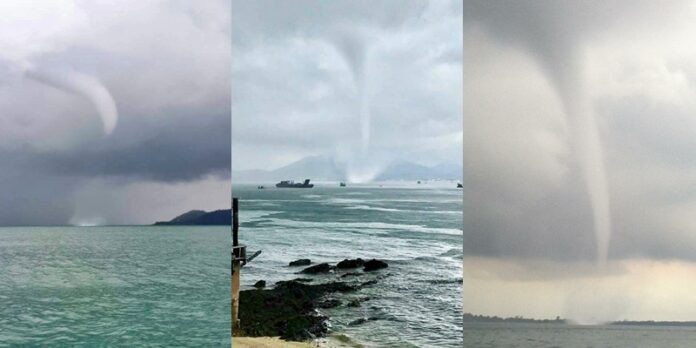 KOH SAMET — Tourists and onlookers on Tuesday morning enjoyed the unusual sight of a cylinder of air racing off the coast of the Rayong island.
A waterspout appeared off the coast of Mueang district of the tourist island at approximately 10am Tuesday. Residents and tourists took out their camera phones to record the natural phenomenon as it made landfall at Mae Ram Phueng Beach after having traveled about 5 kilometers through rain clouds and waves. The waterspout lasted about 15 minutes before dissolving.
"We're lucky this time it happened farther out at sea and gradually used up its steam before dissolving into the ocean," Peerapong Kraiint, 35, a local emergency official said.
Peerapong said the last time a waterspout appeared on Samet was two years ago, when it damaged rows of roofs late at night at Nuanthip Pier in Phe tambon.
"Waterspouts happen rarely around here, but they've started to appear more often in the past three years," he said.
In Thai, waterspouts are called phayu nguang chang or naga len naam, which translates to "Elephant Tusk Storm" and "Naga Playing In The Water," respectively.